Support NRA American Rifleman
DONATE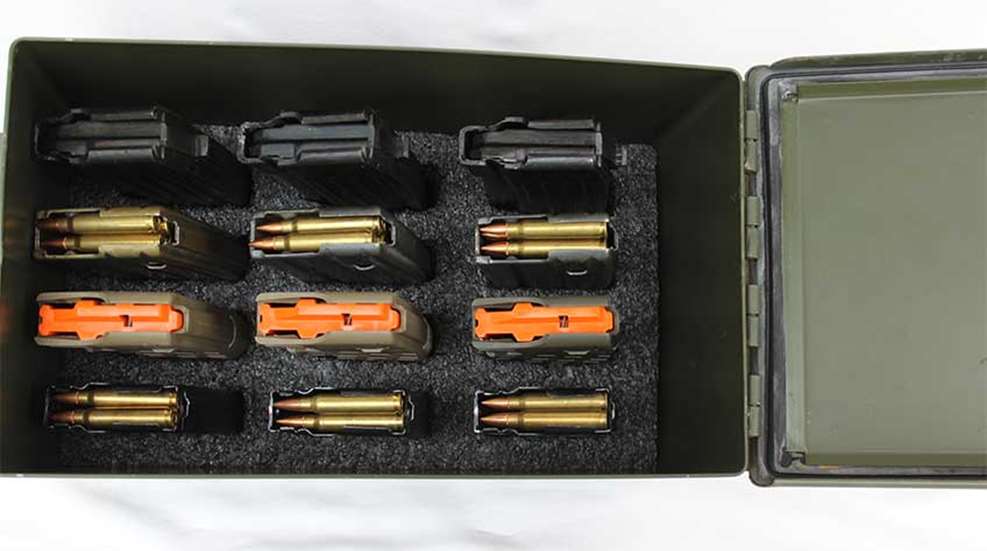 If you're looking for a durable container to store your ammunition and loaded magazines, then why not do what the U.S. military does? For decades, our armed forces have relied on durable metal ammo cans that have withstood the worst our enemies could throw at us, and they preserved the vital ammunition our soldiers, sailors, airmen and Marines needed to stay in the fight, and now you can have the same made-in-America cans for your storage needs, thanks to
TexMagBox
.
Using the famous .50-cal. ammo cans we've all seen in war photos and military-surplus shops, TexMagBox came up with its "Fat-50," a USGI-standard, new-production ammunition can complete with U.S. military markings on the side and the standard GI olive-drab finish. Inside the can is a single-piece foam insert with die-cut slots sized to take most of today's standard rifle magazines.
Whether you run an AR-15, Mini-14 or an AK-style rifle, you'll be able to slot your loaded magazines into the foam inserts inside the can standing up. This prevents the magazines from banging into each other and causing damage, and it also prevents the mags from rattling around inside your can and causing noise. The "Fat-50" holds up to 12 magazines standing upright.
In addition to the "Fat-50," TexMagBox also provides its M2A1 "50-Cal" Home box, which holds up to eight magazines horizontally instead of vertically. The can, which is the same .50-cal. USGI can used in the "Fat-50" arrangement, features a double-layer foam insert, with each insert holding up to four magazines.
An additional option from TexMagBox is its M19A1 "30-Cal" Truck Box, which features the smaller, narrower USGI ammo can designed for .30-cal. machine-gun belts, bandoliers and cartons. Inside the Truck Box is a die-cut insert designed to hold up to five rifle magazines secured vertically in a single horizontal slot.
Every product offered by TexMagBox is made in the USA, and all online orders are shipped for free. The suggested retail price for the "Fat-50" box is $44.95. For more information, visit
texmagbox.com
.