Support NRA American Rifleman
DONATE
Due to the varying size and shape of today's handguns, finding the right pistol case that fits most of your guns can be a challenge. In addition, too many of today's handgun cases have too much of a "tactical" look, and many shooters want something more discreet when transporting a handgun. The answer for these issues can be found in the form of
Plano's
new Stealth Pistol Case.
This new pistol case features a versatile, discreet and durable construction, which makes it the perfect choice for a standalone pistol case or for use to separate your handgun from other items inside your shooting bag. The case is constructed from ethylene-vinyl acetate, a polymer that's durable but flexible, and it provides an elastic-like feel that's resistant to temperature and stresses.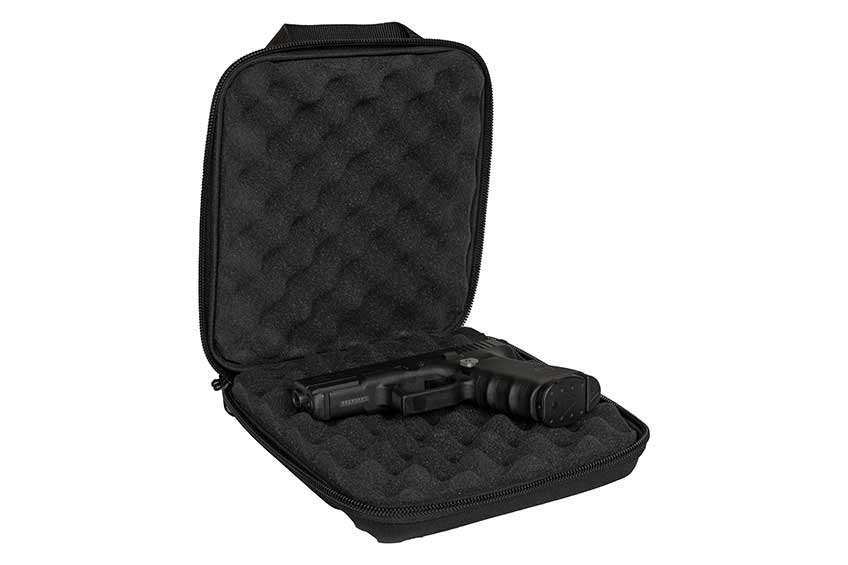 Inside the Plano Stealth Pistol Case, you'll find a high-density foam that prevents your firearm from moving around during transport. This not only protects it from damage and wear, particularly when other items are in the case, it also prevents transported guns from knocking and shifting, which can cause noise and draw attention. To open and close the case, you'll find a dual zipper complete with eyelets, giving you the ability to add a small padlock for extra security.
An integrated carry handle makes it easy to carry on its own, but the slim design of the Stealth Pistol Case makes it easy to slip into a range back or other pack, allowing you to maximize space for other items. The case measures 10.5" x 9.75" x 3", and comes in black only. The suggested retail price is $29.99. For more information, visit
planosynergy.com.