Support NRA American Rifleman
DONATE
Gallery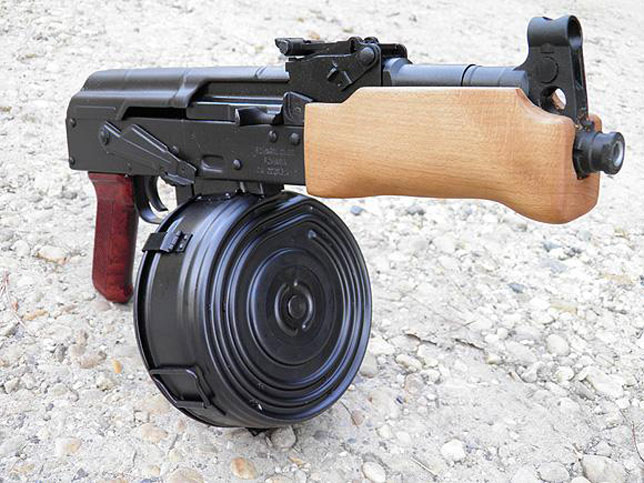 Atlantic Firearms AK 47 Mini Draco Shorty Semi-Automatic Pistol
The AK-47 is well known for its durable action that keeps on running even when it's downright filthy. Add the punch of the 7.62 x 39 mm cartridge and you have a potent combination for a pistol. The Mini Draco Shorty is imported from Romania by Century Arms. Just in case a 30-round magazine is not enough to provide the plinking fun you have in mind, the Mini Draco will also accept 75-round drums.
Importer: Century Arms
Supplier: Atlantic Firearms LLC
Product Family: AK-47 Series
Model: Mini Draco Pistol
Barrel Length:  7.75"
Action: Semi-Automatic
Caliber: 7.62 x 39 mm
Capacity: 30-round magazines (1 provided) and 75-round drums available 
Finish: Matte Black
Warranty: 1 year
Suggested Retail Price: $499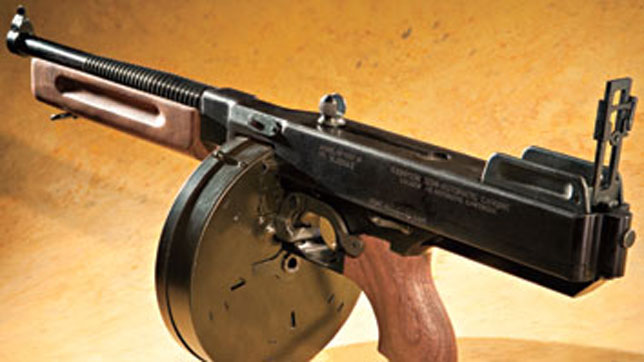 Auto-Ordnance TA5 Semi-Auto Pistol
Everything you need to know about this pistol is found in the parent rifle's nickname: Tommy Gun. Auto Ordnance has been selling the pistol version of this historic rifle since 2008. To lighten the pistol and to make it compliant with current regulations, the TA5 features a 6061-T6 aluminum receiver and a re-engineered bolt that fires from the closed position. This pistol can be loaded using 30-round stick magazines or classic drum magazines that hold 10, 50 or 100 rounds.
Manufacturer: Auto-Ordnance 
Model: TA5
Caliber: .45 ACP
Barrel: 10.5"
Weight: 5 lbs., 14.5 oz.
Length: 23.3"
Sights: Brade Front, Open Rear Adjustable
Grips: Walnut, Horizontal Foregrip
Twist: 1-16.38" RH
Magazine: 10, 50, and 100-round drums available 
Warranty: 1 year
Suggested Retail Price: $1543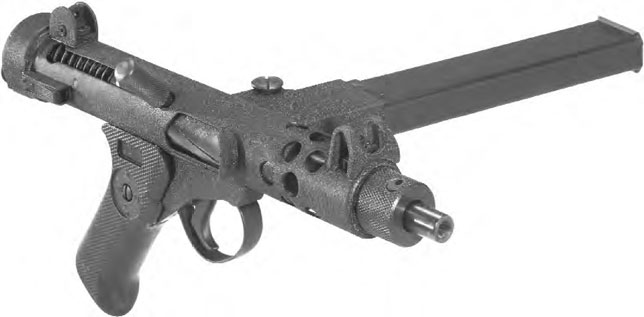 Century Arms Colefire Semi-Auto Pistols
Here is a handgun you just don't see every day. The Colefire takes its cues from the Sterling Mk7 9 mm Pistol, which, in turn, is a cut-down version of the Sterling submachine gun of World War II fame. However, the Colefire uses a modified 25-round Sten magazine instead of Sterling magazines. The Magnum version of the pistol (Model HG2037-X) fires the potent 7.62 Tokarev round, while the standard version (Model HG2129-X) is chambered to fire the affordable 9 mm.
Manufacturer: Century Arms
Model: HG2037-X
Caliber: 7.62 Tokarev
Barrel: 4.5"
Action: Semi-Automatic
Finish: Manganese Phosphate coated with Black Wrinkle Paint
Grip: Synthetic
Length: 13.25"
Weight: 4.75 lbs.
Suggested Retail Price: $499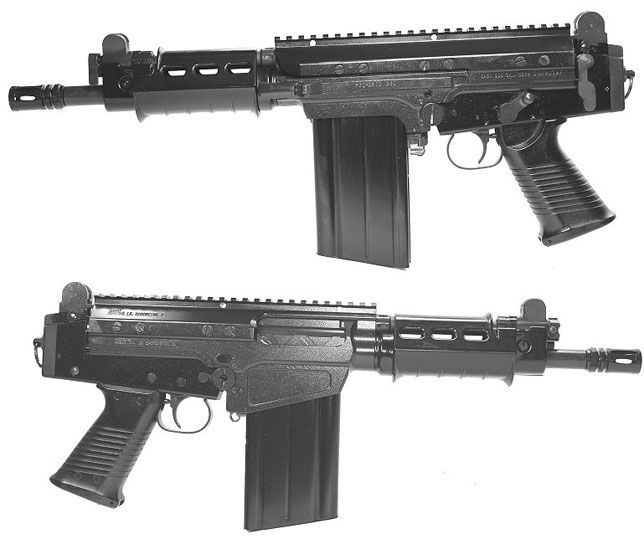 DSA Inc. SA58 Tactical Pistol
While we've all been busy arguing over the superior power of various handgun cartridges, DSA has gone ahead and quelled the debate by building a FAL-based pistol in .308 Win. The standard configuration of this pistol is built with a type 1 non-carry handle cut receiver, lightweight aluminum lower and an 8-inch barrel fitted with an A2 flash hider. The pistol arrives with adjustable iron sights and a SA58 extreme duty scope mount. The SA58 will accept 10- or 20-round FAL magazines.
Manufacturer: DSA Inc.
Model: SA58TACPISTOL
Caliber: .308
Action: Semi-Automatic
Material: Steel with Aluminum Lower
Barrel length: 8.25" with A2 flash hider
Grips: Synthetic with steel inserts        
Sights: Adjustable, SA58 extreme duty scope mount
Weight: 9.5 lbs.
Capacity: 10 or 20 Rounds 
Warranty: Limited Lifetime
Suggested Retail Price: $1,695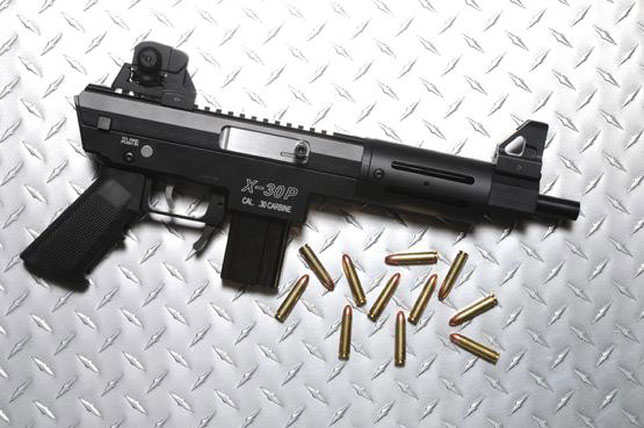 Excel Industries X-30P Pistol
Excel industries built a proprietary semi-automatic rifle chambered in 5.7x28 mm called the Model X-5.7R, which inspired the X-5.7P pistol. That would be cool enough on its own, but they went ahead and used what they knew to build the X-30P pistol, which is chambered for the .30 Carbine cartridge. The machined aluminum receiver is topped with a Picatinny-style rail, iron sights can be added, and 10- or 20-round magazines are available.
Manufacturer: Excel Industries, Inc.
Model: X-30P 
Caliber: .30 Carbine
Action: Delayed Blow-Back Semi-Automatic
Barrel Length: 8.5"
Frame: CNC Machined Aluminum
Weight: 4.5 lbs.(Unloaded)
Length: 16"
Height: 6.25"
Sights: Adjustable Iron Sights (Optional)
Width: 1.5"
Capacity: 10 or 20 Rounds
Suggested Retail Price: $715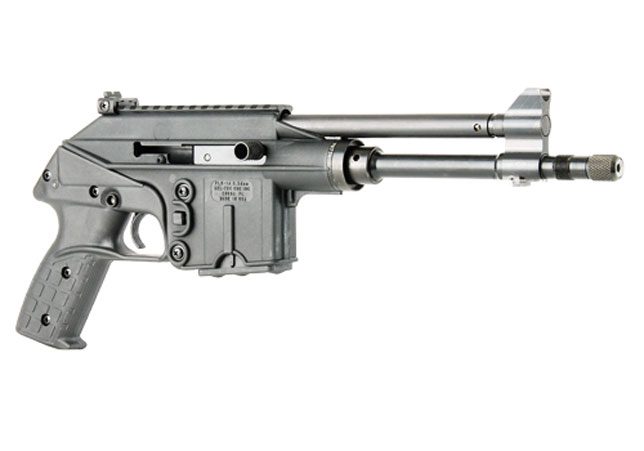 Kel-Tec PLR-16
This .223 pistol is based on Kel-Tec's SU-16 rifle design. The rifle is built with the recoil system over the barrel instead of behind the receiver like AR-15 platforms. This feature made the conversion of the action to a relatively compact pistol a natural choice. The PLR-16 pistol arrives with a 10-round magazine, but the receiver will accept most AR-15/M16 type magazines. The threaded muzzle will accept a variety of AR-15/M-16 muzzle brakes or flash suppressors.
Manufacturer: Kel Tec 
Caliber: .223
Barrel Length: 9.2"
Weight: 3.42 lbs. (Unloaded)
Length: 18.5"
Twist: 1:9"
Capacity: 10 Factory Magazine or M-16 Compatible
Trigger Pull: 5.50 - 7.50 Pounds
Suggested Retail Price: $665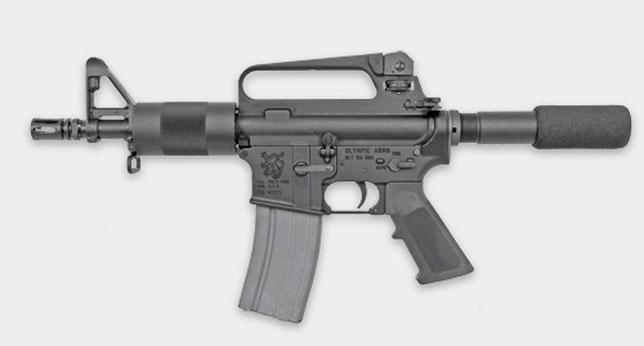 Olympic Arms K23P AR-15 Pistol
If you like working with AR-15 rifles, then Olympic Arms has just what you're looking for in an AR-15 inspired pistol. The configuration is familiar and the controls are all where they should be. So the pistol thankfully holds no surprises, just a shorter barrel, no shoulder stock and the level of quality you expect from Olympic. 
Manufacturer: Olympic Arms 
Model: K23P AR-Type Pistol
Caliber: 5.56 NATO (.223)
Barrel: 6.5", button rifled, 4140 chromemoly steel
Muzzle: A2 flash suppressor
Action: Gas Operated Semi-automatic
Finish: Black Matte Anodized Receivers, Parkerized Steel Parts
Upper: A2 with fully adjustable rear sight
Front Sight: Elevation adjustable post
Receiver: 7075 T6 Aluminum 
Length: 22.25"
Weight: 5.12 lbs.
Suggested Retail Price: $995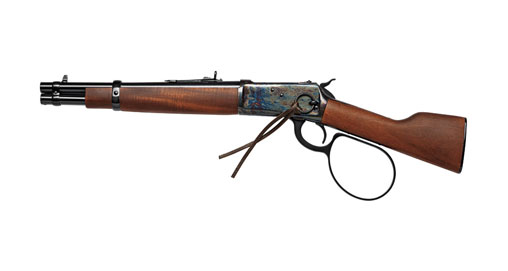 Rossi Ranch Hand Lever-Action
The lever-action rifle has held the American shooter's imagination ever since playing a role in settling the West. This particular action type has been given another leg up in movies and television programs with leading men toting cut-down lever guns, lovingly known as Mares' Legs.  While lever-action pistols have been available from custom shops for quite some time, Rossi now offers a production model called the Ranch Hand. The pistol is available in .45 Colt, .44 Mag., or .38/.357 Mag.
Manufacturer: Rossi; Rossiusa.com
Model: Ranch Hand 
Caliber: .45 Colt, .44 Mag., or .38/.357 Mag.
Action: Lever Action Repeating Pistol    
Capacity: 6 Shot     
Barrel Length: 12"    
Finish: Matte Blue
Weight: 4 lbs. 
Suggested Retail Price: $536-$665