Q: I am just starting to collect Smith & Wesson revolvers, and I keep coming across the terms "recessed cylinder" and "pinned barrel." What do these mean?
A: These combined terms are almost exclusive to Smith & Wesson revolvers. In fact, collectors sometimes refer to pre-1982 guns with these features as "P&R Smiths."
A recessed cylinder is one in which the rear portion of the chambers have been counterbored, thereby enclosing the head, or rim, of the cartridge case and making it rest flush with the rear of the cylinder. This feature began in 1935 with the advent of the .357 Mag. and was incorporated into .22 Long Rifle S&W revolvers as well.
Recessed cylinders continued to be a feature on all S&W magnum revolvers produced through 1981; they were discontinued after that year, as they were no longer considered necessary. Nonetheless, they are still found on S&W .22 rimfire revolvers today. The use of counterboring is obvious for .22 rimfires (to protect the primer-containing case rim), but originally it was to provide an extra measure of perceived safety for revolvers chambered in such cartridges as the .357 Mag. and .44 Mag.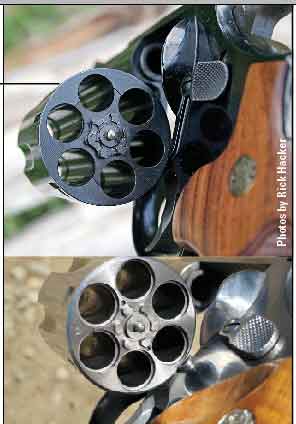 A pinned barrel refers to an actual steel pin that goes through the frame and a notched rear portion of the barrel, and it was originally intended to help anchor the barrel to the frame in both magnum and some non-magnum revolvers. This feature first appeared around 1899 on some of Smith & Wesson's earliest Hand Ejector models, but was discontinued—along with recessed cylinder—in 1982 as being too costly and unnecessary.
Nonetheless, many S&W shooters and collectors consider pre-1982 P&R Smiths to be more desirable than guns without these features, even though similar post-1981 models without recessed cylinders and pinned barrels are every bit as safe.