by
posted on May 17, 2011
Support NRA American Rifleman
DONATE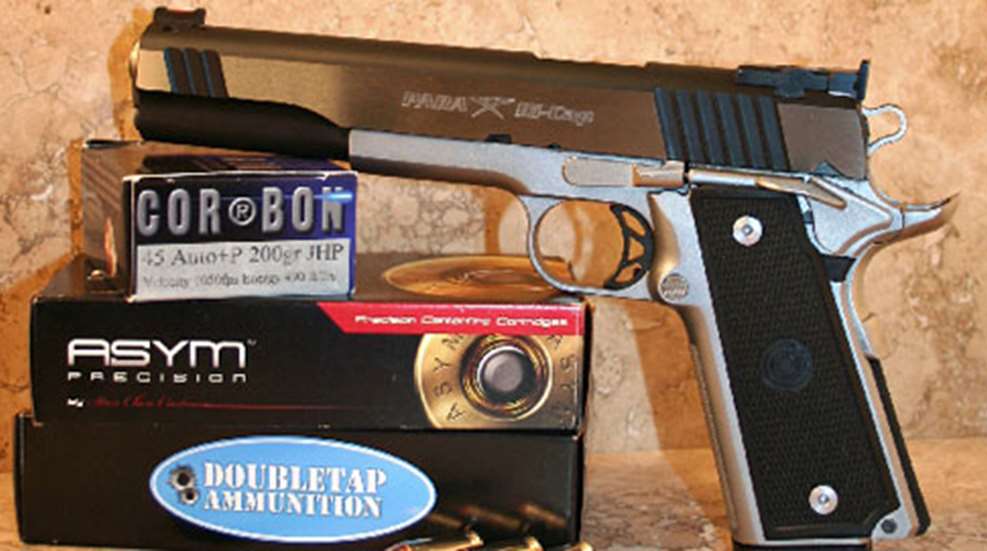 Would you use a 1911 pistol for hunting? Does that seem like a strange idea? I don't think so, and neither does Para USA. I've been building a mental picture of the 1911 I would like to hunt with for some time now, since I didn't see what I had in mind readily available off the rack. This year, Para USA released the new PXT 14-45 Limited Long Slide. Not only did they read my mind and manufacture a pistol that covers my list of specifications, they threw in a few extra features that hunters need.
For those who already know and love the 1911-style pistol for self-defense or target work, a 1911 tricked out for hunting should be an intriguing idea. Short-range hunting with this gun has its advantages. First and foremost is firearm familiarity. All the hours of running 1911s at the range will work to support making those important hunting shots. I also like the increased ammunition capacity and quick handling a double-stack .45 ACP pistol has to offer compared to my magnum revolvers. This particular gun and ammunition combination has its limitations, however. Would I use an iron-sighted .45 ACP to take down an elk at 150 yards? Not a chance. That's what a scoped .454 Casull is for. But for short-range work, on small and medium game, a properly loaded .45 ACP can get the job done.
Just in case the term is unfamiliar, a long slide is a 1911 with a barrel and slide length greater than the standard 5 inches. This PXT has a 6-inch slide fitted with a 6-inch match-grade barrel, which earns it the "long-slide" moniker. Along with their good looks, longer slides do have some tangible benefits for hunting. The increased slide length adds to the sight radius for increased accuracy. The extra mass in the slide acts to reduce felt recoil, which can aid in follow-up shots. The added inch of barrel increases bullet velocity, which in turn improves performance. Standard pressure rounds only get around a 10 to 30 fps boost from the longer barrel, while +P rated loads can get as much as 50 to 60 feet more. For a bullet that yields 490 foot-pounds of energy at the muzzle of a 5-inch pistol, the 60 fps increase of velocity created by the 6-inch barrel bumps the muzzle energy up to 537 foot-pounds. It's not an earth-shattering increase, but a little more is still a little more.
The PXT Limited models, as folks have come to expect from Para USA, are loaded with desirable features and display a top-grade level of fit and finish. The Long Slide is no exception. It's a stainless-steel pistol with a satin Sterling finished frame. The slide has polished flats with a matte black Para-Kote finish on the rounds and the front and rear slide serrations. The slide has a lowered and flared ejection port to help spent brass eject reliably.
The 14-45 designation means this pistol runs with Para USA's signature 14-round double-stack magazines. The wide open magazine well facilitates quick reloads with the tapered-top magazines. You may not feel like you need 14+1 rounds of +P hollow points while hunting, but having a seven-round reload already in the pistol, instead of in a pouch on my hip, seems like a good idea to me.
I have relatively small hands, so not all double-stack pistols are a good fit for me. However, the PXT's generous serrated magazine release and extended ambidextrous safety are easy to reach and operate. The high-ride beavertail grip safety is comfortable and guarantees no bites from the skeletonized spur hammer. The checkering on the front strap, polymer mainspring housing and the high-impact polymer grip panels make it comfortable to hold and shoot this double-stack frame.
The skeletonized polycarbonate trigger felt a bit stiff. My trigger gauge says it has a 7-pound 11-ounce pull, which is a bit more than I like in this kind of pistol. The PXT is fitted with a match-grade barrel that has a notch at the rear of the barrel to act as a loaded chamber indicator. And finally, one of my favorite features of the Long Slide: the excellent target sights. The front sight contains a bright fiber-optic that glows comfortably within the square silhouette of the black metallic sight without glaring or distracting the eye. Together with a fully adjustable rear sight, the pistol is quick to get on target at a variety of distances.
I conducted the formal accuracy testing for the PXT using five-shot group averages at 25 yards. This was done from a bench rest at an indoor range. Because this pistol is marketed for both hunting and target work, I used a cross section of high-quality ammunition I thought would fit the bill, including Doubletap's 185-grain Nosler jacketed hollow points, Cor-Bon's 200-grain +P jacketed hollow points and ASYM Precision's 230-grain Match Hardball full-metal jacket rounds.
The Doubletap averaged 2.25-inch groups, the Cor-Bon 2.5-inches and the ASYM load produced the best groups with an average of 2.0-inches. Now, I have to admit here that I'm just not that good of a shot. When I start squeezing the groups down into the 3-inch range, then I know I'm getting the job done. But to have three ammunition brands test out well under 3 inches, that's definitely the quality of the pistol and the ammunition doing the talking.
The rest of the pistol tests were conducted at an outdoor range in order to push the targets out to 50 yards, and to enjoy the challenge of maintaining good shot placement on a windy day. I fed the PXT a mix of ammunition that varied in bullet weights, styles and quality. From high-end hollow points to bulk ball rounds, the PXT ran flawlessly with all of them.
Naturally, the accuracy dropped off with the bulk ammunition at longer distances, but even shooting freehand at 50 yards on a gusty day, I was able to place vital shots with the quality rounds again and again. Based on my range tests, I have no doubt this pistol is a real game getter.
Whether you are getting ready for some short-range hunting, or looking for a top notch target pistol, the new Para USA PXT 14-45 Limited Long Slide really has its game on.
Manufacturer: Para USA; para-usa.com
Model: PXT 14-45 Long Slide Limited
Action: Single-Action Semi Auto
Caliber: .45 ACP
Finish: Stainless Steel
Sights: Adjustable/ Fiber Optic
Grip: High-Impact Polymer
Barrel Length: 6"
Overall Length: 9.5"
Height: 5.75"
Weight: 41 ozs.
Capacity: 14+1 Rounds
Twist: 1:16 LH
Rifle Grooves: 6
Suggested Retail Price: $1,399.00