posted on January 27, 2014
Support NRA American Rifleman
DONATE
Make ready. Fire!" The range commands at Gunsite Academy were ingrained in my mind since, for the past three days, I had done little else besides put lead on paper and steel targets and use my camera and notebook to record the experience. The reports from the pistols-mine and those wielded by the 10 or so other media representatives-and the familiar recoil of the gun against my now slightly sore hands were still as exhilarating and exciting as ever. As the drill ended I re-holstered my gun-by now a well-practiced and fluid motion-checked my target and prepared for the next five-shot string. With any other M1911-style pistol this would have required a reload, but since my classmates and I were using Para USA's Pro Custom pistols, with a magazine capacity of 14 rounds plus one round in the chamber, we were able to conduct three iterations with each magazine. This was just one of the advantages Para hoped to highlight during its re-launch event hosted by Gunsite in Paulden, Ariz. I had been invited, along with other industry notables, to put the new Paras through the wringer and to thoroughly test the company's products during a three-day pistol course at the acclaimed shooting school. The results of the event and subsequent evaluations at NRA headquarters point to a promising future for Para USA, but to put the current models into perspective, it's worth looking briefly at Para's past.
Para-Ordnance was founded in the mid-1980s by friends and firearm enthusiasts Ted Szabo and Thanos Polyzos in Ontario, Canada. Without the pedigree of historic gunmakers or credibility offered by "Made in the U.S.A." markings, the firm had an uphill battle ahead, especially if it hoped to capture part of the American consumer market. While its first offering-a non-firearm, dye-marking "gun" designed to resemble the MAC 10-found little traction, the Para team had better luck developing enhancements for a tried-and-true American classic: John Browning's M1911. Prior to the production of complete firearms, Para-Ordnance marketed frame kits for M1911s that could be used with existing slide assemblies, but were wide enough to accept Para's double-column magazine that essentially doubled the ammunition capacity of the pistol. The kits received warm welcome from shooters who sought the larger payload offered by 9 mm Luger semi-automatics like the Beretta M9, but did not want to give up the fight-stopping capabilities of the .45 ACP cartridge. It did not take long for Para to translate this success into a full line of complete M1911-style pistols of both single- and double-stack design.
To put on display the reliability and quality of its product, Para-Ordnance sponsored professional shooter Todd Jarrett who used Para firearms to claim countless titles and perform astounding feats of marksmanship. Competition not only brought Para success and fame, but it also became a fundamental part of the corporate culture and opened a key consumer market to which the company could cater. Further innovations brought even more recognition to the Canadian gun tinkerers. In 1998, Para began incorporating its Light Double Action (LDA) trigger system into some of its pistols. The LDA guns utilized a top-pivot trigger blade with a long, though fairly light, pull to cock and release the hammer, providing shooters with the heretofore unattainable double-action-only M1911. Five years later, the Para Power Extractor replaced the standard extractor in all the company's pistols, its main advantages being a larger claw to better engage the cartridge case and an articulated design that resolved tension-related issues sometimes encountered in its G.I. counterparts. In addition to pistol enhancements, Para-Ordnance dabbled briefly in the modern sporting rifle market with its semi-automatic, AR-style Tactical Target Rifle (TTR) that utilized the delayed-impingement gas system (DIGS) to cycle the bolt.
By the late 2000s, Para's creativity and competition-quality firearms were well established, but if the company was to be a serious gunmaker in the American market, the firm's management thought it was going to have to move to the United States. Pineville, N.C., a suburb of Charlotte, was selected as Para's new headquarters both for its pool of skilled workers and its heritage of gunsmithing. It didn't hurt that North Carolina is a business-friendly state and not at all averse to firearms manufacturing. So, by 2010 Para's operation was set up and, to seal the deal, the company re-branded to Para USA. An independent Para USA was very short-lived though, as just a couple years later the company was purchased by Freedom Group, a conglomerate of firearm-related companies. At the time, it was no secret that Freedom Group was working to acquire a handgun manufacturer, and it seems Para's southward move made it the lead contender for acquisition. That Remington, Freedom Group's flagship brand, was also headquartered in North Carolina was a convenient coincidence.
Though the changes all seemed positive, the rapid succession of events from about 2009 to 2012 left the company changed, both in management and location, and without the fire or direction-at least in the eyes of the shooting public-that it once possessed. In fact, it seemed that the light had just gone out, and the future of Para USA was uncertain. I personally felt this way after my first professional contact with Para USA at the 2012 SHOT Show. Although there was no question in my mind about the knowledge or passion of the individual Para employees, the company's products seemed to be a collection of randomly modified M1911s, lacking any sense of cohesion. And my questions about future plans were met with blank stares from representatives.
This experience quickly came to mind when I received an invitation to the Para USA re-launch, and I truly hoped that event would reverse my previous conceptions about the company. I was not disappointed. Upon arrival I was greeted by very professional media representatives who were visibly excited for the week to come. As well, I was quickly introduced to Travis Tomasie, an incredibly talented and distinguished professional shooter who not only is Team Para, but who might also be the nicest guy I've ever met. I don't know if Para USA could have found a better spokesperson; I found Travis to be genuinely excited about the products we were testing, extremely knowledgeable about the M1911 platform, and a world-class shooter-an attribute that not only lends credibility to his, and by extension Para's, opinions, but also provides a charismatic quality that makes one want to shoot the way he shoots and use the gear he's using.
For the first two days of the course we used early-production versions of Para's Pro Custom .45s, exclusively. The combination of using a competition-ready pistol and having Tomasie there to assist the Gunsite instructors confirmed that competitive shooting was still a big part of Para's DNA and would be an important area of focus for future product lines. Although my pistol ran flawlessly throughout the course, there were a small number of malfunctions experienced by others in the class, particularly relating to extraction and ejection. It was unclear whether the culprit was extensive shooting in a very dusty environment or an issue with the extractor tension. In all cases the issues were quickly resolved at the operator level, and it was reassuring to see the Para team come together and really examine each gun that went down, taking pictures and notes about the problems for use in future design and development. They stood behind their product and sincerely wanted to understand and correct all issues experienced, and Gunsite provided an ideal proving ground with a rigorous course of fire.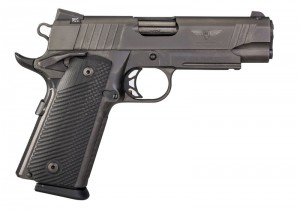 After two days of working with the Pro Customs, I was itching to see and shoot the rest of Para's offerings, and on the third day they obliged. What I saw in the five or six pistols I handled that day was exactly what I thought was missing the year before at SHOT-direction. The sampling of guns was cohesive, well thought out and separated into recognizable classes that would satisfy the large and diverse M1911 market. We had representative models from the Expert line of pistols, which are economically priced but nonetheless possess some premium features like fiber-optic front sights. Experts are available in full-size, commander and compact configurations, as well as single- and double-stack designs. Several Elites were also present, and these pistols are all single-stacks but come standard with upgrades like ramped match-grade barrels. And no catalog would be complete in this era without a tactical line-replete with rails and tritium night sights-and for that Para USA introduced its Black Ops brand.
While range time at Gunsite was excellent for familiarization and giving the pistols a good workout, a complete evaluation, under full American Rifleman protocol, was required to determine if the new Paras are really up to snuff. To that end I chose the Black Ops Recon and the Elite Stainless. I thought these were fitting choices as they would demonstrate some premium features that are common to most of Para's new line-up, but they also allow for the examination of some key differences. Starting with the basics, the Recon is a commander-size-that is, possessing a 41/4-inch barrel-M1911-style pistol designed for the double-column, 14-round-capacity magazine and finished in matte black with the extremely tough Ionbond PVD finish. By comparison, the Stainless, as its name implies, retains the stainless steel finish. As well, the Elite model is a full-size gun with a 5-inch barrel and is of the single-stack design, accepting magazines that can hold eight rounds. The Recon, with its shorter barrel, measures 77⁄8 inches in overall length-3/4-inch shorter than the Elite's 85⁄8-inch length. The two guns are of a height though, both measuring 57⁄8-inches tall, slightly taller than the original G.I. models due to the modern sight systems. Speaking of the G.I. M1911s, the two Paras are the same weight as the original, all three guns tipping the scales at 39 ounces. (All measurements are for unloaded guns with an empty magazine inserted.) The most telling measurement when comparing a double- to single-column gun is width, and here the Recon stacks up very favorably against the Elite Stainless, only 1/8-inch wider at 13⁄8 inches as opposed to 1¼ inches. Considering the double-stack magazine is nearly twice as wide as the single-stack-approximately 1 inch and ½ inch, respectively-the slight overall difference is remarkable. And take into account that the 1/8-inch difference translates into six extra cartridges, or 75 percent more ammunition, it's easy to appreciate this feat of design and engineering.
Measurements aside, these guns pack a lot of features that are worth looking at. Starting from the top, both pistols come standard with what would otherwise be after-market sights. For the Black Ops Recon, Para used Trijicon tritium night sights that glow green even in low-light conditions. The Elite Stainless has a two-dot rear sight and a green fiber-optic front. Both proved entirely capable and easy to use. Both guns have stainless steel slides with enlarged ejection ports. As well, the internal components are much the same, including match-grade ramped barrels and EGW (Evolution Gun Works) HD extractors to replace Para's old Power Extractor system.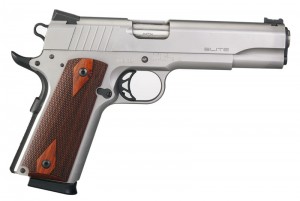 Stainless steel frames are standard on the Recon and Elite, as are the skeletonized triggers that broke a 4 pounds, 5 ounces and 3 pounds, 15 ounces, respectively. The elongated beavertail grip safety and checkered mainspring housing are also the same for both. A point of divergence is the Recon's ambidextrous thumb safety, compared to the traditional left-side-only safety on the Stainless. The Recon also features a single-notch rail on the dustcover, aggressive texturing on the frontstrap and VZ Operator machined G10 polymer grip panels. The Stainless is more traditional in these aspects with no rail, no frontstrap texturing and sporting classic, cocobolo double-diamond stocks.
In the controlled environment of the NRA Technical Range, both pistols performed admirably. Full results are tabulated, but both Paras exhibited excellent accuracy and controllability. The Recon averaged 2.33-inch groups with three types of ammunition, each evaluated through five, five-shot groups fired from a Ransom Rest at 25 yards. The smallest group measured just 1 inch and was achieved with Liberty Ammunition's Civil Defense load. The Stainless performed even better with an overall average of 2.07 inches and the best group measuring 1.25 inches using 185-grain Hornady Steel Match. No malfunctions of any kind were experienced during testing-an excellent showing considering the experience of some of my peers back at Gunsite. In fact, it is worth noting that through thousands of rounds and perhaps six different guns, I have yet to experience any problems from the new Paras. Combining the accuracy, reliability and bevy of features, both these guns-and from what I can tell, the entirety of the new Para USA catalog-represent an excellent value and are fine firearms for sporting or defensive use. For my money, I've taken a bit of a shine to the Recon, but of course what is not to like about an extended-capacity, commander-size M1911 with a winged skull laser-engraved on the slide? It's edgy, powerful and is ready to perform under any circumstance; in a word, it's Para.
If nothing else, my time at Gunsite and the subsequent range evaluations proved to me that Para USA is indeed back. Despite the moves and changes the company has made, changes that distanced Para from its own history and identity, this company is serious about producing quality firearms. The products I've tested prove that the new management, the designers and the employees, new and old, have bought-in. They've re-ignited the spark of innovation that put Para on the map two decades ago, and developed a cohesive selection of firearms to suit the needs of M1911 enthusiasts. Models such as the Elite Stainless or the Black Ops Recon are not the result of half-hearted gunsmithing, but the work of a committed company, with fire and direction, that is ready to take on the competition.
PARA USA BLACK OPS RECON
Manufacturer: Para USA, LLC; (888) 999-9386; para-usa.com
Action Type: semi-automatic, recoil-operated center-fire pistol
Caliber: .45 ACP
Slide: stainless steel
Sights: Trijicon three-dot tritium night sights
Frame: stainless steel
Finish: matte-black Ionbond PVD
Magazine: detachable box; 14-round capacity
Barrel Length: 41⁄4"
Overall Length: 77⁄8"
Width: 13⁄8"
Height: 57⁄8"
Weight: 39 ozs.
Accessories: lock, manual, hard case, extra 14-round-capacity magazine
Suggested Retail Price: $1,299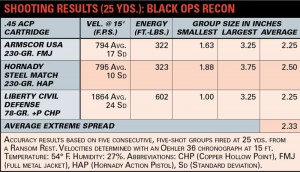 PARA USA Elite Stainless
Manufacturer: Para USA, LLC; (888) 999-9386; para-usa.com
Action Type: semi-automatic, recoil-operated center-fire pistol
Caliber: .45 ACP
Slide: stainless steel
Sights: two-dot rear, green fiber-optic front
Frame: stainless steel
Finish: matte stainless
Magazine: detachable box; eight-round capacity
Barrel Length: 5"
Overall Length: 85⁄8"
Width: 11⁄4"
Height: 5 7⁄8"
Weight: 39 ozs.
Accessories: lock, manual, hard case, extra eight-round-capacity magazine
Suggested Retail Price: $999