posted on November 29, 2010
Support NRA American Rifleman
DONATE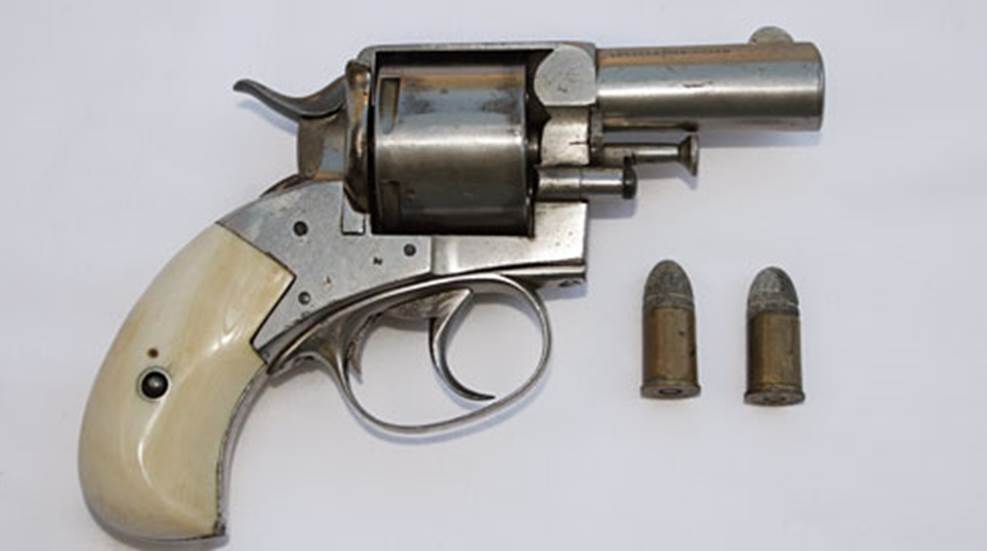 Made by P. Webley & Son of London & Birmingham, England, the British Bull Dog, a scaled-down version of Webley's Royal Irish Constabulary Model, was introduced in 1872 and made until 1914, when World War I put an end to a revolver already becoming obsolete. But during the 1870s and '80s, it was one of the most popular double-actions in Europe and America.
It was squat and compact like a bulldog, and its 2½-inch barrel produced a loud "bark." Moreover, its five shots were capable of inflicting a lethal "bite" at the close ranges dictated by a shallow-grooved top strap and small front sight blade. Chamberings included .44 Webley, .450 C.F., and .455 Webley.
With its bird's head grip, large trigger guard, and prominent hammer spur, the British Bull Dog was an ergonomic revolver, although recoil from its big bore was stout. The Bull Dog's popularity was enhanced by its compact size and affordable price, which ranged from $9 to $15, depending on chambering. Naturally, it was copied, primarily in England and Belgium, as well as by firms such as Iver Johnson, Harrington & Richardson, and Forehand & Wadsworth in America. Spurious stampings included American Bulldog, Western Bull Dog, California Bulldog, and my favorite, American British Bulldog. None of these have the value of guns made by Webley.
Finishes were blued or nickeled, and grips were checkered walnut, ivory or pearl. The cardboard boxes were usually discarded, some guns were engraved, and cased versions are scarce. There is no logical order to serial numbers, although three models were produced: No. 1 with a fluted cylinder; No. 2 with an unfluted cylinder; and No. 3 with an enlarged grip.
In his excellent book, "The British Bulldog Revolver" (Andrew Mowbray Publishers), George Layman mentions a Belgian copy of a .38 British Bulldog selling for $390 at auction in 2004 and authentic Webley versions selling for $175 to $1,800, depending on condition. According to Layman, No. 1 and No. 2 models are more desirable, and a No. 2 gun ranges from $400-$750.
The gun shown here is a nickeled No. 2 in 85 percent condition with ivory grips. As such, its value is $700 and destined to go up, given the increasing collectability of these guns.
Gun: P. Webley & Son British Bull Dog
Caliber: .44 Webley
Condition: 85 percent—NRA Excellent (Antique Firearms Condition)
Manufactured: 1880s (est.)
Value: $700