Support NRA American Rifleman
DONATE
Harry L. Jaecks, who over the course of a 38-year career saw the magazine business evolve from linotype machines to desktop computers to all-digital network-based workflow, is retiring from NRA Publications in January 2017.
Jaecks started his NRA career in late 1978, when he was hired as the design chief for American Hunter. Soon thereafter, he was promoted to a similar position for American Rifleman. He became art director in 1983, and in 2013 took on the mantle of creative director.
His time with NRA included multiple high points, most notably including being named NRA Publications' Employee of the Year by his peers in 1997, and earning the NRA Executive Vice President's Excellence Award in 2000.
"Harry Jaecks has distinguished himself in the NRA Publications Division for more than 38 years. Harry's professionalism in leading his team of designers and photographers has favorably impacted our 5 million-plus members. On behalf of the NRA Publications staff and all NRA members, we wish Harry well in his retirement," said Doug Hamlin, executive director of the Publications Division.


During Jaecks' tenure, NRA Publications produced 10 different print titles and diversified into websites, television programs, digital magazines and e-newsletters. Accordingly, the Art Department grew from four to as many as 10 graphic designers, all of whom were trained and/or influenced by Jaecks' high standards and commitment to representing NRA's best interests. Behind the scenes, he contributed in myriad ways, creating art and design for membership recruitment, advertising sales, museum exhibits, books, catalogs and fraternal items, to name a few. His talent, work ethic and uncanny knack for solving problems earned Jaecks the esteem of NRA leaders, directors and colleagues, as well as the appreciation of those members who contacted him for assistance.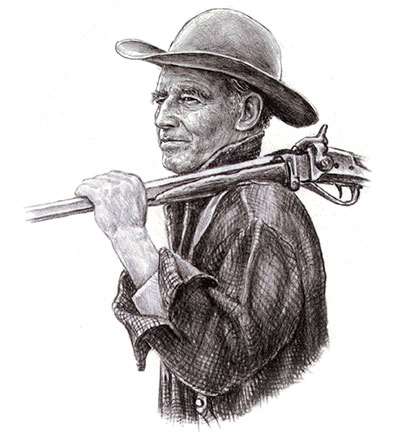 Outside of work, Jaecks is an accomplished landscape and portrait artist. He completed 20 portraits of NRA officials, donors and historical figures, and prints of his paintings helped the NRA raise hundreds of thousands of dollars for various programs.
During his tenure, Jaecks saw the NRA magazines grow into award-winning, industry-leading publications, a trend echoed this year when his work on the specialty publication, Remington: America's Oldest Gunmaker Turns 200, earned a prestigious Folio: "Ozzie" Award.   
"When I started with NRA in 1978, we still pasted up our magazines with type set on hot lead linotype machines built in 1903. Today we are a fully integrated print and digital media operation, incorporating state-of-the-art computer-generated design, illustration, animation and video. In a way, my 38 years with NRA have spanned the entire history of publishing in the 20th century," Jaecks said. "To most people this is a bit esoteric, but to graphic designers this is exciting stuff. The important point is that our members can now read our magazines in any way and at any time or place they choose. Considering that in our field the quality of our content is second to none, that is something I think everyone can appreciate. The only losers in this equation are the handloaders on the staff who, long ago, had to give up the free access to scrap lead our typesetters so generously supplied."