Support NRA American Rifleman
DONATE
Having addressed the sights, trigger and recoil management qualities of a standard 9-mm M&P Shield, it made sense to pit the project gun against the Performance Center Shield in head-to-head shooting match. The 50-round course of fire included drills chosen to test speed—from the holster and shot-to-shot—accuracy, strong- and weak-hand-only performance, and target-to-target transitions. The results were quite satisfying.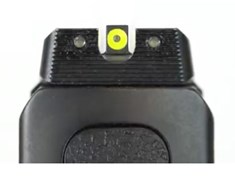 Regarding the sights, American Rifleman's Joe Kurtenbach found that he was consistently a touch faster—one- or two-tenths of a second—with the project gun, thanks to the big, bright front sight which was very easy to pick up and put on target. However, accuracy was just a little bit better with the Performance Center model, that gun's finer front sight yielded tighter groups and one less "miss" during the 50-round test—for most of the drills 2" bullseyes were used, and any shot outside the bull was considered a miss.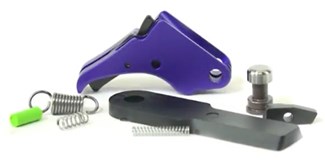 The triggers on both guns were a revelation. Both were smooth on the pull, crisp at the break, and featured short resets that were clearly denoted by tactile and audible cues. The Apex Tactical trigger was noticeably lighter, and definitely added some flair, but both triggers performed very well, and both were clear upgrades over the stock bang-switch of the standard Shield. Shot-to-shot split times were virtually identical with both guns, illustrating just how evenly matched the two upgraded pistols are.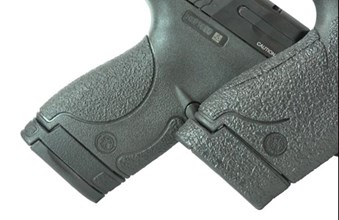 Another factor to consider when looking at shot-to-shot splits is the overall shootability and recoil management of a given firearm. Based on the shot timer, and the feel in hand, here again the guns are evenly matched and, again, both are improvements over the base model. The PC's ported barrel and slide performed as intended, counter-acting the effects of recoil and reducing muzzle rise. The project gun's Talon grips provided excellent purchase, really anchoring the small gun in hand and allowing the shooter's grip to better control the gun's movement when firing.
All in all, Kurtenbach reports that both guns were a lot of fun to shoot—a sentiment not commonly associated with full-power sub-compact semi-autos.

For more commentary and conclusions from the Shield v. Shield project, including a price and value comparison, watch this week's NRA Gun Gear of the Week video above.


Additional Reading:
NRA Gun Gear of the Week: Shield v. Shield—Concept
NRA Gun Gear of the Week: Shield v. Shield—Sights
NRA Gun Gear of the Week: Shield v. Shield—Trigger
NRA Gun Gear of the Week: Shield v. Shield—Recoil