Support NRA American Rifleman
DONATE
Opinions vary about the utility of ported barrels and slides, especially on 9-mm guns—not exactly a behemoth chambering—and especially on a personal defense pistol. But after shooting a standard, non-ported Shield side-by-side with the ported Performance Center model—as well as many other subcompact pistols—American Rifleman's Joe Kurtenbach is convinced there is merit to the arrangement. In such a small, lightweight gun, any feature that helps get the barrel and sights back on target quickly could be a life-saving advantage.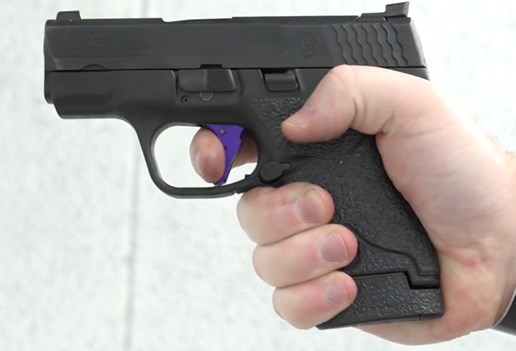 Not willing to drill holes in his trusty Shield, however, Kurtenbach instead turned to Talon Grips for an alternative form of recoil management. Talon Grips specializes in purchase-enhancing, textured grips panels that are affordable, and as easy to apply as a sticker. They are also some of the cleanest, most sophisticated and precisely designed stickers you'll ever encounter as they feature a heat-activated adhesive and are cut to fit specific gun models perfectly, even incorporating channels and windows that align with the host firearm's lines and logos.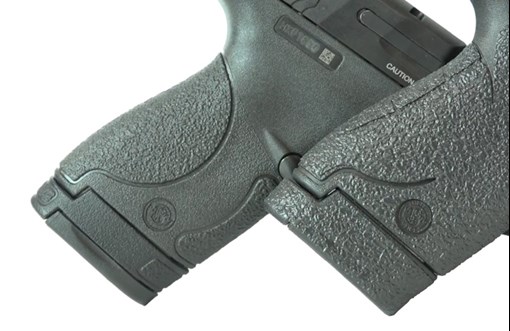 Kurtenbach chose the black rubberized grip for the project Shield, and application was easily accomplished with the help of a hair dryer. The grip's texturing was a vast improvement over the molded frame—which was already quite good—and even though the Talon grip added just a very thin layer of material to the sub-1"-wide frame, the project Shield actually felt substantially larger in hand.
On the range, the grips offered performance on par with the ported barrel and slide, and Kurtenbach thinks they may be the best value of the whole project.

To see the application process, and for more commentary, watch this week's NRA Gun Gear of the Week video above.


Additional Reading:
NRA Gun Gear of the Week: Shield v. Shield—Concept
NRA Gun Gear of the Week: Shield v. Shield—Sights
NRA Gun Gear of the Week: Shield v. Shield—Trigger
NRA Gun Gear of the Week: Conclusion