Support NRA American Rifleman
DONATE
Charlton Heston (1923-2008) was always what he seemed to be. He marched with Martin Luther King, Jr., to support the American ideal that we are all equal and that for justice to be just, it must be blind. Later in life, Heston also stood for Second Amendment rights by serving as NRA president from 1998 to 2003. If some people today find these two positions to be out of step with one another, then they clearly don't know this man or the values he stood for. In both cases, Heston was defending our civil liberties and the basic and fundamental belief that we are all equal before God and therefore equal in the exercise of our natural rights.
Heston gained his steadfast belief in individual rights during a youth spent in the outdoors, hunting and shooting, and then during a life striving for all he wanted to be. He earned a drama scholarship to Northwestern University. In March 1944, Heston married Lydia Marie Clarke; they'd stay married all their lives.
During World War II, Heston enlisted in the Army Air Forces. He served for two years as a radio operator and aerial gunner aboard a B-25 stationed in the Aleutian Islands. He reached the rank of staff sergeant. After his rise to fame, Heston narrated classified military and Department of Energy instructional films, particularly relating to nuclear weapons.
In 1948, Heston was offered a supporting role in a Broadway revival of Shakespeare's "Antony and Cleopatra," starring Katharine Cornell. In television, Heston would play a number of roles in CBS's "Studio One," one of the most-popular anthology dramas of the 1950s.
Film producer Hal B. Wallis spotted Heston in a 1950 television production of "Wuthering Heights" and offered him a contract. When his wife reminded Heston that they had decided to pursue theater and television, he replied, "Well, maybe just for one film to see what it's like."
Heston would appear in almost 100 films over the course of 60 years. He played Moses in "The Ten Commandments" (1956), a role that earned him his first nomination for the Golden Globe Award for Best Actor. He also starred in "Touch of Evil" (1958) with Orson Welles, "El Cid" (1961), "Planet of the Apes" (1968), "The Big Country" (1958) and "The Greatest Story Ever Told" (1965). He accepted the title role in "Ben-Hur" (1959) and won the Academy Award for Best Actor.
Along the way, he began as a supporter of Democratic politicians in the 1960s but later became a Republican, founding a conservative political action committee and supporting Ronald Reagan. Heston would say, "I didn't change. The Democratic Party changed."
In 1963, he was a nationally visible supporter of the Civil Rights Act of 1964 before it was hip to do so in Hollywood. In 1998, Heston was still a supporter of civil rights and showed this by accepting the position of president of the NRA. He stayed such a steadfast supporter of individual liberty that he resigned in protest from Actors Equity, saying the union's refusal to allow a white actor to play a Eurasian role in "Miss Saigon" was "obscenely racist." At a Time Warner stockholders' meeting, Heston even called out the company for releasing an Ice-T album that included the song "Cop Killer."
Heston was always what he seemed to be. A straightforward, talented man who called it like he saw it and who stood for basic human rights, no matter the politics.
—Frank Miniter, Editor In Chief, America's 1st Freedom
---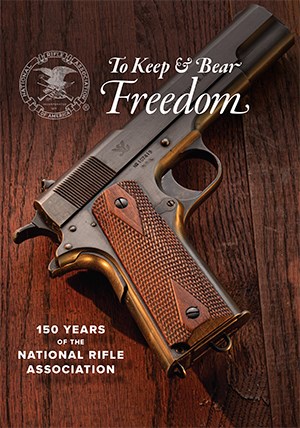 This article is excerpted from the new book To Keep & Bear Freedom: 150 Years Of The National Rifle Association, which is available through the NRAStore.com or by calling (866) 672-2020.