by
posted on February 18, 2020
Support NRA American Rifleman
DONATE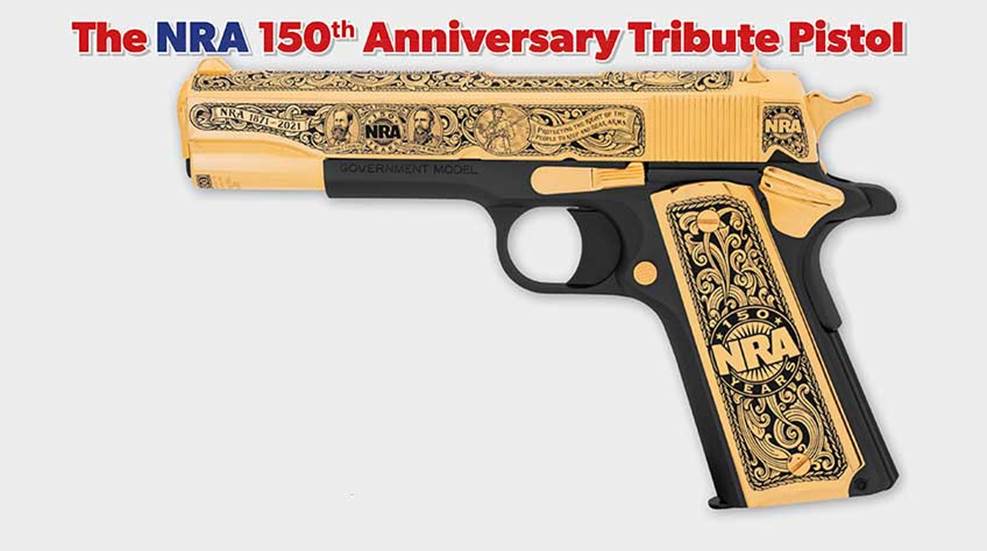 America Remembers is known for making decorative commemorative firearms for various noteworthy anniversaries. The company's newest commemoration piece will be for the 150th anniversary of the founding of the National Rifle Association, marking the period between 1871 to 2021. The NRA Right to Bear Arms 150th Anniversary Tribute Pistol is available exclusively from America Remembers and is approved by the National Rifle Association. The pistol model selected for the tribute is a Colt Government Model chambered in .45 ACP.
The tribute pistols start off as Colt Classic Series 70 Government Model 1911s that are customized by skilled craftsmen commissioned by America Remembers specifically for the project. The sights, controls, and surfaces of the pistols are that of the classic 1911 design without the features found on more modern variants. They feature a 5" barrel with a single-stack 7+1 capacity magazine. Since these are meant to be presentation firearms, extra care is put into the crafting of the fine details along with the finish. Such details include fine embroidery, the likenesses of the NRA's founders William Church and George Wingate, the likeness of the minuteman, along with NRA-related inscriptions.
The slide is finished with ornate and detailed engravings covering the sides and top. The original grips are replaced by CNC-machined steel grips and feature more engravings. The slide, sights, hammer, slide catch, manual safety, and magazine release are all plated in 24 karat gold. The slide and grips, the two areas were the engravings are located, have the lowered areas of the engravings filled with a black patina to highlight the details.

These tribute pistols are limited to a run of 500, with each example individually numbered on the bottom of the slide just beneath the spring plunger near the muzzle. Each pistol also comes with a matching numbered certificate of authenticity. The market release date is May of 2020 and has a MSRP of $2,195. For more information visit americaremembers.com.