For the sixth year in a row—every year since the award was introduced—Leupold & Stevens, Inc., has been named the Optics Manufacturer of the Year by the National Association of Sporting Goods Wholesalers (NASGW). The award was presented during the annual NASGW annual meeting, which this year is taking place in Kansas City, Mo.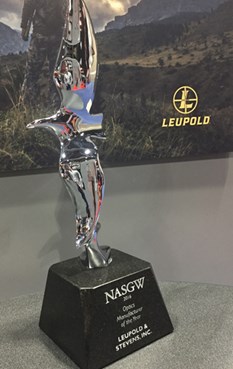 "This recognition comes straight from our distribution and specialty retail partners," said Bruce Pettet, president and chief executive officer of Leupold & Stevens, Inc. "This proves that the exciting things we're doing are moving the needle for our partners, and we're grateful for their trust and support."
Candidates were evaluated by the wholesaler members on four key criteria: distribution policy; marketing, sales and promotion; logistics and operations; and NASGW and industry support. This comprehensive assessment of manufacturer performance was designed to provide a balanced appraisal that truly recognizes the best of the best according to NASGW distributor members.
For more information on Leupold products, please visit leupold.com.