When NASCAR Sprint Cup Series rookie Austin Dillon takes to the high banks of Daytona International Speedway under the lights for the Coke Zero 400 on July 5, he'll certainly have history on his side-literally, and in more ways than one.
Thanks to primary sponsor Bass Pro Shops and its founder, Johnny Morris, Dillon's red, white and blue Chevrolet will feature a special paint scheme highlighting the new NRA National Sporting Arms Museum. The museum, which traces the evolution of hunting and conservation from the 1600s to the present through its collection of firearms, artifacts and dioramas, will be prominently displayed on the rear quarter panels, deck lid and back of Dillon's Chevy SS.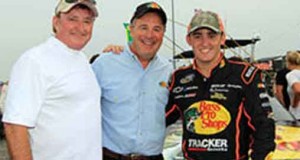 The sponsorship is particularly fitting considering that Dillon himself is a lifelong hunter and shooter, as is his car owner and grandfather, NRA Board member Richard Childress.
"The car we'll have in Daytona supports the NRA museum that was just built and opened up by Johnny Morris, a great man, friend and supporter of our race team at Richard Childress Racing," said Childress, who serves as chairman of the NRA Hunting and Wildlife Conservation Committee. "He and I both feel very strongly about the NRA and what its goals are for educating people about guns, conservation and hunting."
A powerful advocate for hunters, Childress recognized the importance of gun safety, wildlife conservation and our Second Amendment freedoms at an early age. They are values he has devoted considerable time to promoting and protecting-and passing on to his grandsons.
"I've been hunting, shooting and enjoying the outdoors with my family my entire life," said Dillon. "It's part of our livelihoods, and it's what we do together as a family to relax away from the racetrack. The NRA National Sporting Arms Museum focuses on hunting, conservation and freedom. I can't think of anything more American than that, so I'm really excited about the race weekend and highlighting firearms freedom."
If representing those freedoms and all they stand for wasn't weighty enough for the 24-year-old, Dillon will also be carrying on the tradition of the legendary No. 3 car at Daytona. Made famous by the late Dale Earnhardt, the No. 3 had been unofficially retired from Sprint Cup Series competition since the seven-time champion was killed on the final lap of the 2001 Daytona 500. Earnhardt visited victory lane at Daytona a record 34 times, with the vast majority of those wins coming while driving the No. 3 car.
Childress, whose cars Earnhardt piloted to six of his seven series championships, as well as his victory in the 1998 Daytona 500, brought the No. 3 out of retirement for the start of the 2014 season.
"All of us at Bass Pro Shops are proud to partner with our good friend and conservationist Richard Childress and his grandson Austin Dillon by paying tribute to the NRA and the new National Sporting Arms Museum, which is located at Bass Pro Shops' flagship superstore in Springfield, Mo., by donating a special NRA paint scheme," said Morris. "We couldn't think of a better way to salute the NRA membership and museum than to feature it on the famous No. 3 Chevy when it returns to Daytona on the Fourth of July weekend."
This is not the first time Bass Pro Shops has promoted the NRA through its NASCAR sponsorships. In fact, the outdoor retail giant has donated special NRA-themed paint schemes on six prior occasions, including on cars driven by Ryan Newman and Jamie McMurray in the 2011 and 2012 summer races at Daytona, respectively.
"Johnny Morris and everyone at Bass Pro Shops are true friends of the National Rifle Association," said NRA Executive Vice President Wayne LaPierre. "Johnny has always been a staunch supporter of our hunting and shooting heritage, and it was through his vision and generosity that we were able to build the NRA National Sporting Arms Museum. We are honored that Bass Pro Shops has chosen to use its sponsorship of the No. 3 car to highlight the new museum, and there's no better backdrop than Daytona on Independence Day weekend."
A decade in the making, the idea behind the museum took hold when Morris visited the NRA National Firearms Museum at NRA Headquarters in Fairfax, Va. Inspired by the collection, Morris wanted to bring the artistry and history of sporting arms to the heartland where millions more Americans could enjoy it-a vision NRA readily embraced. With a commitment to sharing sporting arms history, Bass Pro Shops donated the space for the museum in its Springfield store and provided the funding to design and build the 7,500-sq.-ft. museum, while NRA provided the firearms and storylines for the exhibits.
Since its doors opened in August 2013, nearly 300,000 people have visited the new museum, which houses a collection of more than 1,000 firearms that tell the story of America's hunting and shooting heritage. Notable pieces in the collection include a flintlock fowler once owned by England's King James II that dates to the 1600s; a Girandoni air rifle as used by Lewis and Clark on their journey to the Pacific and back between 1804 and 1806; President Grover Cleveland's 8-gauge side-by-side Colt shotgun, the only known 8-gauge Colt ever made; the Winchester Model 21 shotgun presented to President Dwight D. Eisenhower by Robert Woodruff, president of Coca-Cola; a Holland & Holland .700 NE double rifle, the largest double rifle ever made by the venerable firm; and the Shiloh Sharps rifle used by NRA Board member Tom Selleck in his role as Matthew Quigley in the 1990 film "Quigley Down Under."
Visitors can see these guns and many more historically significant firearms in the museum's one-of-a-kind collection by visiting the Bass Pro Shops retail outlet in Springfield, Mo., which is located at 1935 S. Campbell Ave. The museum is open every day from 10 a.m. to 7 p.m. and admission is free.
Dillon and the Bass Pro Shops/NRA Museum No. 3 will take the green flag for the Coke Zero 400 at 7:30 p.m. ET on Saturday, July 5. The race will be televised on TNT.