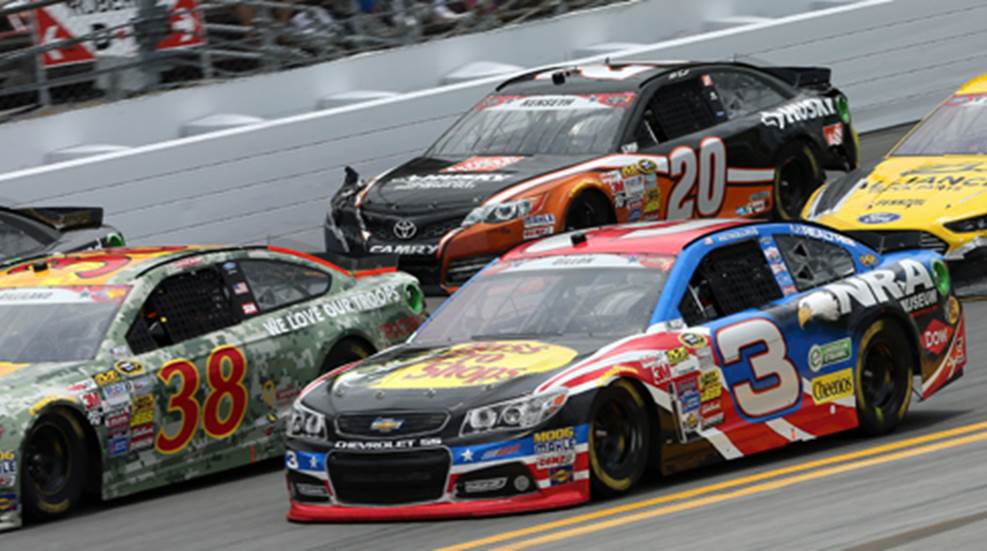 Circumstances were in Austin Dillon's favor last Sunday as he crossed the finish line in fifth place at Daytona, driving the iconic No. 3 Chevrolet made famous by the late Dale Earnhardt. The NASCAR rookie delivered one of his best performances in his short career with the NASCAR Sprint Cup Series.
Carrying a special NRA Museum paint scheme donated by primary sponsor Bass Pro Shops, Dillon earned a career-best fifth-place finish in Sunday's rain-shortened Coke Zero 400 at Daytona International Speedway. The race, won by NASCAR journeyman Aric Almirola, was originally scheduled to be run on Saturday evening but was moved to Sunday morning due to rain. Dillon escaped a pair of huge, multi-car crashes and was in the right place at the right time when yet more rain showers forced NASCAR to abbreviate the race after 112 of the scheduled 160 laps.
"It was a great day for the No. 3 Bass Pro Shops/NRA Museum team," Dillon said. "There were a few accidents on the track that we got through and I'm still scratching my head. I'll have some stories to tell my kids one day, that's for sure. There were cars in the air right in front of me."
The top-five finish provided an exclamation point to Dillon's impressive 2014 showing at Daytona, where he placed ninth in the season-opening Daytona 500 in February after winning the pole position for "The Great American Race."
Turning in his two best performances of the year at Daytona is only fitting considering that this season Dillon is driving the No. 3 Chevrolet made famous by the late Dale Earnhardt. The seven-time series champion was a master at navigating the superspeedway's 2.5-mile, high-banked circuit, visiting victory lane at Daytona a record 34 times during his illustrious career. Earnhardt's signature No. 3 had been unofficially retired from Sprint Cup Series competition since his death in a last-lap crash in the 2001 Daytona 500.
Earnhardt's longtime car owner, Richard Childress, an NRA Board member, also happens to be Dillon's grandfather, and he brought the No. 3 back to the track for his grandson's rookie Sprint Cup season.
With both Childress and Dillon being hunters and staunch NRA supporters, the backdrop of Independence Day weekend provided a perfect opportunity for Bass Pro Shops to highlight the new NRA National Sporting Arms Museum. A joint effort between NRA and Bass Pro, the museum is located inside the outdoor retail giant's flagship store in Springfield, Mo., and traces America's rich hunting heritage through a collection of more than 1,000 historically-significant firearms.
Open daily from 7 a.m. to 10 p.m., the NRA National Sporting Arms Museum is located at 1935 S. Campbell Ave. in Springfield, Mo., and admission is free.
Since opening last August, the museum has hosted some 300,000 visitors, and thanks to Bass Pro Shops' generosity and Dillon's strong showing in Daytona, many more are certain to follow.