by
posted on April 30, 2019
Support NRA American Rifleman
DONATE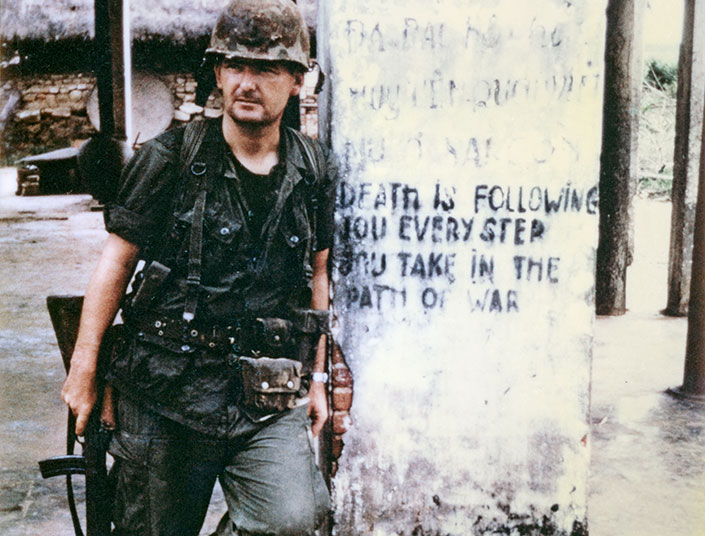 I really hope that something good happened to that particular piece of equipment, because it was a constant and treasured companion during a rough period of time. That time began in the spring of 1965 at Camp Pendleton, Calif. I first saw it when Cpl. Anthony Catarella knocked on my office door and asked for a brief moment of my time. "Cat" was the company supply NCO, and had come to tell me that our outfit had been issued a number of new replacement M1911 .45s. One of them was the pistol he held—my new gun. The company was Company K, 3rd Batallion, 7th Marine Regiment, and we were poised to ship out for Vietnam. As we were doing so, the supply system began to cough up all kinds of new equipment and a few .45s were part of it.
The .45s were not new, but rather freshly rebuilt and refinished from the arsenal. Made sometime during World War II, my new gun was a Remington-Rand M1911A1 that had been through the refurbishing process at least a couple of times. It had a brand-new coat of Parkerizing and was completely up to G.I. specs. Knowing my personal preference for a long trigger and flat mainspring housing, Catarella had moved them from my original pistol and installed them on the new one. Before we left the country, I installed an old set of walnut stocks with the original double diamond checkering pattern. My modifications to the pistol did not detract from its utility, but rather enhanced its performance in my hands. I was aware that things would have to be really bad before I would be doing much shooting with a pistol, but I was happy with my new gun. For all practical purposes, my issued M1911A1 pistol was pretty much the standard gun as used for decades by all American servicemen.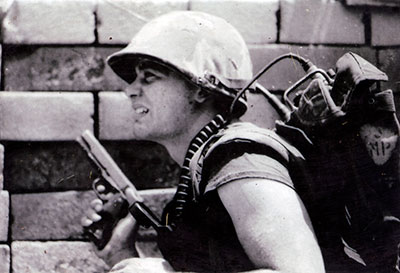 My unit sailed to Okinawa on the U.S.S. Valley Forge, went ashore there for brief training and moved to the U.S.S. Iwo Jima. This latter vessel was one of the new helicopter carriers, capable of carrying a battalion landing team and a full squadron of H-34 helicopters. Our assignment was to go on station off the coast of Vietnam, landing whenever and wherever needed. After a couple of false starts, we finally went for real—at Qui Nonh on July 1, 1965. Since available records told me nothing about my pistol's war record, I never knew where it had been. It's entirely possible the old .45 rode ashore in one or more of the Pacific Island campaigns of World War II. It might even have been a veteran of Korea as well as World War II. I was not.
It may have been a veteran gun, but it was an inexperienced Marine that carried it aboard the helicopter and ashore. The first step out the door brought us hard up against the reality of life in Vietnam. We (man and gun) stepped into a rice paddy. Actually, this turned out to be a recurring experience for the time I spent in Vietnam. Sometimes I flew into rice paddies, sometimes I walked into them and sometimes, I must confess, I made a frantic headfirst dive. It gave you an appreciation of Southeast Asian horticultural practices, particularly as it applies to fertilization. But every time I went into a paddy, the .45 also went—it was attached to my person by means of that old familiar flapped G.I. holster. And every time we went into a paddy, the gun went into the contents of that paddy.
Now, I was familiar with the procedures for fieldstripping the M1911A1 pistol for cleaning. But when a firearm is immersed in rice paddy mud, it has to be disassembled down to every last part—you simply can't properly clean it without doing so. I knew how to do it, but preferred not to do it so often. And I discovered another thing about the grand old gun and its less-than-grand old holster. As much as you grew accustomed to the comforting weight of the pistol, you became aware that an inch or more of butt is sticking out of the holster. And as time went by, we all started standing with the right hand on the top of the holster. This brings the hand into contact with the pistol, where the always-present perspiration rusted the daylights out of the steel. Just as I came to treasure the gun as a companion, I dreaded the amount of maintenance required to keep it going. Most of the time, my practice was to tend to the pistol before I ate my evening C-ration. Usually, that was ham and lima beans. I still wonder why I got so many cans of this meal.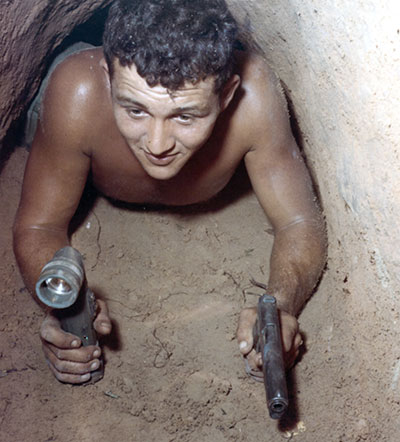 The point was simply that you paid for the comfort of having on your hip a specimen of the best battle pistol ever devised by man. The troops had it a whole lot worse—they had an M14 rifle to worry about.
In the fall of that first year in country, I was transferred over to H&S Company when I became a member of the battalion staff. I had my pistol properly transferred to that unit's property logs, since I had grown downright fond of that particular gun. In this new role, I spent a lot of time around the battalion command post. I even tried one of those sexy shoulder rigs to carry my old .45. Don't try it, that strap cuts into your neck something awful. While the wear on the gun was lessened by being under cover a little more, I still checked it daily.
Then in mid-'66, I caught a break and went back to another rifle company. I had to go rather suddenly, but took the gun and transferred the title to Company I. Out in the field again (more rice paddies) the aging .45 continued the cycle of immersion in questionable liquids (even salt water several times), cleaning and more wear. I discovered that sand and dust, propelled by sweeping helicopter blades, accelerated the wear and sometimes almost sandblasted the gun. But it continued to work just like Colt engineers, Army Ordnance officers and old John Browning designed it to in 1910-1911.
By now, I am guessing you are waiting for the pithy little battle tale about the time the clean-but-worn M1911A1 .45 saved my ass. It never happened. But it came along on many patrols, sweeps, skirmishes and even a few genuine battles. In that time, the gun was so worn that it no longer had that green Parkerizing color, but was a dull silver/gray. Campaigning in the winter in the DMZ was hard on the gun, and, some mornings, I'd wake up to find the .45 had grown a coat of red hair. It could only be removed with steel wool, and I didn't have any of the fine stuff. But the gun soldiered on—it always worked. I could only hope that I was up to the task. I knew the gun was.
At the end of my tour, I was pleased to be going home and leaving the company in the capable hands of Reed Clark. He got the gun, too. Several days later, I was home at my parents' place in California. As we got ready to go out for a big welcome home dinner at a favorite restaurant, I found myself missing the familiar weight of my constant companion.