President Franklin Delano Roosevelt founded the United Service Organizations (USO) in 1941. Its mission statement is simple: "The USO lifts the spirits of America's troops and their families."
In 1947, President Harry Truman gave the organization an honorable discharge, but in 1951, it returned to duty when the United States entered the Korean War. The history of the organization and its multiple programs-including care packages to deployed members of the military-can be found on its website.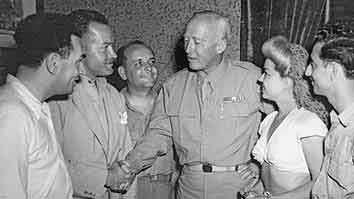 Thanks to the Herculean efforts of Bob Hope, most Americans my age-military or not-grew to appreciate the year-round efforts of the USO. Hope performed in 1941 for the organization at a stateside airfield, but in 1943, he took a cast of celebrities to Africa, Sicily and England to entertain those deployed overseas. He did more than 200 USO performances, but it was the 35 consecutive years of Christmas shows-many of them nationally televised-that captured my attention.
Bob Hope died in 2003 at the age of 100, but the tradition of buoying the spirit of our troops during the holiday season lives on. Unfortunately, it doesn't garner the type of publicity it deserves.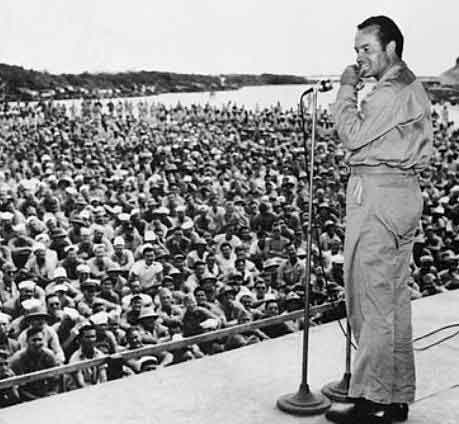 Here are some of the entertainers who have spent time in faraway places with the men and women willing to stand watch on the front line of freedom. Robin Williams made several tours, with the first in 2002 including stops in Afghanistan and Turkey. Kid Rock and Toby Keith have been to the Sandbox enough times they probably qualify for naturalized citizenship. Robert De Niro, Ted Nugent, Lee Ann Womack, Alyssa Milano, Willie Nelson, Sinbad, Sheryl Crow and even Alex Trebec ignored the jeopardy to give back to those who serve. This month, perennial favorite Dallas Cowboy Cheerleaders will be entertaining in Japan and Guam, with a stop in Hawaii along the way.
The list of entertainers who have worked with the USO on its tours is long. In a world teaming with bad news right now, it's great to report that at least one wonderful tradition lives on.
Photos Courtesy Department of Defense and Library of Congress