by
posted on October 28, 2021
Support NRA American Rifleman
DONATE
For the traditional part of our wedding, I bought my wife a diamond ring; for the practical part, I bought her a hunting rifle. They say a diamond is forever, and it has served Gail well for 45 years of marriage. But, for the same number of years, so has the 6 mm Rem.-chambered Remington Model 600 Mohawk she has used to hunt mule deer and pronghorn.
Gail's first hunting season was a great success. Our first fall together, she and I headed to the prairie. Gail crawled around cactus patches to cut the distance on a band of antelope. From the prone position, she zipped a bullet across 250 yards and through the lungs of one of the antelope. When snow fell that first November, we headed into the foothills to hunt mule deer. Gail vanished for several hours, and, worried, I took up her track. Her footprints followed along behind the torn-up ground of what was obviously two bucks in a running battle. The slap of a shot came from ahead. I followed the sound and found Gail standing over a mule deer buck. "They'd fight and run and fight some more," she said, "so it took me a while to get a shot."
A few years after we were married, we moved across town. Our neighbor across the alley was Iver Henriksen, who made a lot of rifles for old-time gunwriter Elmer Keith. Iver was rather short but had giant hands. He took Gail's rifle in hand, wrinkled his nose looking at it and said, "I'll fix this for you, Gail." A month later, Iver handed the rifle back to her. He had replaced the plastic trigger guard/floorplate with a sculptured piece of steel, added rotating sling loops, slimmed the squared-off fore-end and thinned the grip to fit Gail's hands. Point-pattern checkering panels on the grip and fore-end and a dark finish gave the rifle a restrained beauty, and Gail was delighted to have a rifle unique to her.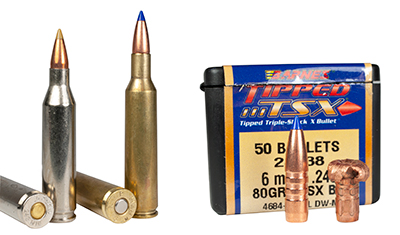 Stumbling Start
The 6 mm Rem. originated as the .244 Rem. in 1955. It had a stumbling start due to competition from Winchester introducing its .243 Win. the same year chambered in its stylish and desirable Model 70 with a 1:10" rifling twist suitable to stabilize up to 100-grain pointed bullets, making it a dual-purpose cartridge for varmints and big game. The .244, though, was initially chambered in the plain-Jane Model 722 Remington with a 1:12" twist thought to stabilize bullets up to only 90 grains—limiting its use to small game. However, a friend of mine says his .244 accurately shoots 100-grain bullets.
The .244 languished until 1963 when Remington changed its name to 6 mm Rem. and stepped up the rifling twist to 1:9" to prevent any further criticism about the stability of long, pointed bullets. Remington chambered several of its semi-automatic, pump- and bolt-action rifles for the 6 mm, as did Ruger and Browning. But opinions were set, and demand for the 6 mm has withered to the point of obsolescence.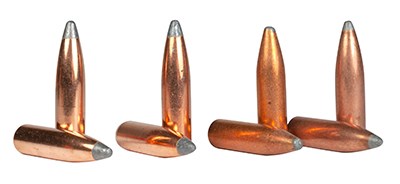 Bullets
Hunting big game over the years, Gail has shot various 100-grain bullets, such as the Nosler Partition and Solid Base, Remington Core-Lokt, Sierra Spitzers and Hornady Spire Point. About 2,900 f.p.s. is the fastest these bullets have ever started their journey from the 18½" barrel of her rifle. At that relatively mild velocity, the bullets have expanded well, held together and punched clear through deer and antelope.
Some years back, I handloaded Barnes 85-grain Triple Shock bullets for antelope hunting. Gail fired one of the bullets each at two antelope, and they both pitched over on their noses. I had estimated velocity of the bullets at 3,100 f.p.s., but the Triple Shocks were flying along at only 2,800 f.p.s. when I finally shot some of them over a chronograph. This demonstrates that a bullet in the right spot trumps an extra few hundred f.p.s. of velocity.
The last few years, I've loaded Barnes 80-grain Tipped Triple Shock bullets for the 6 mm. Gail fired one of the bullets across a prairie flat this past fall and dropped an antelope buck that stood head-on. My rangefinder displayed 360 yards to the buck. "I aimed up just a bit," Gail said. The Triple Shock had lodged in front of the pelvis, expanded perfectly and still weighed 79.6 grains. To keep a practiced hand during the spring and summer, Gail shoots ground squirrels and marmots with Hornady, Sierra or Speer 75-grain hollow points.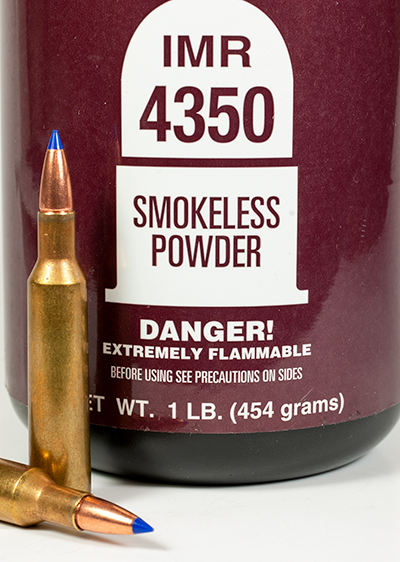 Propellants
The 18½" barrel on the Model 600 fires bullets rather slowly compared to the velocities listed in reloading manuals. Firing near-maximum loads, the rifle has never shot 70- or 75-grain bullets over 3,200 f.p.s., which is a good 200 to 300 f.p.s. slower than the same loads shot from 24" barrels listed in various reloading manuals. For example, the 600's short barrel fired Hornady 75-grain V-Max bullets at 3,056 f.p.s. with 41.5 grains of IMR 4064. The Hornady Handbook Of Cartridge Reloading Tenth Edition states a velocity of 3,400 f.p.s. with one additional grain of 4064 fired through a 24" barrel.
But that's okay, because this is still plenty of bullet velocity to aim right-on and hit marmots as far away as they can be seen through the rifle's low-power scope. Even sporting rifles wearing a 22" or 24" barrel usually register slower velocities than are stated in reloading books due to erosion in their throats and bore and dimensional tolerances of their chambers that are greater than stipulated for test barrels used to record data for today's reloading manuals.
A lot of load development for the 6 mm has been unnecessary. The rifle's accuracy has been more than acceptable when just picking a suitable propellant and seating a bullet over it deep enough for the cartridge to fit in the rifle's short magazine.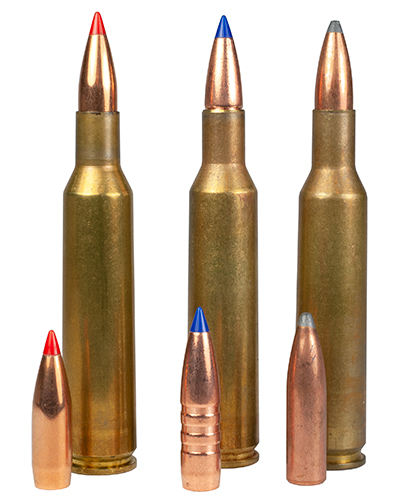 One thing is evident, though, and it is that propellants with a relatively slow burn rate are required to produce the highest velocity from the 6 mm, even from the 600's short barrel. A charge of IMR 4350 a couple of grains below maximum fired Barnes 85-grain Triple Shocks at a slow 2,800 f.p.s. The Barnes bullets reached 3,100 f.p.s. only after firing them with a near maximum amount of the much-slower-burning Superformance and Reloder 22. The same has held true for various brands of 100-grain bullets. These bullets barely break 2,600 f.p.s. fired with propellants with a burn rate similar to IMR 4064.
The 6 mm Rem. Model 600 still looks pretty good after 45 years of shooting. Its stock carries a few well-earned nicks and scratches. A peek into its bore shows some wear on the start of the rifling lands. That's expected, though, as the rifle has fired in excess of 2,250 rounds. To preserve the bore for more years of hunting and shooting, two, three-shot groups were fired to test the loads listed in the chart. The diamond ring still looks good on Gail's finger, too, and the rifle and ring will be together on more deer and antelope hunts and some spring and summer practice in the years we have ahead of us.