by
posted on September 5, 2016
Support NRA American Rifleman
DONATE
The sport optics business has gone global. Most current scopes and binoculars contain internationally sourced components, and nearly every company in the category, regardless of where it's headquartered, markets products manufactured or assembled in multiple countries. Leica is now doing so with its ER 5 riflescopes, reversing the usual pattern by outsourcing production from the firm's home base in Germany to right here in the United States.
Though not unprecedented—Leica and some European competitors have tried this before—the company is striving to ensure success this time around by marrying the best of both worlds. The engineering was carried out in Germany by the same product-development team that has long made Leica one of the world's most prestigious brands; however, those engineers were tasked with devising a product that caters to North American preferences.
Beyond appealing to Americans' tastes and penchant for home-grown gear, there's a more practical element at work, which is to save on high import tariffs and German labor costs that tend to put Leica scopes and binoculars beyond the reach of many American shooters. The savings passed on to customers will be substantial, as much as 30 percent less than similar European imports, though the others typically offer additional features that add to the pricing.
As the name suggests, the new scopes possess 5X magnification, and while that is middle-of-the-pack nowadays, it's more than enough power to make all six model variants sufficiently versatile to span many user applications. The corresponding objective lens diameters are a second determining factor in each model's practical capabilities, ranging from a compact 1-5X 30 mm to a long-range/low-light specialist 5-25X 56 mm.      
Externally, our 4-20X 50 mm test model fits the prevailing European-scope contour, except that its low-profile turrets and relatively slender eyepiece (1.625" in diameter) make it marginally more streamlined than the norm. Constructed of matte-finished anodized aluminum, the scope's lengthy ocular and objective "bells" appear to dwarf its 30 mm tube, but even so, free tube is an ample 2.75" ahead of the turrets and 2.5" to the rear. As such, mounting should be routine with most rifles, and rarely, if ever, require extension rings.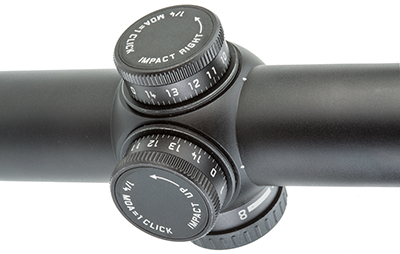 The scope's low turrets house finger-adjustment wheels marked in easy-to-read numerical increments at every 1/4-minute click. Those clicks are nicely tactile via the stiff-turning dials, thus enabling fine control even when the user must adjust quickly and, thanks to the markings, can do so without raising his head from the stock. The markings also hasten reset to zero, though it is not the increasingly popular zero-stop feature. On the left side, a third turret knob makes it easy to compensate for parallax and to keep the subject focused as target distances change.   
Across the line, five reticles are available, the options varying from model to model. Our test unit contained a familiar Plex (dual-thickness) crosshair, but can also be had with a Magnum Ballistic reticle that provides multiple aiming points for elevation and windage correction. The unit's adjustment range is quite generous, spanning 70 m.o.a. for elevation and 60 m.o.a. for windage. When sight-in is completed, the adjustment dials can be disengaged, rotated to "0", then locked back in place.
In range trials at 100 yds., the scope demonstrated no point-of-impact shifts and was able to hold expected groups from various rifles ranging from 6.5 mm Creedmoor to .300 Wby. Mag. Next we "shot the square," using the click adjustments to create a four-cornered pattern of groups at 8-m.o.a. (or 32-click) intervals. After resetting to zero, the final shot landed just outside the first cluster, but still inside 1". To conclude, we dialed in a 400-yd. elevation correction of 6.5 m.o.a., relying solely on the turret markings, which produced a group centered 2.5" below point of aim. Then we reset to "0"—again, not counting clicks—and fired two more rounds into our initial 100-yd. grouping, which enlarged the existing group only slightly, to 1.25". The scope earned high marks for mechanical repeatability.     

A field-test opportunity came at a Texas ranch where two NRA Publications editors pursued exotic big game. Shot opportunities ranged from 80 to 240 yds. in conditions varying from bright sunlight to dusk to heavy fog. Along with the dazzling clarity that's a Leica hallmark, both hunters appreciated their scopes' 3.8" of eye relief, along with wide fields of view (our 4-20X 50 mm tester at max power covers 5.25 ft. at 100 yds.), features that helped the hunters line up shots quickly as the quarry moved through heavy cover. Another plus for hunting is the weight, as ER 5s tend to be quite light. The test scope, at 23 ozs., is lighter than all but two from a survey of 10 high-end scopes with the same 30 mm tube and 50 mm objective-lens dimensions.        
To gauge image clarity with the magnification on 20X, we found we could read headlines like the one on this page at 110 yds., fine performance in all respects, but especially in this price category. Edge-to-edge sharpness and color fidelity were excellent, and regardless of light conditions, there was no perceptible vignetting of subjects.
Leica asserts that its scopes are waterproof and fogproof, and that was indeed the case when we took our test model directly from the freezer and out into 90° F summer heat. Once condensation was mopped from its external surfaces, the ER 5 was perfectly clear. Likewise, dunking it into a hot-water bath had no effect and there were no escaping bubbles.
Though trending features such as illuminated reticles and zero-stop adjustment dials are lacking, and though it's curious that this U.S.-centric line skips from 32 mm to 50 mm objective-lens sizes, it was clear, both in the field and at the range, that the Leica ER 5 scope is a precision aiming instrument and a brilliant light and image transmitter. The unit's rock-solid feel also suggests a lifetime of trouble-free service—none of which is surprising coming from one of the world's most trusted sources. Moreover, the ER 5's made-in-America lineage and pricing should convince many more shooters to reconsider a brand previously deemed too expensive.