Support NRA American Rifleman
DONATE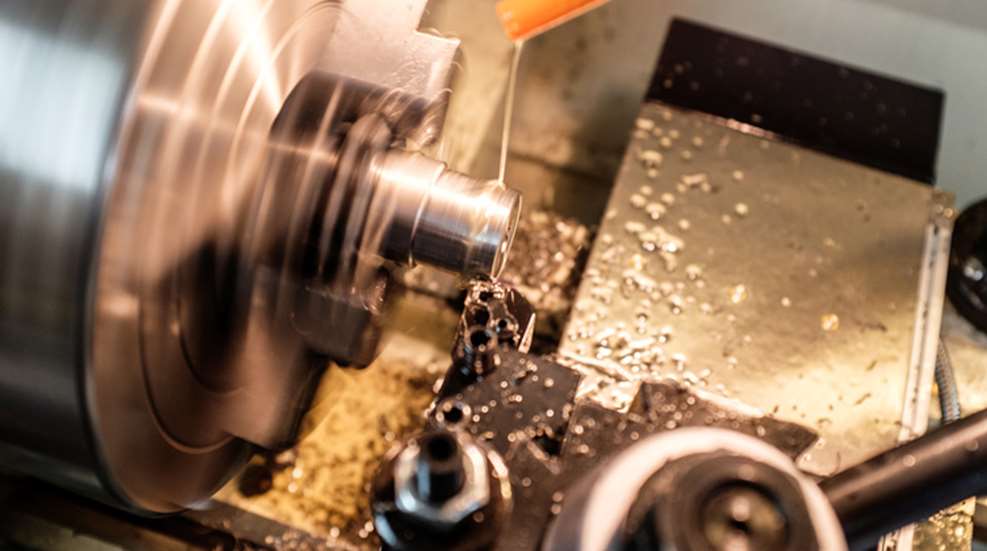 When I was a kid growing up in south Florida, my dad had a small heavy-equipment business. I'd spend most Saturdays at work with him and my older brother, moving equipment around the city and standing around lots of construction and industrial sites looking for something to do. One of my dad's friends was a Serbian immigrant named Shawn (which was more likely something like Jan in his native Serbo-Croatian tongue) who had escaped communist Yugoslavia as a teenager. Shawn was a machinist, and ran a small tool and die shop that catered to the local aviation and marine industries.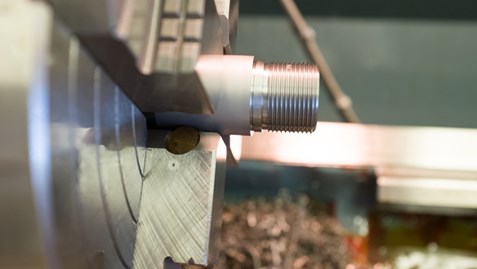 Cutting precise threads on a lathe is a key component of rifle-building. Using the skills
taught in the AGI course, the author prepared this barrel blank for fitting on a Remington
700 action.

I spent countless hours watching Shawn turn chunks of steel and aluminum into various precision parts using his Bridgeport milling machine and his two lathes and was always fascinated by the process. One of the things that struck me, even at a young age, was that Shawn could probably have built a gun from scratch given the skills and equipment that he had at his disposal. I didn't care about airplane or boat parts, I was thinking about customizing 1911 slides and rifle actions.   
Ever since those days watching Shawn in the early 1980s, I've wanted a small shop of my own. As my interest in firearms, and eventually custom gunmaking, continued to grow—my desire to have my own mill and lathe became stronger. At this stage in my life, I finally have the resources and, more importantly, the space for a machine-equipped workshop. A couple of years ago, I finally made my dreams a reality when I acquired a rebuilt Bridgeport J-head vertical milling machine and a new Grizzly 14x40" lathe; all I needed was the skill to operate them. With a busy career and three small children, there was simply no way that I was going to be able to attend a technical school or other formal machining course in order to develop the skills that I would need to do quality custom firearm work. So, armed with the advice of some really talented gunmakers and with the help of some good machining books and several YouTube videos, I started teaching myself.
I actually picked things up faster than I thought I would, thanks mostly to my mentors, D'Arcy Echols, who probably spent 10 billable hours a week on the phone with me trying to help. But there were significant gaps in my knowledge base that still needed to be filled. When I ran across the Professional Machine Shop Course produced by the Accelerated Training Institute/American Gunsmithing Institute, I thought I would give it a try. The course is comprised of 15 DVDs covering basic and advanced machine shop tools and techniques. Though the course material is not gun-specific, nearly all of the machining procedures described in the video are applicable to custom gun work.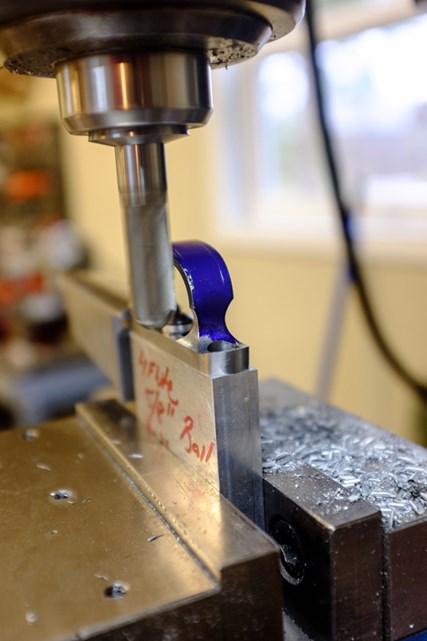 A vertical milling machine is a must-have for any serious gunsmithing work.
Here, the author uses a Bridgeport mill to contour this Mauser trigger bow.
I was pleasantly surprised at the quality and depth of the information offered by the DVDs. I wasn't sure that watching the videos was necessarily going to add much to my hands-on learning, but I was wrong. The course is instructed by Darrell Holland, a well-known Oregon gunsmith and builder of custom rifles. Holland's teaching style is straightforward and informative and he adds just enough color commentary to keep the material from being too dry. The video itself is a bit dated, and was probably filmed several yeas ago, but that doesn't have any bearing on the material presented—not much has changed in manual machining in many decades. The course is 30 hours long and is broken up by category, with four DVDs dedicated to using a lathe, six for the vertical milling machine, and five for general machine shop procedures (this includes the use of blast cabinets, belt sanders, engraving machines, heat treating furnaces and surface grinders, all of which are directly-applicable to the gunmaking trade). Though different models of lathes and mills have slightly different controls and features, the course material can be applied to any brand or model machine.
What I like best about the course is that there is little, if any, "theory" involved—it is focused on the practical application of the skill in question. As an example, cutting threads is an absolutely essential skill for an aspiring gunmaker to master. This video spends a short period of time discussing the various types of threads that can be cut by the lathe before jumping right in and showing you exactly how to cut threads on round stock. Best of all, one doesn't have to finish the entire course to start doing projects on the machines- the course is designed so that you are working on the lathe or mill immediately, applying the skills as they are presented. I watched the segment on threading and was cutting threads on a scrap barrel tenon in my own shop a few minutes later.  
The DVDs are pricey at $1,297, but if you've purchased much in the way of machine tooling, you know that this isn't exactly an inexpensive hobby. A far more economical method of watching the material is by streaming it online, which is $497. For about the price of having a barrel threaded and chambered by a gunsmith, you can learn the skills necessary to do it yourself. The company also has a refund policy if you are not satisfied with the material.             
If you have the desire to learn machining skills but, like me, don't have the time to go to a traditional training course, this course is worth a look. I'm not saying this course will turn you into an overnight machinist or gunsmith, but it will teach you the basic principles that you can hone through regular practice on your own time. Several firearm-specific courses are also available from AGI but, if you're looking to run machine equipment- this is the place to start.