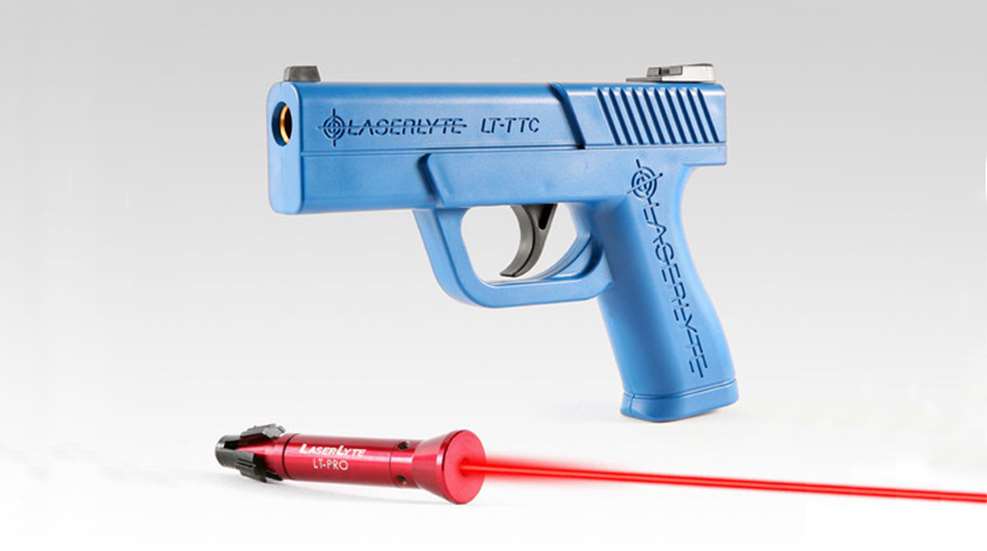 LaserLyte has introduced the Trigger Tyme Compact Kit (LT-TTPC) for safe, realistic training anywhere. Used in conjunction with the included LaserLyte LT-PRO, the Trigger Tyme Pistol Compact is appropriate for all ages and experience levels. Approximately the size of an S&W Shield, the Trigger Tyme Pistol Compact is weighted and balanced to give the realistic "feel" of most semi-auto compact pistols, with an approximate simulated 5.5-lb. trigger pull. The pistol cannot accept or be fired with any ammunition. Ideal for smaller-sized hands, it is also a great training tool for adults practicing concealed-carry techniques and tactics.
To use it, simply insert the LaserLyte LT-PRO in the muzzle and the sound activated switch will indicate the impact of the laser dot on any of the LaserLyte Trainer Target Laser (TLB-1), the Reaction Tyme Target (TLB-RT) or the Laser Plinking Cans (TLB-BWC). The Trigger Tyme Pistol Compact with the LT-PRO inserted can be used to practicing drawing and reholstering from traditional or concealed-carry holsters. It allows the user to practice and gain confidence in sight pictures, trigger control, accuracy and more. The LT-PRO can also be moved into any real pistol from .380 ACP to .45 ACP and will activate when the pistol fires the striker or hammer.
MSRP is $129.95. For more information, contact LaserLyte.