by
Mark A. Keefe, IV, Editorial Director
posted on October 6, 2015
Support NRA American Rifleman
DONATE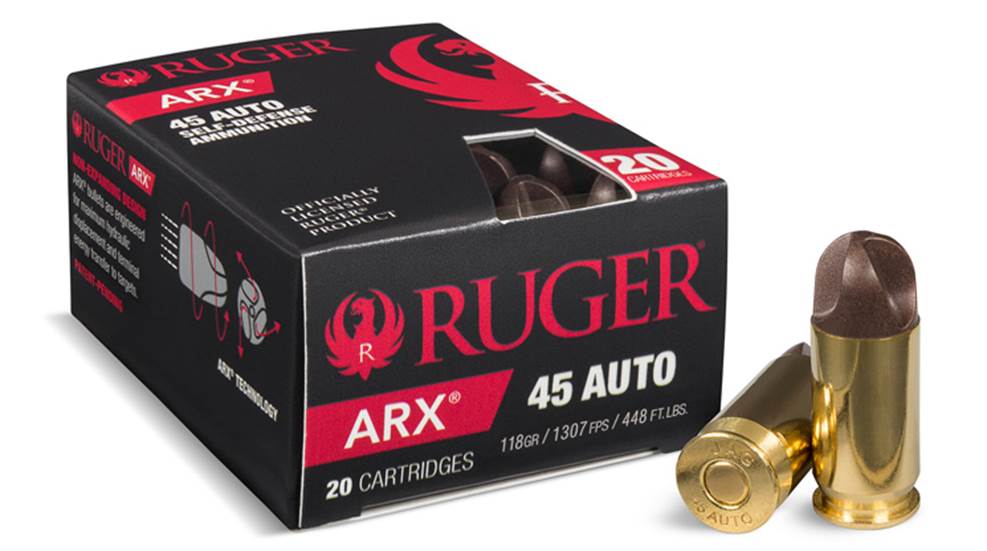 "Ever heard of PolyCase? Very Interesting. You should look at it." Those words came from Ruger's Mark Gurney, a good friend of mine and one of the reasons why Ruger is such a market-leading company today. And it gave me a clue as to what was coming. Mark is one of the brightest guys in the gun business, so I heeded his counsel and looked into PolyCase. How highly did Ruger's management think of PolyCase? They decided to go into the ammunition business with them. It has just been announced that Ruger and PolyCase are starting out with .380 ACP, 9 mm Luger, .40 S&W and .45 ACP—and for the first time Ruger is the brand-name on the box.   
While Ruger has had its name on headstamps before (.204 Ruger, .300, .375 and .416 Ruger Compact Magnum as developed by Hornady), this is the first time it has been Ruger-branded ammunition, and it is made in partnership with Ruger using PolyCase's innovative ARX bullet.
Field Editor B. Gil Horman has written a story for the November issue of American Rifleman fulling explaining how the ARX bullet is made and how it performs. You will have to wait until your magazine arrives for the full report—which went to the printer before the companies were ready to announce their partnership—but here is what you need to know, according to B. Gil.
"Unlike conventional jacketed bullets, which require several steps and a good deal of heavy equipment to shape, Inceptor bullets are made by the high-pressure injection molding of a heated blend of powdered copper and epoxy/polymer resin. After it cools a bit, the mold opens and a cluster of bullets fall to a conveyer belt to be collected and smoothed before loading. The excess molding material (called sprues) is ground up and reused. Injection molding is fast and efficient, allowing for high production volume with very little waste.
"The result is a lightweight projectile with several desirable qualities. The bullets are lead-free, allowing them to be used in jurisdictions and facilities that restrict or ban the use of lead-based ammunition. The polymer/copper material maintains its integrity as it travels down the barrel and strikes soft targets, but it fractures when it hits hard targets such as steel plates or building materials—greatly reducing the chance of ricochets. After the bullets have been fired, the copper can be reclaimed by heating the bullet fragments to burn off the polymers. … The end result of the company's R&D is the ARX bullet, a patent-pending design that takes full advantage of the flexibility provided by injection molding. PolyCase ballistics engineers—along with third-party aerospace and fluid engineers—spent months experimenting with aero and fluid dynamics using Finite Element Modeling (FEM), which led to the design of uniquely shaped flutes, or channels, the company calls Power Blades. The flutes act to displace the target material using the bullet's forward and rotational momentum, or 'lateral force dispersion.'"
According to a company release, "PolyCase Ammunition is honored to partner with Ruger on this unprecedented introduction of Ruger-branded ammunition to the commercial sporting market," said Paul Lemke, PolyCase's CEO and founder. "Ruger is a forward thinking company that has been a model of corporate and community responsibility for over 60 years. These traits, combined with Ruger's strength as the only full-line manufacturer of American-made firearms, their exceptional distribution system and the fact that they share our vision for this technology are the reasons PolyCase partnered with Ruger. We look forward to combining the strengths of our companies to provide highly effective, innovative ammunition technologies to the defensive and commercial sporting markets for years to come."