posted on December 2, 2016
Support NRA American Rifleman
DONATE
John M. Browning's last lever-action design for Winchester—the Model 1895—was a dramatic departure from his previous Model 1886, 1892 and 1894 rifles, with their tubular magazines and side-loading gates. In their place the 1895 featured an internal, fixed-box magazine that loaded from the top and permitted the use of round-nosed (rather than flat) and spitzer bullets.
Thus, for the first time, a lever-action could safely handle smokeless powder cartridges such as the .30-40 Krag, and the soon-to-come .30-'03 Gov't and .30-'06 Sprg. Although carbine and musket configurations were also produced, it was the handsome Sporting rifle—with its ebony-tipped Schnabel fore-end—that attracted hunters. And while Theodore Roosevelt was one of the Model 95's biggest proponents, calling it his 1909-1910 African safari "Medicine Gun," the rifle found an enthusiastic following among other outdoorsmen as well.
This was during a transitional time for American hunters, when horses were giving way to horseless carriages, and transportation of hunting rifles by automobile and railroad was increasing. In response, Winchester adopted a unique takedown system to make its Model 95 Sporting rifle more compact. One simply opened the lever so the extractor and bolt did not contact the receiver, then pushed a small, grooved button on the bottom of the rifle, and the barrel and fore-end could be rotated and separated from the receiver.
Nonetheless, the takedown feature was a costly option on an already expensive rifle. In 1910, Abercrombie & Fitch listed the Model 94 rifle at $13.16, while the Model 95 Sporting rifle was $24. The takedown option was an extra $7.70—more than a third of the gun's basic price. Consequently, Winchester 95s with takedown features are rarely encountered, although, fittingly, Western adventure novelist Zane Grey owned an Ulrich-engraved Model 95 that included the takedown feature.
While the NRA Very Good Model 95 Sporting rifle shown here in .30-40 Krag would ordinarily be worth $2,400 to $2,750, its takedown feature makes it a $2,880 to $3,300 rifle. As the late George Madis noted in The Winchester Book, "We do not find many takedown rifles in .30-40 caliber with 28 inch barrels. One reason for this is that those wishing a shorter rifle and a takedown could order a .30-03, 30-06, or one of the later calibers and get a standard 24-inch barrel." But this well-kept rifle must have belonged to an individual who knew what he wanted, and was willing to pay for it.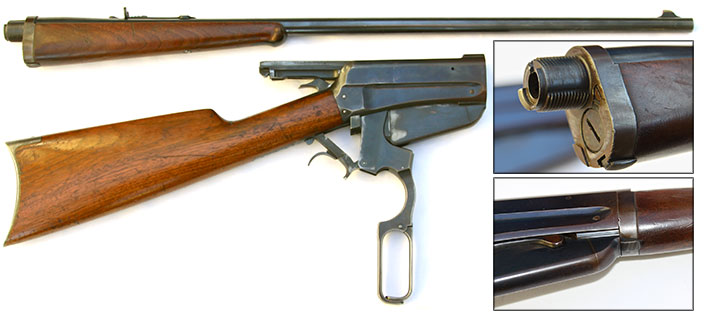 Gun: Winchester Model 95 Sporting rifle (takedown)
Chambering: .30-40 Krag (.30 Gov't)
Condition: 70 percent—NRA Very Good (Modern Gun Standards)
Manufactured: 1913
Serial No: 67XXX
Value: $2,880 to $3,300 (includes 20 percent premium for takedown feature, according to Blue Book of Gun Values)