by
posted on October 8, 2015
Support NRA American Rifleman
DONATE
Move over, the 9 mm concealed-carry market is about to get slightly more crowded as not one, but three new models of striker-fired pistols are launching this month, manufactured by a company that is set on building guns entirely in the U.S., with only American-made parts.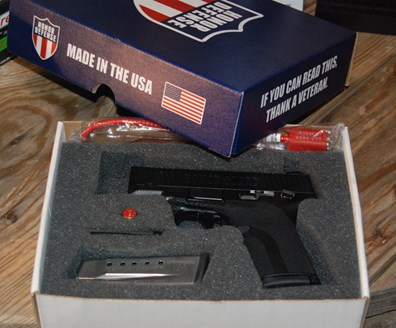 Honor Defense, based in Gainesville, Ga., will launch its new line in October 2015 at the NASGW show in New Orleans, where AmericanRifleman.org plans to get a closer look. The guns are currently in production and will start shipping in November with an MSRP of $499, but for now, here's what we know about the features and specs of the "Honor Guard" pistols:
Able to handle +P loads
7 lb. trigger pull
Short trigger reset for quicker second shot and better control
Ambidextrous slide catch and magazine catch
Available with or without an ambidextrous manual safety lever
Modular system with stainless steel chassis
Custom texture design to provide better grip in all situations
Replaceable backstraps to allow customization.
Custom "FIST" (Firearm with Integrated Standoff) frame version also available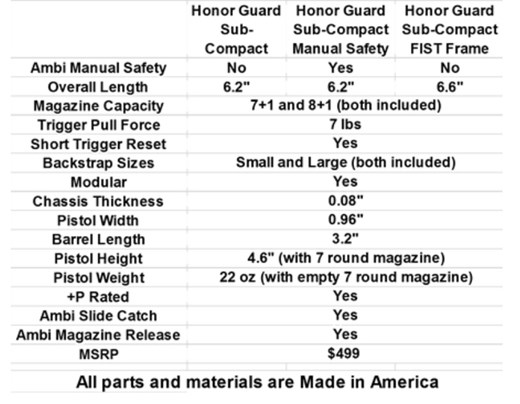 In addition to these pistols, Honor Defense says it will soon be adding two Long Slide versions to the family of firearms.

How did they do it? "We started by getting input from professionals that carried a firearm for a living," said Honor Defense President and firearm industry veteran Gary Ramey. "We received input from professionals with backgrounds from DevGru, Army, DEA, Law Enforcement and civilian training."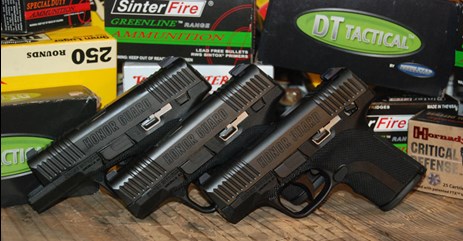 He said the company has partnered only with American companies, and specifies domestic steel. The company also announced it has partnered with GoMeasure3D, based in Amherst, Va., to integrate the use of 3D scanning in the development of its new line of pistols. The systems use structured ­light technology, which is ideal for designing small parts used in many industries—from assembly lines to machining centers.
"With a single scan, our equipment captures approximately 1 million data points per second, with an accuracy of 34 microns per scan, said Ramey. "They've made our design processes faster and allowed us to raise the bar on quality," said Ramey.
For more, please visit HonorDefense.com.