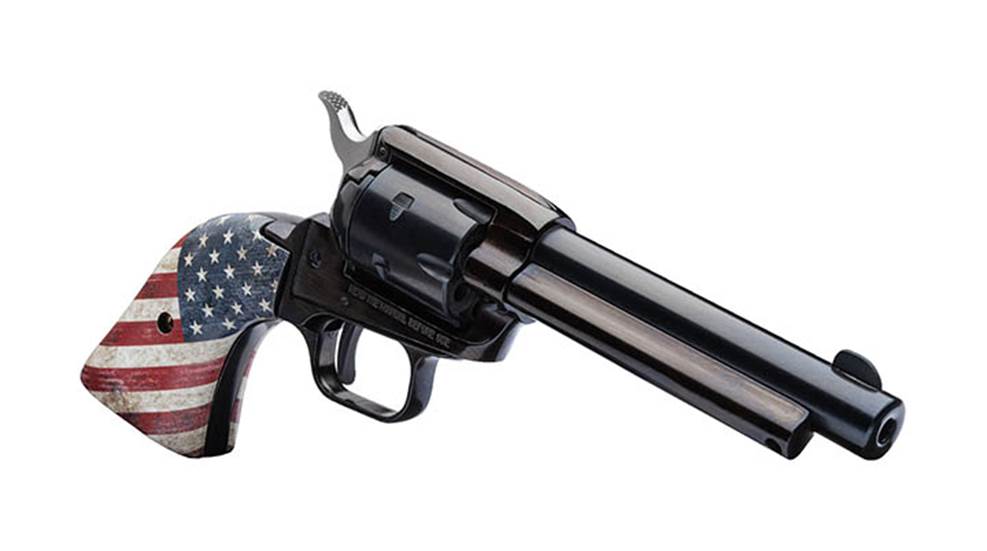 Rough Rider revolvers, from Heritage Manufacturing, were the second-most-popular wheelguns in sales through the services of Gunbroker.com in 2019. The names of other handgun makers may be more familiar, but this company's reputation for producing quality, U.S.-made single-action-only handguns continues to grow. The diversity of choices in the line is almost staggering, although an "old west" style guaranteed to appeal to any enthusiast remains constant throughout.

Chamberings available include .45 Colt, .357 Mag. (which allows it to handle .38 Spl. +P), a .22 WMR/.22 LR combo and .22 LR, with capacities of six to nine rounds, depending on cartridge and model. Barrel lengths also vary, depending on choice, from 3 inches to more than a foot in the attention-grabbing 16-inch Rough Rider model.

Grips are made of either cocobolo, wood laminate, a striking pearl in a variety of colors and even wearing thematic fun in the 6-Shot Rough Rider special editions. Those models are available in in .22 WMR/.22 LR combos or the latter, but there's no shortage of grip options and metal finish choices.

The 4 3/4- or 6 1/2-inch barrels and frame can sport a black or black-satin finish, but there's also a color-case hardened look. In the grips you can select from standard fare or choose an American flag motif, "Ace in the Hole," Miss B Havin," "My Belle," and more. The 4 3/4-inch .22LR Black Standard USA Flag model has an MSRP of $147. That's no typo, either.

All the 16-inch Rough Rider versions are chambered for .22 LR, although with two models you can opt to add a .22 WMR cylinder. Doing so moves those prices up to $218 to $233.k The latter comes with adjustable sights. Most of the company's models have a fixed blade up front and notch at the rear.

The company also offers a Bird Head line of Rough Riders if you're looking for something a little more "civilized." The compilation of 2019's top finishers on Gunbroker.com lists the Big Bore line (specifically in .45 Colt) as the year's second-best-selling revolver. MSRP's there are $515, regardless of chambering or barrel length (5 1/2-or 4 3/4).

Perhaps sales were predominated by that chambering, but it would be a shame to overlook the rest of this handgun family from Heritage Manufacturing. After all, one of them caught our attention and was named NRA Gun of the Week in June 2018—the first year the company's Rough Riders earned second place in revolver rankings.