by
posted on October 11, 2017
Support NRA American Rifleman
DONATE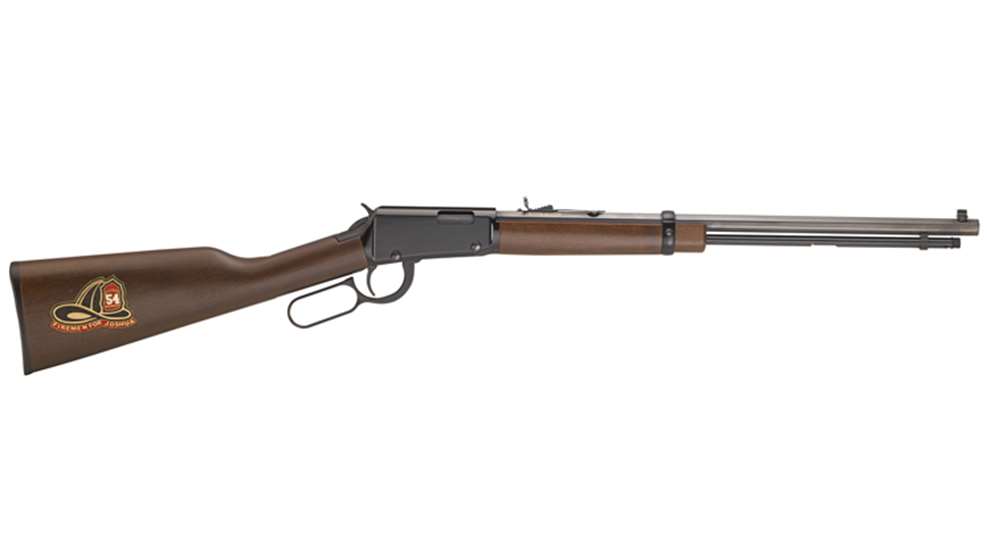 Henry Repeating Arms has once again stepped up to the plate with its Guns for Great Causes initiative, this time producing 54 custom Henry Lever-Action Octagon rifles to help raise funds for a teenager in need of medical help.

Fourteen-year-old Joshua Brennan of New York was diagnosed with Hypoplastic Left Heart Syndrome before he was even born. Brennan suffered heart failure last year and has a pacemaker and two valves keeping him alive. He now needs a heart transplant.
For the past few years, Joshua has served the emergency service community by volunteering at the Pawling Fire Department in Dutchess County, and while he is too young to fight fires, he is a critical member of the department. Washing trucks, keeping the firehouse in good order, lending a helping hand in the kitchen, and attending special events are just some of the tasks that Joshua tends to, all stemming from his love for the department and his call to volunteerism instilled in him by his father Tom, who is also a volunteer firefighter.

Twenty-four of the special edition Henry rifles were donated directly to the Firemen for Joshua Foundation, a 510(c)(3) organization, and the remaining 30 were purchased by Joe Petrucelli of Tri-County Sporting Goods, who organized further fundraising efforts to benefit the charitable foundation formed in Joshua's name. All proceeds are going to benefit the Firemen for Joshua Foundation, which goes directly to Joshua and his family.
In 2014, a similar partnership between Henry Repeating Arms and Tri-County Sporting Goods raised over $60,000 for 4-year-old Grayson Sutton of Sedan, Kan., who was battling Primary Pulmonary Hypertension and facing a series of costly surgeries.
Henry Repeating Arms President Anthony Imperato explains, "Tri-County Sporting Goods has always stepped up to the plate to help Henry with any of our Guns for Great Causes initiatives. When they told me about this great young man Joshua, and his battle, we instantly decided to reciprocate."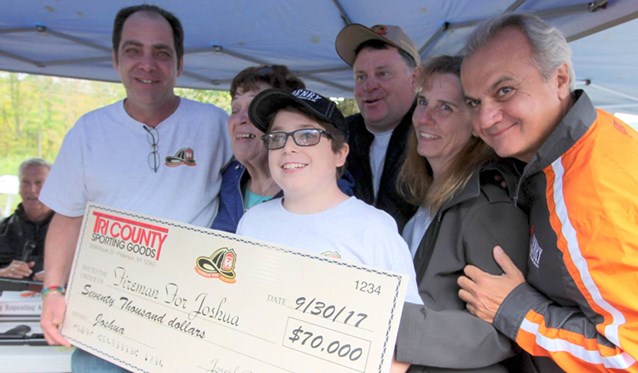 Petrucelli organized Firemen for Joshua Day at Tri-County Sporting Goods in Patterson, N.Y., on Sept. 30, 2017, where more than 200 people from the local community came together to show their support. Joshua and his family were presented with a $70,000 check from the proceeds of the rifles sold to date along with donations from local businesses. Proceeds are expected to raise over $100,000 before the end of the year. 
Serial number "JOSHUA001," the first of 54 made is currently up for auction on GunBroker.com, item #705771173.
Tri-County Sporting Goods will continue to sell the Firemen for Joshua rifles while supplies last, as well as custom serial numbered Henry Heirloom rifles. Proceeds from these sales will continue to fund the Firemen for Joshua foundation. To purchase one of these rifles contact Joe Petrucelli at (845) 878-6084. General donations are being accepted at https://www.gofundme.com/firemen-for-joshua.