by
posted on May 24, 2023
Support NRA American Rifleman
DONATE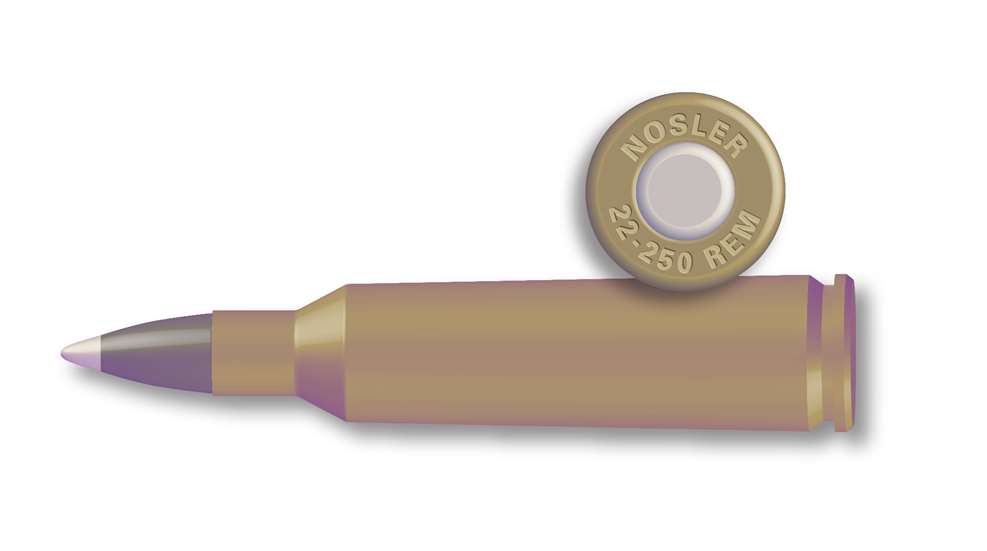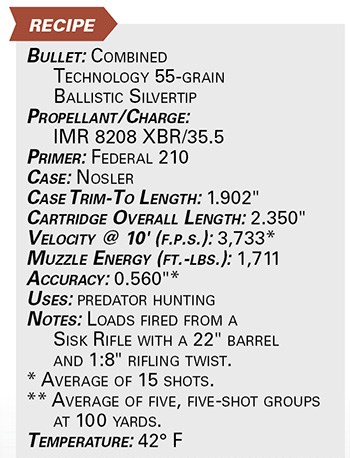 A .22-250 Rem. with a 1:8" rifling twist enables varmint hunters to accurately shoot nearly the full range of .22-cal. bullet weights. The standard 55-grain bullet is still a perfect choice for hunting coyotes, however, because its high velocity provides an extremely flat trajectory. The 22" barrel of my quick-twist .22-250 fires 55-grain bullets slightly faster than 3,700 f.p.s., with the bullets hitting 2" above aim at 100 yards. They hit an inch below aim at 300 yards and 10" low at 400 yards, with plenty of energy to drop a coyote in its tracks way out there. In comparison, the rifle fires 80-grain bullets at a top speed of 3,000 f.p.s.; even though the 80-grain bullet's ballistic coefficient is much higher, its slower speed results in 4" more drop at 300 yards and an additional 8" at 400 yards compared to the 55-grain bullet.
This recipe's cartridge length of 2.350" is the normal maximum for the .22-250 Rem. The rounds were checked on a concentricity gauge to make sure the bullets were straight within their cases, and they shot fine. But don't be afraid to experiment with extended cartridge lengths to find the accuracy sweet spot. Quick-twist .22-cal. barrels may have a lengthened chamber throat to accept long and heavy bullets, and most .22-250 rifles have a magazine that will accommodate longer-than-standard-length cartridges. 
Several propellants are a perfect fit for the .22-250 Rem. to fire 55-grain bullets at top speeds, such as CFE 223, IMR 4166 and StaBALL 6.5. Speeds with IMR 8208 XBR are a touch slower, but using it with 55-grain Ballistic Silvertips produced five, five-shot groups that averaged 0.56" at 100 yards. Standard deviation of velocity was 30 f.p.s. across 15 shots, with the propellant dispensed from a measure directly into .22-250 cases. XBR is also insensitive to temperature changes, a plus when hunting coyotes during the winter.