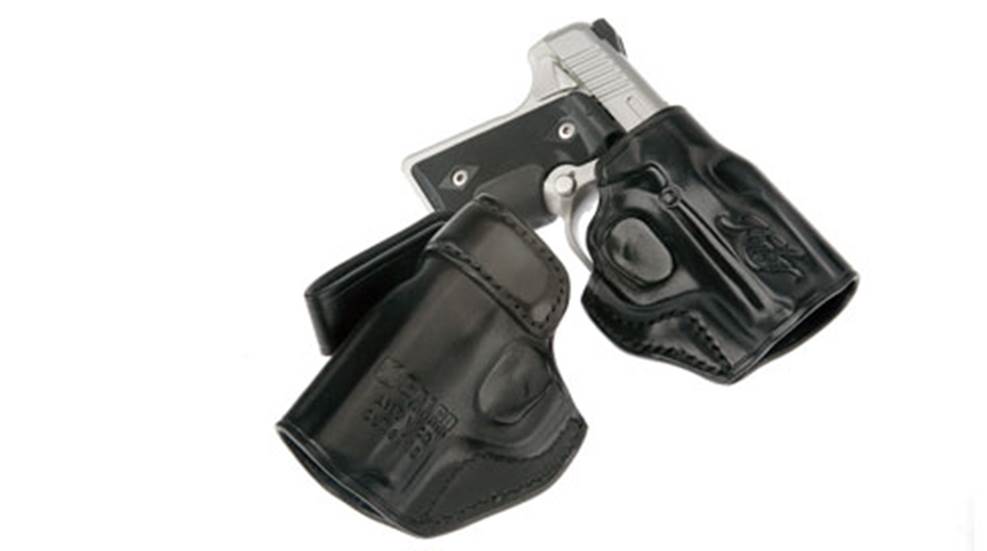 The Kimber Solo is one of the most popular handguns in the ever-growing field of compact pistols. Its distinction has even earned it one of our Golden Bullseyes Awards for 2012. But quality comes at a cost, and with a price tag of around $700, this investment deserves better than the pocket of your favorite jeans. Enter Galco Gunleather.
A purveyor of premium holsters, Galco has carry options for many of today's most popular sidearms. For use with the Kimber Solo, Galco's Stinger belt holster and Summer Comfort concealed holster fill the bill. Like the gun itself, both the holsters are compact, trim and any excess has been engineered out of their designs. The molding is deep and provides the firm retention that is necessary in an open-top holster. Both fully cover the pistol's trigger guard, an important safety measure for small carry guns and a great addition to the Solo's manual safety.
The Stinger is designed for outside-the-pants carry and accommodates belts up to 1½ inches wide. On the Summer Comfort, two leather security straps with snapping buttons replace the more traditional belt loop and are usable with belts up to 1¾ inches wide. This method of attachment allows the holster to be worn against the body and can be easily removed without having to take off the belt. Both holsters are constructed of premium saddle leather and have a slightly gloss black finish. These are great examples of holsters that help you carry comfortably and confidently. Price: Stinger, $56.95; Summer Comfort, $71.95.
Contact: Galco Int'l; (800) 874-2526; www.usgalco.com.