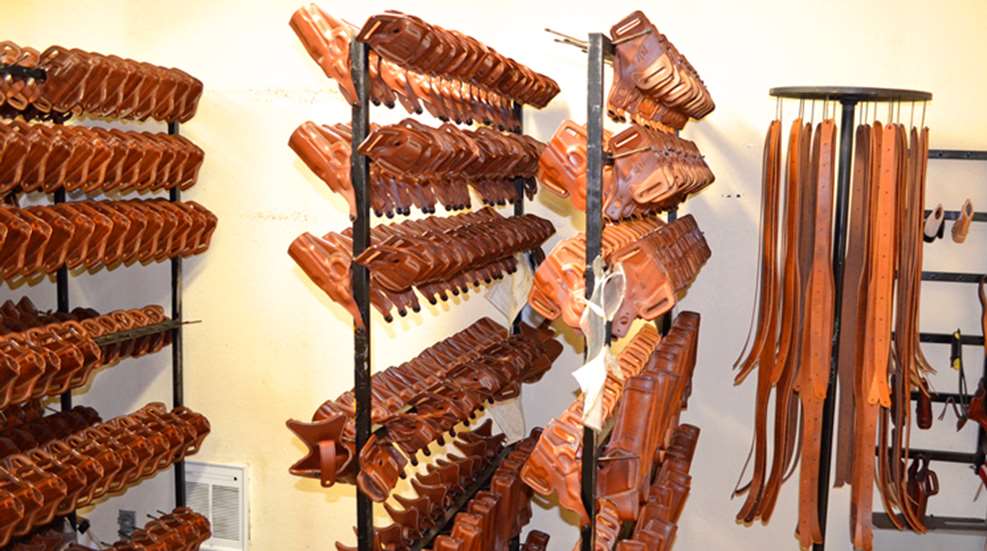 Imagine cows standing in a single file line by the side highway, each cow's nose touching the butt of the one in front of it. You drive for nearly an hour—44 miles—and pass about 200,000 cows. You've just driven past a year's supply of leather used by the world's most prolific holster maker. Galco Gunleather goes through 868,000 square feet of leather per year, and that makes it the top user of fine leather backs, in any industry.
Located in Phoenix, Ariz., Galco's expansive plant occupies more than 80,000 square feet of state-of-the-art manufacturing space and employs more than 220 people. Known for innovation and quality, Galco is one of the true success stories in the firearms industry. Born of hard work, ingenuity and blessed with some good luck, Galco's origins began in Chicago.
Richard Gallagher started doing leatherwork in 1969 and eventually opened a retail shop. He made everything from wrist bands to jackets to hats, sandals, moccasins, knife sheaths and camera cases. One by one Chicago cops would come in and ask for a custom holster. Gallagher was an experienced shooter with a passion for firearms and enjoyed building these one-off holsters. One day a Chicago cop came in with his wife and little girl. He explained to Rick that he pulled over some bikers one night and found himself on the ground with his own service weapon pointing at him. But he was able to get to his back up gun, in the custom shoulder holster Gallagher had made, and regain control of the situation. The little girl went over to Rick and wrapped her arms around his leg and said, "Thank you for saving my daddy's life."
Up to that point, Gallagher had built holsters on a one-by-one basis, but he decided to follow a hunch and placed an ad in a regional law enforcement journal. Building an inventory of a few select models, Gallagher was amazed at the response. He found that there was a ready demand for well-built holsters, and refocused his business. The name of the company was then called Jackass Leather. During the 1970s Gallagher innovated a number of new holster styles, and while he did not invent the short-drop, horizontal shoulder holster, he did seem to perfect it.
The Jackass shoulder holster became a favorite of detectives and undercover cops, a fact that did not elude the notice of Hollywood. Michael Mann, the director of "Thief" had James Caan wear one in the movie. Later, when he created and produced "Miami Vice," he had Rick Gallagher personally fit actor Don Johnson with his shoulder holster. For six seasons viewers were treated to colorful South Beach scenes, trendy music and Sonny Crockett wearing what would become known as the "Miami Classic."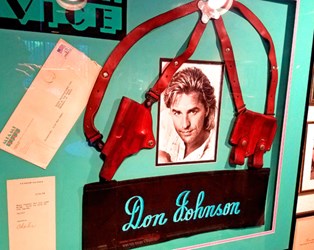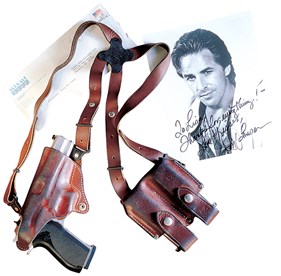 To say that the Miami Vice was the sole factor in Gallagher's success would be incorrect, but its role cannot be understated. Gallagher created other holsters that became popular with sportsmen and law enforcement alike. Chicago was becoming increasingly anti-gun and in 1983 he moved the company he had re-named the Great American Leather Company to Arizona. In 1989 he built his current factory with a lot big enough for expansion. Besides the pro-gun environment, Arizona also has very low humidity and this helped the holsters dry faster after the wet molding and dying processes.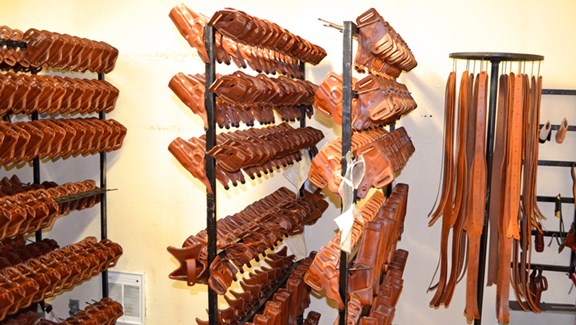 Galco is about as vertical a company as you will find. One example would be its in-house foundry, which makes the belt buckles and brass accoutrements used on accessories. They also make the aluminum dummy guns used for wet molding and checking holster fit. Galco also has an extensive machine shop and makes most of the fixtures used in the manufacturing process. In addition, the shop makes parts for its out-of-production harness-stitching machines, as the original manufacturer closed its doors decades ago. The machine shop once manufactured the cutting dies that were used with hydraulic clicker machines to cut the leather patterns. At one time, thousands of cutting dies covered a huge wall of the factory.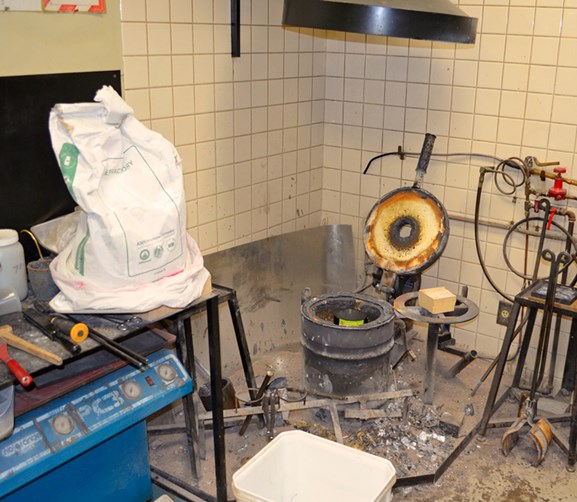 Galco has pioneered some new technology that has made its clickers and dies obsolete. Designed to improve yield and reduce manufacturing time and waste, the new process involves spreading a steer hide on a white background, where it is digitally photographed. A computer then lays out patterns, which the operator can adjust to miss thin spots or blemishes. A computer controlled cutting tool then quickly cuts the patterns.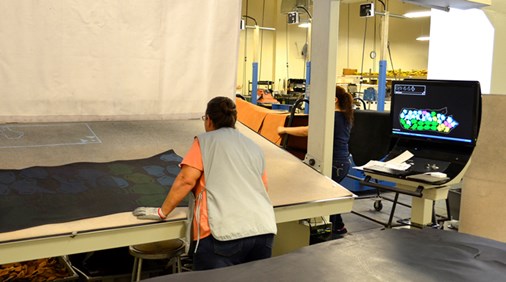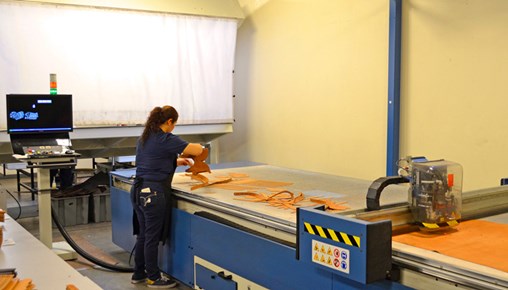 Of course, all the technology would be insignificant if Galco didn't have good people to run the machines. A crucial factor for any company's success is its ability to recruit and keep good employees. Six or seven people made the trip to Arizona from Chicago back in the 1980s, one of whom I met while I toured the factory floor. With more than 37 years of service, he was operating a Cyclone Harness stitching machine. Another long time employee was wet molding a holster by hand when we met. At last count he had wet molded more than a million holsters in his 27 years at Galco.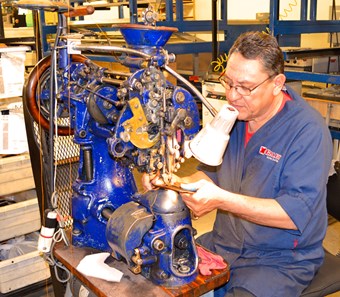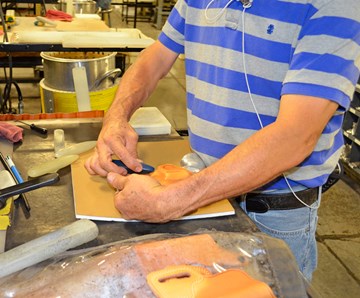 Despite his success, Gallagher still continues to do a lot of research and development at his home workshop. He spends a great deal of time working on new formulations for leather oils and edgers, and even experiments with different sewing threads. Working with raw materials and innovating new manufacturing processes has been crucial to Galco's success, but it is doubtful any of these successes were as rewarding as the hug he received from that little Chicago girl so long ago.