Support NRA American Rifleman
DONATE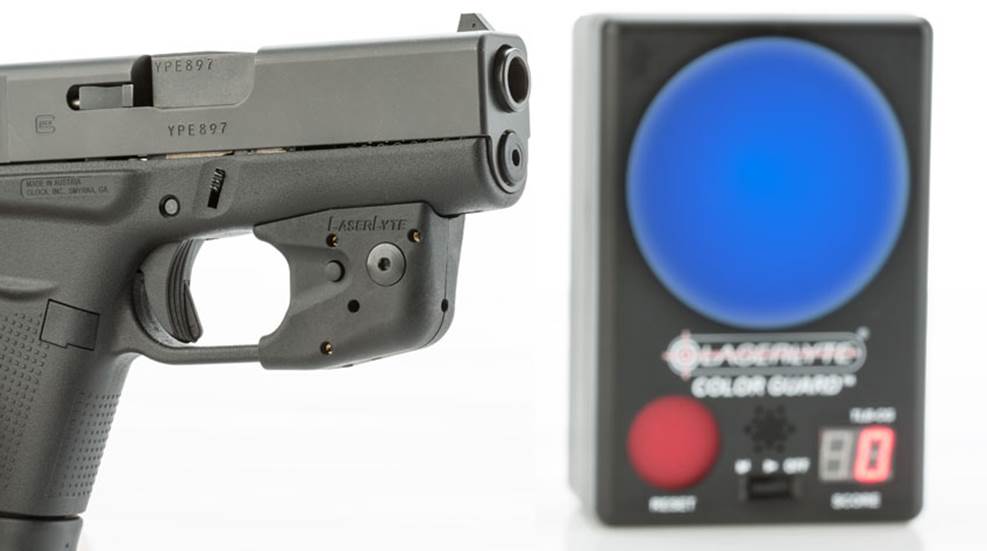 Well, not exactly free and not exactly for everyone; but if you buy a new LaserLyte laser gun sight, odds are you have a free laser training mode built right into the device. Didn't know it? We didn't either. LaserLyte quietly introduced a running change in its circuitry, adding a microphone—like in its designated training lasers—that picks up the sounds of the firing pin moving forward and sends a single pulse from its 650NM, 5MW, Class IIIA red laser when the trigger is pulled on an unloaded gun.
We have become big fans of LaserLyte's laser trainers and have given a couple Golden Bullseye Awards to the company for its Score Tyme and other targets that score hits when struck by a laser beam. Until now, you either had to use a trainer blue gun with a laser or install either a laser training cartridge in the chamber or bore-mounted laser in the muzzle. Now you can use your defensive laser as a trainer with the push of a button.
Here is how it works: The laser operates like any other laser gun sight made by the company, with either a continuous-on mode or a pulse mode. Simply depress the button on either side of the device and the laser is activated. To turn your laser gun sight into a trainer, simply depress the buttons on both sides, and it is in trainer mode. To switch back to regular or pulse, simply hold both buttons down again for five seconds.
How do you know if your LaserLyte has the "Master Control Mode?" There are three ways to tell. On the package (who keeps those?), there is a crosshair on the upper left hand corner. If it's there, the laser gun sight can be set to be a trainer. If there is a page in the manual (who reads those?) that describes the "Master Training Mode," or if the circuit boards itself is black, then it is a trainer, too. Earlier LaserLyte laser gun sights without the mode have green circuit boards—bang on it all you want and it will not emit a training pulse.

The running change goes across the spectrum of LaserLyte's laser gun sights, whether it a trigger guard- mounted unit (TGL) or a universal laser that attaches to an accessory rail on the dust cover, such as the Lyte Ryder. The trigger guard-mounted samples I received were designed to fit: Ruger LCP and LC9; Glock 26, 27, 42 and 43; Taurus TCP and Slim; Hi-Point; and SCCY. Installation was a snap on a Ruger LCP in .380 ACP, and the SCCY unit even came with your choice of black, pink or flat dark earth housings. You can never go wrong with basic black. Contact: LaserLyte; (928) 649-3201; laserlyte.com.