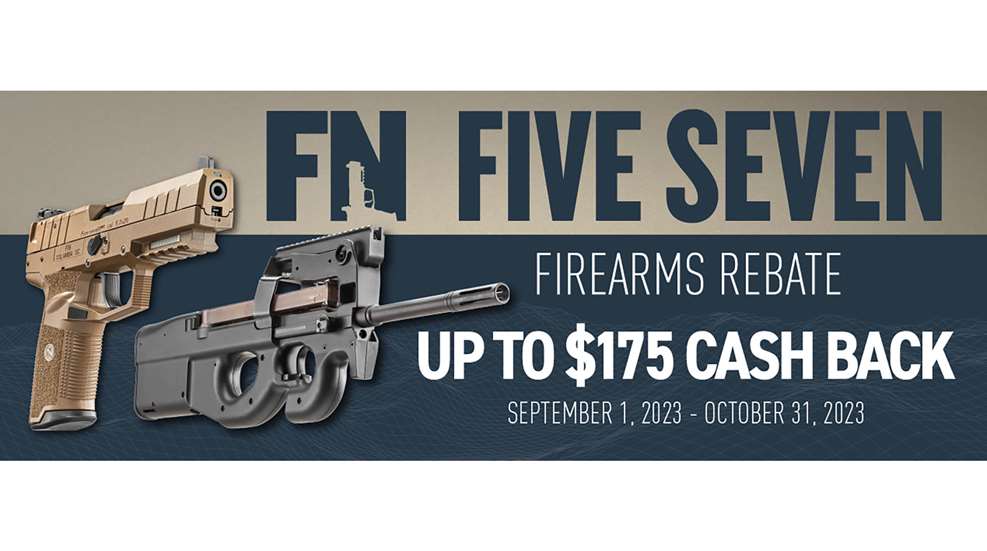 Enthusiasts who purchase a new FN America 5.7x28 mm FN-chambered firearm before Nov. 1 could qualify for rebates of up to $175. The promotion includes FN Five-seveN MRD pistols and FN PS90 carbines, with cash-back savings of $125 and $175, respectively. The special offer began Sept. 1 and ends Oct. 31, 2023.
"As the FN 5.7x28 mm popularity grows, further solidifying its foothold as a viable caliber for personal defense and more, we are excited for the opportunity to put an FN Five-seveN MRD pistol or PS90 carbine into the hands of users who may have wanted one for years or are brand new to the caliber," said Chris Cole, vice president of sales and marketing for FN America. "The rebate offers on these two mainstay FN products come at the perfect time for enthusiasts to add to their collection and put a little extra cash in their pockets for ammunition, magazines and other accessories."
The FN Five-seveN MRD is an upgrade from the original Five-seveN model, most notably wearing a slide pre-machined for mounting a micro red-dot sight. The new version was introduced last year, and also arrived with enhanced frame ergonomics and improved controls. Like its predecessor, it maintains the delayed-blowback method of operation and internal, single-action-only hammer that produces a clean and consistent trigger pull breaking at approximately 6 pounds—with minimal take-up and a short reset.
The FN PS90 utilizes blowback operation and fires from a closed bolt for greater accuracy and reliability. The 16" cold-hammer-forged steel barrel is equipped with an integrated muzzle brake to further reduce the 5.7x28 mm FN cartridge's already modest recoil. Dual magazine latches, cocking handles and an innovative synthetic thumbhole stock with a molded-in sling attachment point help make the FN PS90 fully ambidextrous.
The 5.7x28 mm FN cartridge was developed in the 1980s by FN, combining the benefits of a rifle cartridge—high velocity and exceptional accuracy—with the lightweight and compact size of a pistol cartridge. It was standardized by NATO in 2021.
To qualify for the offers, purchases must be made between Sept. 1 and Oct. 31, 2023. New owners must redeem online by Nov. 30, 2023. Full details are found on FN America's promotion webpage.