More women are choosing to protect themselves and their families with concealed firearms these days, and for good reasons. A greater variety of easy-to-pack pistols are available now than ever before. Many states are providing firearm permits with affordable fees and requirements that the average person can meet. And, best of all, the shooting industry is responding by offering concealed-carry holsters and accessories designed specifically for women.

Unfortunately, no single carry method, holster or device provides one-size-fits all solutions for every individual. The variations in gun owners' life style, work environment and wardrobe requirements usually mean they will have to try a few different pistol-packing products before they find the best fit. It's a common practice to use more than one. Here is a look at a few of the concealed-carry products available and the advantages that each has to offer.
Strong-Side Hip Holsters
No matter what your personal requirements may be, the most commonly recommended handgun carry position is the strong-side hip holster. "Strong side" means the side of the shooter's body with his or her dominant hand, whether that's the right or left side. This location on the body places the pistol as close to the shooting hand as possible, which greatly reduces the amount of time needed to bring a defensive handgun into action.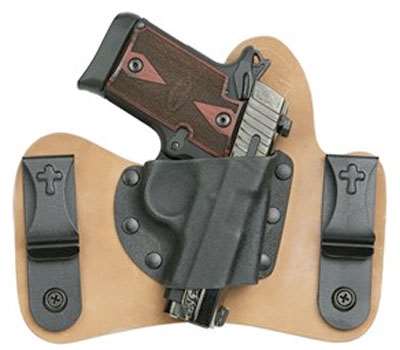 Strong-side hip carry has other important advantages. These carry systems are relatively comfortable to wear in standing or sitting positions. It's easy to form a proper shooting grip before drawing and to get the gun on target quickly. As the pistol moves through the arch of motion from the holster to point at the target, the business end of the barrel is far less likely be pointed at any part of the shooter's body (if the draw is done correctly), or at any unintended targets. The process of drawing and re-holstering with this carry method is intuitive to learn and to practice, which is why law enforcement and military personnel use it.
The disadvantages of hip holsters include the need for a strong belt to support them and there is usually a need for a concealment garment to cover the handgun. The belt is a problem for outfits that do not require them. As far as keeping the gun out of sight, this can be done with a coat or jacket. Several companies offer Inside-the-Waistband (IWB) holsters to conceal handguns more easily. Instead of the pistol resting outside of the belt, like a policeman's gun often does, the holster rests between the body and the pants or skirt being worn. This covers most of the gun with the exception of the grip. To minimize or cover the grip some companies offer "tuckable" IWB holsters which allow a shirt to be tucked into the waistline around the pistol grip.

Another way to minimize the outline of the grip is to move the holster behind the hip. Using the navel as the 12 o'clock position on the body, a strong-side holster position sets the gun at the 3 o'clock (right) or 9 o'clock (left) position on the belt line. Moving the holster behind the hip will place the gun at the 5 o'clock and 7 o'clock positions. Instead of slapping your hip to draw, you give yourself a pat on the back. With the pistol resting behind the hip, it can be less comfortable when sitting down.  

Since this is one of the most popular methods of concealed carry, several reputable holster manufacturers offer a wide variety of hip holster options. These include Bianchi, Crossbreed, De Santis, Fobus, Galco, and Uncle Mikes to name just a few. Be sure to have the make and model of your handgun ready when you start your search because most holster companies use this information to sort their products.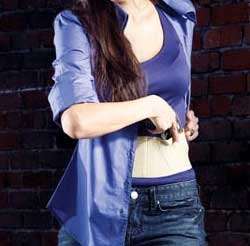 Belly Band Holsters
If you want the convenience of a hip holster, but will not be wearing clothes that will support one, then consider using a belly band. These holsters are wide elastic bands that wrap around the torso. They're more flexible than hip holsters because then can be moved up and down the torso to change the pistol's height and they often have multiple pockets for spare magazines or other items. The down side of this system is that they can be hot or feel constrictive. Options include the Original Belly Band and the Galco Underwraps.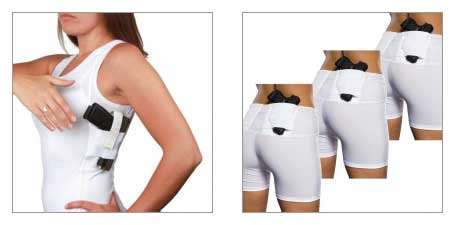 Compression Clothing
Compression garments with sewn-in gun pockets are a more recent addition to the holster market. Although other manufacturers are moving into this niche, UnderTech Undercover offers some of the first, and best, options available. These under garments distribute the weight of a gun to make it more comfortable to wear. The shorts are designed specifically to be worn with no-belt clothing options including gym shorts and sweat pants. The tops the company offers are essentially shoulder holsters. Both tops and bottoms are designed to be used by left- and right-handed shooters.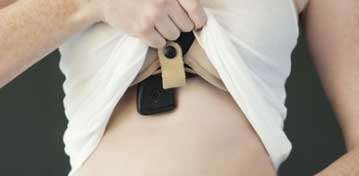 Bra Holsters
Here is another fairly recent development for women which is gaining momentum in the concealed-carry community. One of the first bra holsters to market is the Flashbang, developed by Lisa Looper, of Looper Law Enforcement LLC. This bra-mounted thermo-plastic holster arrives with three straps sized to fit a variety of bra styles. The holsters hold a small handgun horizontally, just below the bust line.  Accessed by reaching up under the shirt, this method of carry is ideal for use with any type of shirt or blouse and a traditional (non-sports) bra.
This is one system that only a woman can appreciate, so I handed this one off to my lovely wife to try out. Her comments were mixed. Yes, it successfully hides the gun from view. However, she feels that women wearing bra holsters will need to have an ample bust line and a flat stomach in order for even small pocket pistols to conceal successfully and ride comfortably. She also said the holster system rests against tender areas, so it may take a while to get used to wearing one.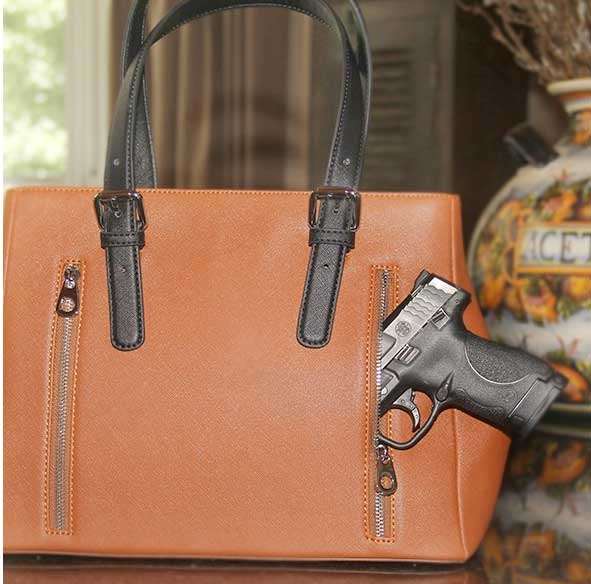 Purse & Sports Bag Carry
Keeping a handgun in a shoulder bag is one of the most popular, yet controversial, methods of concealed carry for women. The reasons for its popularity are obvious. There is nothing inherently suspicious about carrying a purse. A bag will completely conceal the pistol and it can be secured in a locked drawer or container when it is left unattended.
But some self-defense guru's advise against purse carry for several reasons. When muggers attack, they tend to grab a woman's purse first, which leaves her unarmed. Dropping a loaded gun into a full purse can be dangerous, since loose objects like pens and keys can become entangled in the trigger. But most importantly, purses can become so much a part of daily life that they are quickly forgotten, left unwatched, or stowed away in an inaccessible location, all of which are bad habits (to say the least) when handling a loaded firearm.
So is there a middle ground? The problems of using a purse to carry can be reduced by using the right bag and a proper level of situational awareness. Several companies are now offering purses specifically designed around the needs of those who carry concealed, including Coronado Leather, Concealed Carrie, Designer Concealed Carry, Galco, Gun Tote'n Mamas, GunGear, and Magills. These bags have dedicated holster pockets designed to protect the handgun from the contents of the purse while still providing quick access. Gun importer EAA offers its own line of purses that contain a holster specifically for the EAA Pavona handgun, but also makes a holster system and holsters for other makes and models of handguns.
Held in a ready-access position, a concealed-carry purse offers a faster and more reliable draw stroke than an ordinary purse. What keeping the bag in the "ready" position looks like largely depends on the bag's design. For example, several bags have a vertical holster pocket opening outside the main body of the bag.
The shooting hand can slip in sideways instead of having to reach into the purse from the top. Once a gun is in place inside a purse, the key is to keep it handy and under your personal control, otherwise the gun will not be where it's needed when it's needed.
To learn more about just a few of the many holster styles on the market, take a look at the Holsters 101 and Holsters: Hybrids & Exotics product galleries.