Support NRA American Rifleman
DONATE
The Hawaiian island of Lanai is not only a picturesque resort destination, it is also a sportsman's paradise thanks to its teeming population of Axis deer—the herd outnumbering the island's human population many times over. A recent trip to Lanai, besides allowing me to enjoy a bit of a working vacation, also afforded me a couple of days of shooting and hunting with
Browning
ammunition and X-Bolt rifles, supported by scopes, binoculars and rangefinders from
Leupold
. More in-depth reviews of the offerings on hand will be forthcoming—some of the products are still to be released—but one of the standout accessories available was Leupold's RX-2800 TBR/W Laser Rangefinder.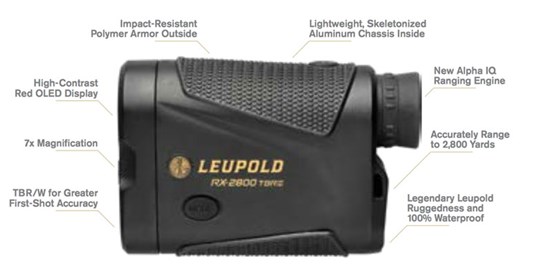 In a package very similar in size and appearance to its RX-1600 models, the Leupold RX-2800 exhibits some significant improvements over the company's earlier renditions. The most obvious enhancement is the unit's reported 2,800-yd. measurement range, clearly a nod to the fact that long-range shooting is here to stay, and the rifles, cartridges and optics of the day are far more capable of going in the distance than ever before. Along with the extended range of the measuring laser—which is still supposed to yield a result in less than a second, even at maximum distance—the RX-2800 also features more magnification power than its predecessor—7X compared to 6X of the RX-1600. It is still going to be pretty tough to make out a game-size target beyond 2,000 yds., let alone range it, but the magnification boost is a real benefit within reasonable hunting ranges for observing, judging and ranging targets. In my opinion, the extended-range capabilities of the RX-2800 are going to come into their own when shooting extreme-long-range targets—typically large, reflective steel gongs—and when ranging landmarks either for navigation, or when developing range cards, sector sketches and the like.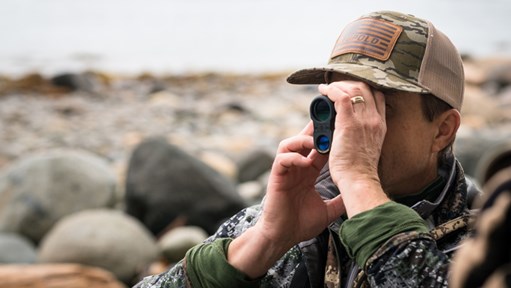 The RX-2800 TBR/W is also fully equipped with more advanced features, including its namesake True Ballistic Range with Wind function. In this mode, the rangefinder will compensate for the angle of the shot and the user's specific rifle/cartridge ballistic capabilities in order to correctly calculate a shooting solution. The system is also able to use the ballistic data to calculate for full-value wind holds out to 800 yds. Additionally, Leupold reports that select RX rangefinder models will also include a Trophy Scale feature which will likely provide some kind of pre-set or user-defined bracket display that will scale depending on the range of the target, and provide the user a visual aid for field judging a potential trophy.


Now, I have not yet had the opportunity to wring out all the capabilities of the RX-2800, but I did get to use it on a 1,000-yd. rifle range, and in the hills and flats of Lanai's hunting grounds, and I can honestly say I am impressed by its speed. I ranged dozens of targets at distances of 70 yds. out to about 1,400 yds., the readout was nearly instant in every case—in my opinion a big improvement over earlier Leupold models. Even better, the rangefinder's scan function was very fast and easy to use, and the refresh rate was around one-half or one-quarter second—plenty fast for scanning, and yet not so fast as to be unreadable or distracting within the otherwise clean and crisp red LED display. I think Leupold did a very good job with this one and I look forward to taking it afield again soon to really put it through its paces.
Contact: Leupold & Stevens, Inc.; (800) 538-7653;
leupold.com
MSRP: $650