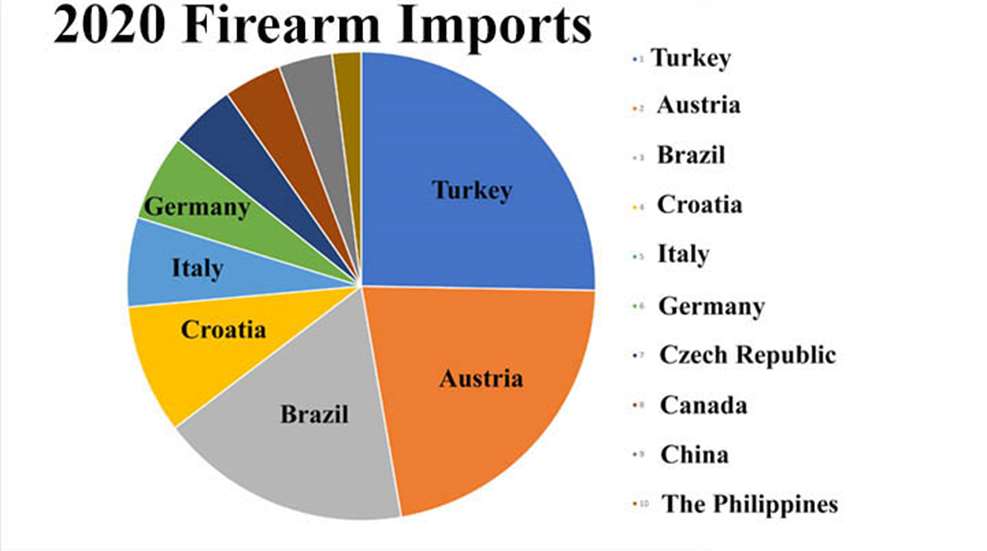 The well-documented firearm sales record of 2020 was partially supplied by a 60-percent increase in the number of firearms imported into the United States last year, according to figures released this week by Small Arms Analytics & Forecasting (SAAF). The organization's press release reports the top-10 countries of origin were Turkey, Austria, Brazil, Croatia, Italy, Germany, the Czech Republic, Canada, China and the Philippines, respectively. All combined those nations accounted for 92 percent of the guns originating from other nations during 2020.

The figures, based on raw data from the U.S. International Trade Commission, do not include imported military firearms or muzzleloaders. A total of roughly 6.4 million guns were imported last year, which represents an increase of 2.4 million when compared to 2019, when the figure was 4.0 million.

Turkey led the importing nations in 2020, with 1,478,464 firearms. Austria came in second at 1,284,785 followed by Brazil with 1,016,630. Rounding out the top five were Croatia (521,932) and Italy (360,557).

Munitions imports, which includes cartridges and components, came in at 3.5 billion units, according to SAAF. The top-10 countries of origin were, in descending order, Russia, Mexico, Italy, the Czech Republic, Brazil, Serbia, South Korea, Hungary, Israel and the Philippines.

The leading producers accounted for slightly more than 3 million of them, although a total of 3,455,273,118 units came into the United States from foreign sources, The volume still failed to fill a demand, a fact made obvious by the bare shelves at area FFLs and on line.

"Over the past several decades firearms and ammunition imports have come to play an important role in the U.S. industry's competitive landscape and firearms brand names such as Beretta, Glock, Sig Sauer, and Taurus have become well-established in the U.S. market," SAAF Chief Economist Jurgen Brauer stated in the press release.