The new gun, ammunition, a cleaning kit and a place to go shooting are all accounted for. Now what? With the basics in place, a few more items can make your shooting experience much more safe and enjoyable. If you are looking for what to buy next, or need a gift idea for your favorite shooter, here are some excellent products that have been selected and field tested by the author.
Gallery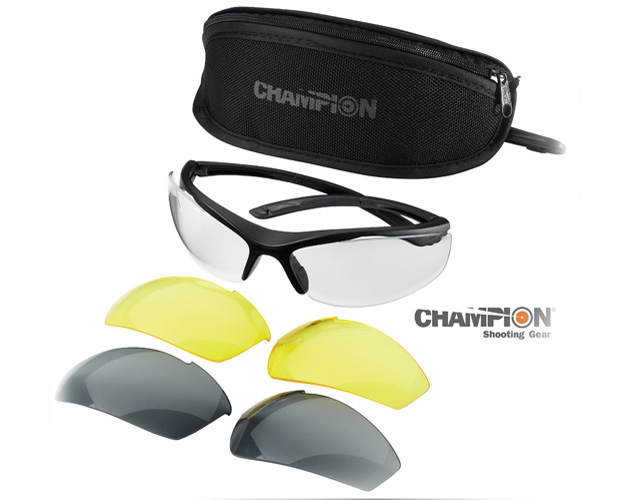 B. Gil Horman
Eye Protection
B. Gil Horman
The clunky safety glasses hanging from a peg at the hardware store will do the job of protecting your eyes while shooting, but not with much grace or thought to your comfort. Much of the shooting experience is visual, so why wrap your eyes with cheap plastic? Especially when so many good eyewear options are available. 
-Gargoyles Eyewear: Known for its trend-setting sunglasses, Gargoyles also makes amazing protective eyewear. Not only do they look cool, but they provide 5 to 6 times greater impact resistance than that of regular polycarbonate lenses. All Gargoyles lenses improve the view by using the Toric Curve Lens design, which transmits light to the eye without refraction or distortion. The feather-light Veil model also features durable pin stop hinges, urethane nose pads and soft rubber co-molded arm tips for comfort.
-MSRP: $80
-Champion Eyewear: Champion Shoot Gear provides a flexible, affordable eye protection option with its Model 40606 multi-lens Ballistic Shooting Glasses. The comfortable frame comes with removable lenses in clear, smoke and yellow, in order to adjust the glasses to the shooter's circumstances. The set arrives with a case to hold all of the components.
-MSRP: $23.49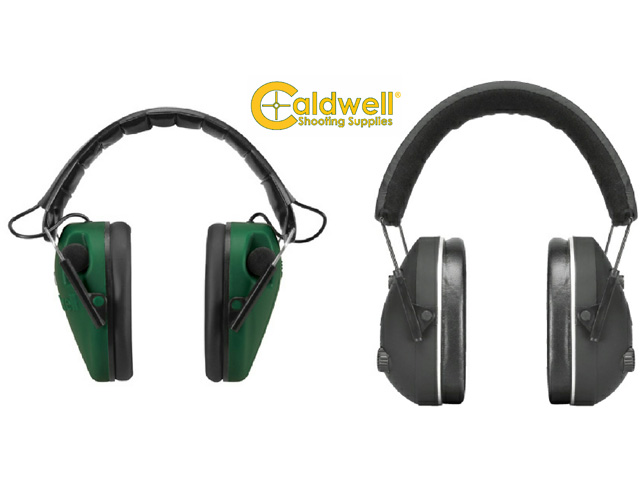 B. Gil Horman
Ear Protection
B. Gil Horman
Protecting your ears while shooting is critical since shooting-induced hearing loss is permanent. Even just a few minutes near gunfire can do lasting damage. A set of foam plugs or regular muffs can get the job done, but a better choice is the electronic hearing protection earmuffs. This is especially true if you are going to spend long periods of time on the range or in competition.
Caldwell provides electronic muff options at prices that won't make you faint. The E-Max is a standard model that provides a 25 NRR (Noise Reduction Rating) and amplified stereo sound that shuts down at 85 dB (decibels). The E-Max Low Profile is a slimmed down version, to better fit the needs of long-gun shooters that provides 23 NRR of hearing protection. Both models were comfortable and effective at the range.  
The most advanced model tested was the Platinum Series G3 with a 21 NRR rating. The updated electronics provide amazing sound quality to help in understanding speech and recognizing ambient sounds. Compared to another brand of muff purchased just a few years ago, the G3 was like upgrading from a portable cassette tape player to the latest digital sound system. Whether you have a normal level of hearing, or some hearing loss, the G3 will greatly improve your experience at the range.
-MSRP: $39.99-$79.99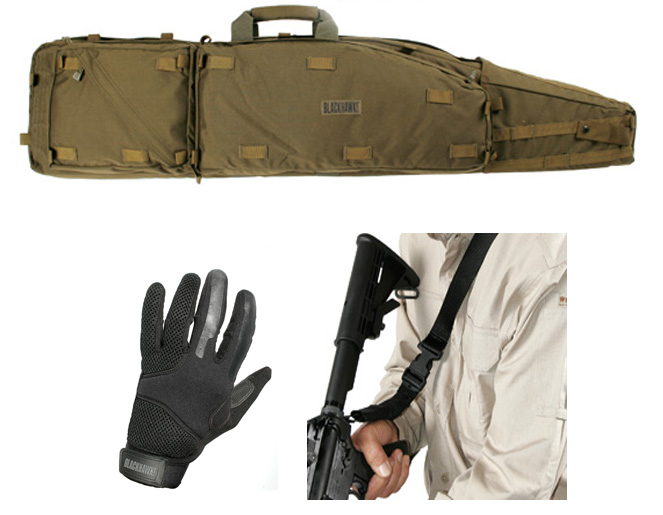 B. Gil Horman
Shooting Accessories
B. Gil Horman
Blackhawk is well-known for providing the superheroes of our military and emergency services with the tough, practical and reliable gear they need to get their jobs done. For the rest of us mere mortals, the same products can make shooting much more comfortable. 
-Sling: The quick-detach, single-point Storm Sling QD is an ideal tactical addition for defensive rifles and shotguns. But it can do something more than just comfortably retain a long gun. By creating a push-pull tension between the sling and a no-shoulder-stock firearm—like a pistol-gripped shotgun or large rifle-action pistol—the sling acts to stabilize the gun much like a shoulder stock would. It works well with pistols like the Ruger Charger and the Kel-Tec PLR-16.
-MSRP: $24.99
-Gloves: Blackhawk makes all kinds of gloves for military and police applications, and many of them would not be useful for the average guy during a day of shooting or competition. One exception is the Hot Ops ventilated gloves. Think driving gloves for a rifle that are cool enough to wear on a hot day, and you'll get the idea. Blackhawk's excellent sizing charts will help you to pick the best fit. 
-MSRP: $39.99

-Bag: Those soft cases at the sporting goods store may be fine for Grandpa's old shotgun, but what about your modern sporting rifle? Most soft cases lack additional storage, and large hard cases are not that easy to lug around. Blackhawk solves the problem with the tough and versatile Long Gun Drag Bag. Available in black, tan or olive, the Drag Bag provides reliable protection for your rifle as well as plenty of nooks and pockets for ammo, magazines and cleaning supplies. If you get tired of carrying the bag by hand, just convert it into a backpack with the built-in shoulder straps. 
-MSRP: Starting at $284.99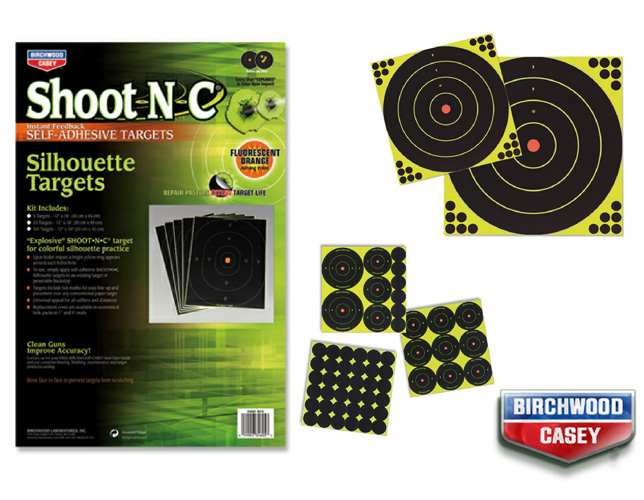 B. Gil Horman
Targets
B. Gil Horman
Ammo has never been free, but these days it certainly isn't cheap! It seems a shame to waste it, especially if you are sighting in your hunting rifle or defensive handgun with expensive premium ammunition. Being able to clearly see hits, especially at a distance, is not only helpful, but it can save you time and ammunition as well. 
Birchwood Casey Shoot-N-C targets provide clear, easy-to-read feedback for each and every shot. A nice, bright ring of color forms around each bullet hole to make it stand out from the matte-black background. These targets are available in a variety of configurations and sizes, and they have a self-adhesive backing to allow them to be hung without the need for tape or staples. 
-MSRP: Price Varies Based on Target Counts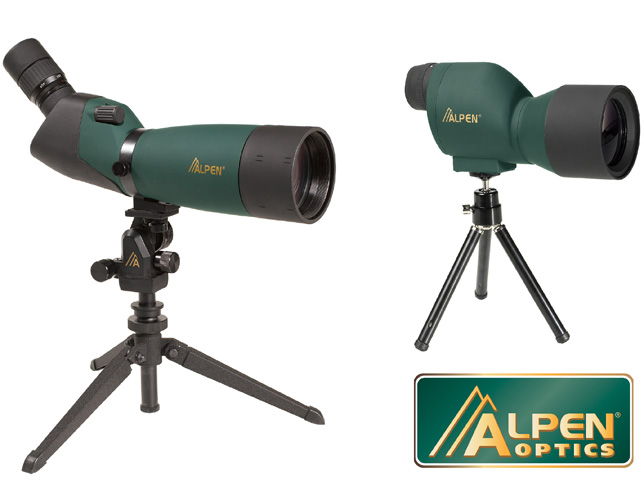 B. Gil Horman
Spotting Scopes
B. Gil Horman
Spotting scopes are one of those shooting aids that you can't fully appreciate until you try. They come in handy for all kinds of outdoor activities. First and foremost, a good spotting scope can make sighting in a rifle much easier. In the field, they are nice to have along for examining the landscape, or for keeping an eye on the critters you plan to sack. 

Alpen Optics' award-winning products give shooters a great balance of features and high-quality lenses at affordable prices. For those who need a flexible scope to fill a wide range of applications, take a look at the Model 788. This waterproof model has a 20-60x80 magnification, a 45-degree eye piece, fully multi-coated lenses and BAK4 Optics, and arrives with a tripod and carry case. The view through this scope is exquisite.

If you need a spotting scope that is ultra-portable and affordable, try the Model 711 Mini Spotting Scope. This compact, waterproof, fixed-power 20x50 magnification scope is a real treat to work with. Although it does not include all of the fancy features of the larger models, the view through the 711 is clear, crisp and bright. It's easy to tuck in with other gear for a quick trip to the range or a day out in nature.
-MSRPs: Model 788 Spotting Scope $594, Model 711 Mini Spotting Scope $88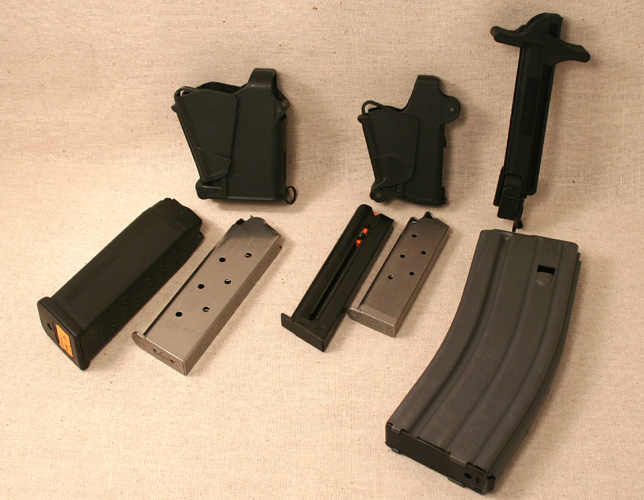 Posted by B. Gil Horman
Magazine Accessories
Posted by B. Gil Horman
Butler Creek offers a variety of magazine loaders that really work. Using a self-adjusting spacer, the UpLULA Universal Pistol Magazine loader eliminates the thumb-breaking pain of pressing dozens of standard defensive caliber rounds (9 mm -.45 ACP) into single-stack and double-stack magazines. The Baby UpLULA magazine loader provides the same convenient services as the Universal, but for .22 - .380 ACP magazines. If you work with AR-style rifle magazines, the StripLULA will load 10 rounds at a time of either stripper-clipped ammunition or loose cartridges. 
All three models were tested, proving to be reliable and effective. These small, light loaders will drop conveniently into the pocket of a shooting bag. With the forethought of the Swiss, Butler Creek made each of these devices a multi-tool by adding a prong or flange to use for unloading magazines as well.
-MSRP: $34.95-41.95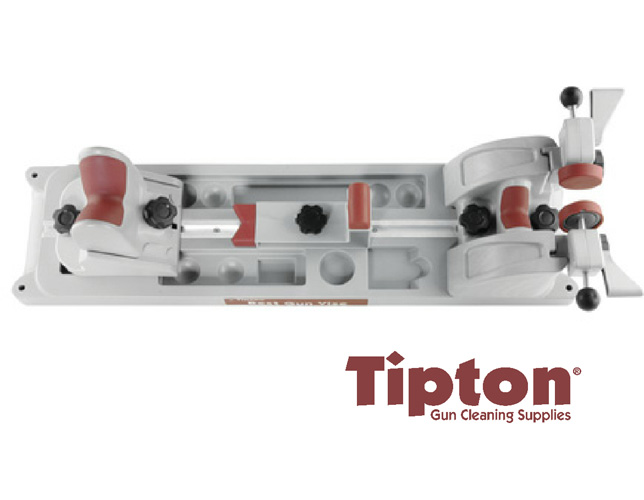 Posted by B. Gil Horman
Cleaning
Posted by B. Gil Horman
When discussing gun cleaning, the first tools that come to mind are bore brushes, rods, rags and chemicals. As important as all of these products are, there is one more that is well worth investing in: a gun vice. Tipton's Best Gun Vice is an excellent choice since it can be used when cleaning rifles, shotguns and even handguns.  
The vice is ruggedly built of solvent-resistant materials to stand up to regular use. The soft contact points will not mar a gun's finish, and the rear clamp set will hold the gun firmly in place. An aluminum channel in the base allows the major support structures and the clamp set to move into the right position for the gun being cleaned or repaired. After putting the Best Gun Vice through its paces with a variety of firearms, it proved to live up to its name.
-MSRP: $129.99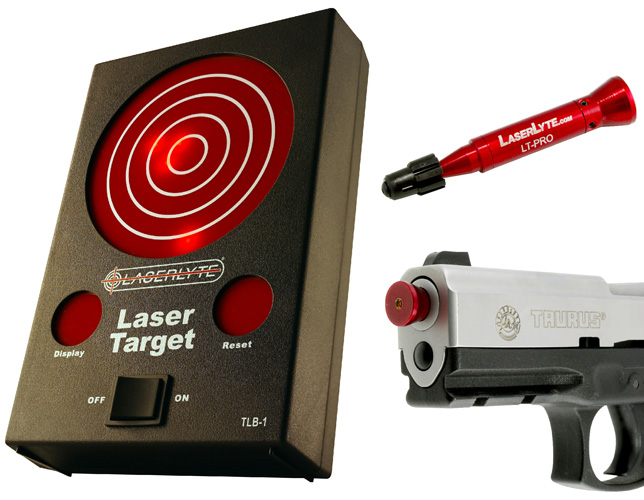 Posted by B. Gil Horman
At-Home Handgun Practice
Posted by B. Gil Horman
This is one of the coolest at-home training systems to hit the market. You can hone your basic handgun skills, using your actual handgun, and save money on ammunition and range fees. Install the LaserLyte LT-PRO laser trainer into the 2-inch or longer barrel of your unloaded .35-.45 caliber handgun. Dry fire the handgun while aiming at the bullseye of the TLB-1 target. The LT-PRO laser will flash with each pull of the trigger, scoring hits on the bullseye. Flash the laser at the Display sensor on the lower left corner of the target to see each of your hits light up, and then flash the laser on the Reset sensor on the right to start over again. 
This is an amazing system to use. The target is about the size of a dictionary, which means it can be set almost anywhere, allowing the user to practice from a variety of locations and positions. It can be used for practice, to train new shooters or for a bit of friendly competition between shooting buddies. The system may seem like a big investment, but the value of being able to effectively practice between range sessions, just about anywhere you choose, makes it well worth the price.
-MSRP: LT-PRO Laser Trainer $99.95, TLB-1 Laser Target $199.95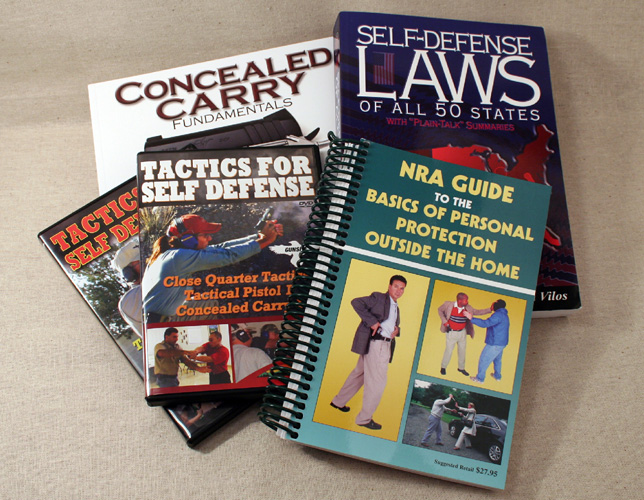 B. Gil Horman
At-Home Education
B. Gil Horman
In the shooting community, a great deal of emphasis goes into the equipment we buy. But the gun doesn't win the fight, the person holding it does. Personal protection takes place between our ears, so successful training and education are at the heart of being prepared to protect ourselves and our loved ones. One-on-one training and direct consultation with experts is the best resource available, but several books and DVDs can be helpful in expanding shooters' understanding. The following is just a handful of the useful resources available at the NRA's online store: 

-"Concealed Carry Fundamentals" (Book) by Michael Martin
This well-crafted manual touches on a broad range of information for shooters who choose to practice legal concealed carry. Photos, tables and the plain language used to discuss technical topics make the information in this book accessible to a wide range of readers. It will be an especially useful tool in the hands of experienced shooters who are introducing their friends or family to defensive shooting for the first time. 
MSRP: $26.95
-"Self-Defense Laws of All 50 States" (Book) by Attorney Mitch Vilos & Evan Vilos
Only attorneys enjoy sifting the obtuse language of the legal documents that govern much of our daily lives. When choosing to protect ourselves with firearms, home defenders must be aware of a whole slew of laws that can be difficult to sort through and understand. This book's plain-talk summaries of each state's laws and regulations are just that, plain and easy to understand. Another great feature is the chapter entitled, "Thumbs Down Factors," which lists choices and behaviors to be avoided in self-defense situations. 
MSRP: $29.95
-"Tactics for Self Defense I & II" (DVDs) by GUNSITE Academy
Many of us are saving up for training at one of the excellent shooting facilities around the country. These civilian courses provide some of the best learning opportunities available. In the meantime, GUNSITE Academy provides shooters with a taste of what they have to offer, or a refresher for those who have formal training, with their Tactics for Self Defense DVD series. The videos demonstrate principles for close-quarters combat with long guns and handguns, foot work, defense against edged weapons and concealed carry, to name a few. 
MSRP: $39.95 for the 2-DVD Set

-"NRA Guide to the Basics of Personal Protection Outside the Home" (Book) by The National Rifle Association
The NRA has poured a great deal of time and resources into developing the book for the NRA class of the same name. If you can't afford to attend the class at this time, then buy the book. It's a broad, practical, no-nonsense discussion of the defensive principles shooters need to know when moving about their daily lives while armed. If you can only afford one or two educational resources to begin with, start with this one.
MSRP: $27.95