Support NRA American Rifleman
DONATE
The din among critics is already deafening, but if a measure introduced this week passes, suppressors will be removed from the list of National Firearms Act of 1934. It's a healthy move for enthusiasts and they aren't the only ones who'll benefit if noise levels drop at ranges in the 42 states where they are legal.  

The Duncan-Carter Hearing Protection Act—H.R. 367—was introduced Jan. 9 and NRA-ILA applauded the legislation the same day explaining it's, "…an important bill that gives gun owners and sportsmen the opportunity to better protect their ears and hearing."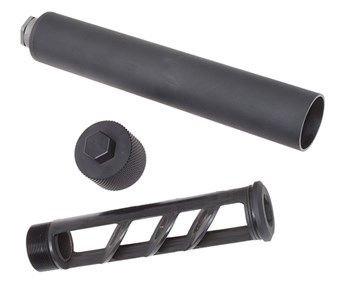 The National Firearms Act was originally adopted in 1934 and included, among other things, the machine guns and short-barreled shotguns. Somehow suppressors received the same sentence, and Hollywood fantasy lengthened the stay.
Suppressors don't render a gun noise-free. Rep. John Carter (TX) explained, "Suppressors do not make guns silent or dangerous, they are simply a form of hearing protection, both for the shooter and their hunting dogs. The Duncan-Carter Hearing Protection Act is common sense legislation that increases safety while shooting, allowing people to easily hear and react to range safety officers and fellow hunters."
Rep. Jeff Duncan (SC) noted in the joint press release, "It's striking that even Britain, which has some of the strictest gun laws in the world, has no restrictions on suppressors." Oddly, England's Ian Fleming helped convince an unknowing American public that the devices somehow magically defy the laws of physics with his James Bond exploits.  

Hiram P. Maxim, who graduated from M.I.T. at the age of 17, invented the suppressor more than 100 years ago. In 1910 it cost only $5 to put a Maxim Silent Firearms Company version under the tree "For his Christmas gift," according to the company's American Rifleman ad. 
Despite the fact there are hurdles to clear before taking one home today, like getting the local chief law enforcement officer approval, months of delays (or longer), paying a $200 transfer fee and more, there are many reasons ownership continues to grow. The Hearing Protection Act would remedy those roadblocks, yet still require purchasers to pass an FBI background check—"… and prohibited people would be denied," NRA-ILA explains.
Non-shooters will reap benefits, too. Vehicles are required to have mufflers for a reason, a neighborly parallel being drawn by many supporters. 

Photos by author