Support NRA American Rifleman
DONATE
Now that the Shooting Sports Hall has become an increasingly important fixture at the Great American Outdoor Show, attendees are enjoying exhibits from many top firearm manufacturers affording close-up viewing hundreds of current models, including some of the newest to hit the market. Mind you, this comes just two years after the hugely popular show was canceled because the exhibit hall contractor insisted that having AR-type rifles on display would "ruin the atmosphere." Good thing NRA knew better and emerged as the new show organizer, because these people obviously like all kinds of guns, including AR-type rifles.
To get a better idea what was attracting the most interest this year, I spent an afternoon in the hall informally surveying folks working at the show; watching men, women and family groups lined up to see the latest rifles, pistols and shotguns; and, yes, deciding what I liked best. (Note, our headline doesn't say whose favorite guns.) In fact there were many more great guns that were receiving constant scrutiny from the big crowds. 
At the Smith & Wesson booth, Jim Unger reported, "The small carry guns are still pretty hot, and they have been for a while. But you know what? Everyone has to stop and pick up the big [S&W L- and N-frame] revolvers."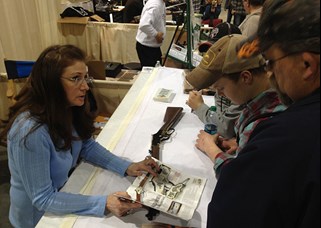 Henry Rifles' counter was mobbed with families, as parents and kids pushed in to ogle the company's All-American lever-actions. Booth attendant Barbara Howard had them oohing and ahhing at the handsome rifles that come dressed in plain and fancy finishes. Especially when she displayed the .22 rimfire Henry Golden Boy, youngsters could be heard whispering, "Pleeease, Dad. Pleeease, Mom."
Remington Outdoors Co. had two big rifles commanding attention, according to the company's Carlos Martinez. One was the new Bushmaster BA .50 BMG bolt-action with 30-inch barrel (shown at top). This 30-pound behemoth comes decked out in a Magpul adjustablebuttstock, and despite being a bolt gun, it shares the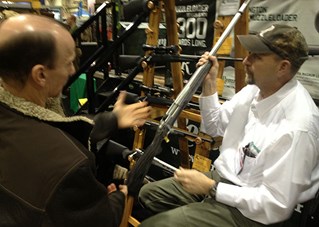 look and design features with AR rifles. The other side of the coin was occupied by the Remington Model 700 Ultimate Muzzleloader, a contemporary, closed-breech wonder that the company says is, "bringing 300-yard performance to muzzleloader season." What's ironic is that Pennsylvania's principle muzzleloader season is flintlock/roundball only, and so one had to marvel at the crowds huddled around to see it.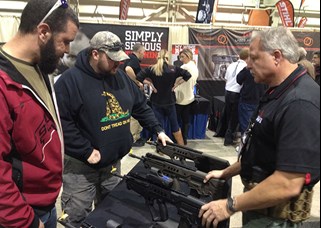 The IWI Tavor is kind of a hometown gun in Harrisburg. Though designed and mostly manufactured in Israel, some final assembly on Tavors imported here is done at IWI's U.S. branch on the outskirts of Harrisburg. More than a year after this high-tech 9 mm bullpup stormed into our domestic market, it was still a show-stopper at GAOS.
Among others, couples were keeping the SIG Sauer booth very busy. For the most part they appeared to be sizing up carry guns for her, and while it's hard to say which single model was getting the most attention, it wasn't just the ultra-compact SIG P232 and P238 .380s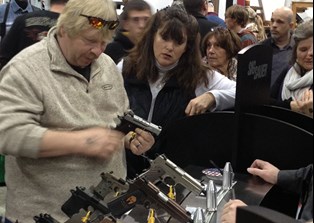 commanding attention. The ladies also appeared to be interested in slightly larger models like the SIG P224 and P250 Compact both of them concealable 9 mms.  
And then for me, a stop by the New Ultra Light Arms/Forbes Rifles booth was a treat. Both brands are run by gunmaking innovator Melvin Forbes, who some years back brainstormed how to scale-down bolt-action hunting rifles to the 6-lb.-and-under range without it feeling dainty. Melvin's NULA Model 24 Ultimate Plains Rifle feels so light and so right, I can resist stopping to pick one up anytime I have the chance.