Support NRA American Rifleman
DONATE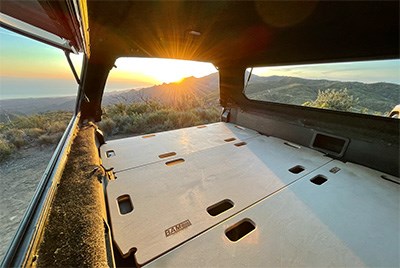 Designed by a mechanical engineer, BamBeds is a multi-purpose sleeping and gear storage system for '05-present Toyota Tacoma short- and long-bed pickup trucks that lends the popular platform even greater utility for the hunter or camper. Made of 11/16"-thick industrial birch or bamboo plywood with rounded edges, the base system's tri-panel design spans the full width of the bed, engaging the factory-molded ledge in its perimeter just above the wheel wells and leaving 9" of storage space beneath.
The resulting deck easily supports 1,000 lbs., providing spacious, secure rest for two adults on a full-size mattress. Hand holes in the panels facilitate quick reconfiguration when hauling bulky items. An optional Tailgate Extension set extends the sleeping area in fair weather or when used with a bed tent, and a Sliders kit, consisting of two thinner plywood panels rimmed at the front, rests directly on the truck's bed, allowing gear stowed in low-profile containers to be easily retrieved by simply pulling them out. Price is $500 (Birch, Three-Piece Long-Bed Platform); $200 (Tailgate Extension); $500 (Sliders). 
For more information, visit bambeds.com.