by
John Zent, Editor Emeritus
posted on December 17, 2010
Support NRA American Rifleman
DONATE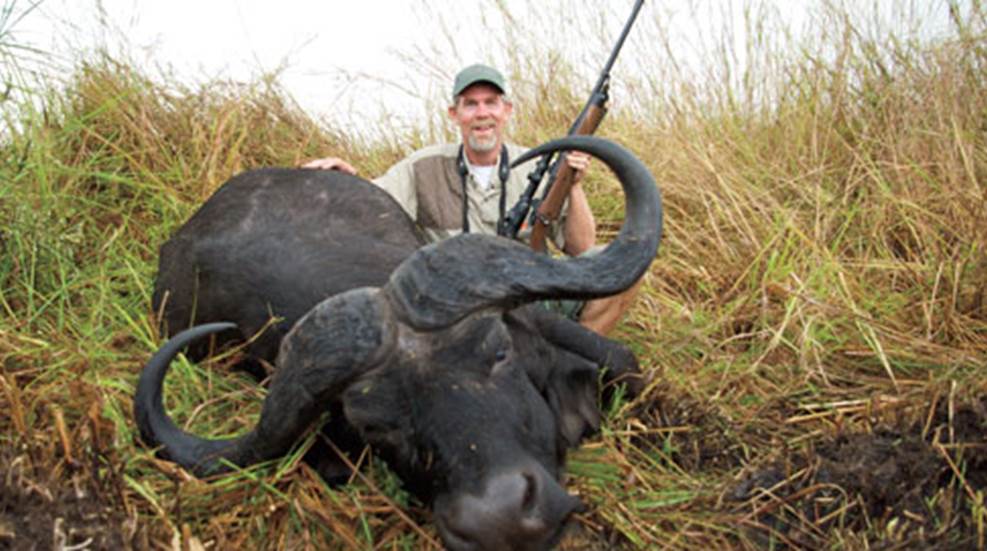 One isn't obligated to hunt Africa in order to fully appreciate a Dakota rifle, but since dangerous game is what makes controlled-round feed really matter, it's no coincidence that right from the beginning Don Allen and many customers focused on big-bore versions of the Model 76. The initial offering included a heavy-barrel Safari Grade in .375 H&H Mag. and .458 Win. Mag., and shortly thereafter in .416 Rigby. The subsequent Model 76 African, scaled for the biggest calibers, has reinforced that commitment.
Dakota rifles have played a central role in my limited dangerous-game resume, accounting for my first and most recent Cape buffaloes. Both safaris took place in Tanzania as I accompanied members of Dakota's former and current management teams.
The first time out I was shooting the biggest, baddest Dakota of them all, the African Grade in the rip-roaring .450 Dakota. My chance came after nine long days lugging that 10-pound rifle through hilly miombo forest. With the big bull 80 yards out and trotting, professional hunter Gerard Miller barked, "Shoot, shoot!" I did, and the recoil slammed me backward.
Brush screened the buffalo, so I had to step left to relocate him. He was running, so I threw the rifle up and fired again. The shot instantly leveled the bull, and that was that. The .450's shots had chopped through the animal's shoulders, lungs and cardio vessels, and surprisingly we found the bullets clustered together under the offside hide. The point here isn't my shooting prowess—believe me, this was all about luck and reflex made possible by a rifle that functioned and balanced flawlessly.
This past September I returned to hunt the Kigosi Game Reserve along with Carlos Martinez and Linda Powell from Dakota, Swarovski's Dean Capuano, and African hunting ace Craig Boddington. Our game lists ran from buffalo and big cats to sable, roan and other plains game, for which we had brought a battery of Dakota rifles.
Again mine was a Model 76 African, this time chambered in .416 Rem. Mag. Carrying a Swarovski Z6i 1-6X scope, it proved accurate and fun to shoot thanks to the Z6i's ample 3¾-inch eye relief.
Different too were the circumstances of my buffalo encounter. After three days puzzling over the spoor of a trio of dugga boys, PH Deon West, his crew and I followed a tunnel plowed through chest-high grass and shortly bumped them from their beds at 20 yards. Deon calmly said, "Right there," and so I snapped up the rifle and fired into the grass fringing the shoulder of the one standing broadside. In a blink the buffalo vanished, but after 20 tense minutes combing the grass we found him stone dead, a magnificent old-timer sporting a massive helmet and wide sweep of horn. Once again, when there was time only for reflex and reaction, I was fortunate to have a rifle that blended plenty of power and graceful handling.
Martinez and Capuano killed fine bulls as well, both men using the Model 76 Safari Grade in .375 H&H Mag. Their shot opportunities came at 100-plus yards, and so were considerably more difficult than mine, but both partners proved to be up to the challenge. Martinez's trophy piled up dead after a single strike in the heart-lung zone, and Capuano anchored his running bull with a great shot, then moved in to apply the finisher.
When three dangerous-game greenhorns take three big buffalo with four shots, it's definitely not the norm. In this case, credit our PHs from Game Trackers Africa for masterful stalks, along with having the right equipment. Though big-bore Model 76s are necessarily heavier than your typical deer rifle, their balance and thoughtful stock design promote instinctive shouldering and aiming.
We also relied on Model 76s for the larger plains game, enlisting the .375 H&H Mag.'s long-range reach in Kigosi's wide-open floodplains to take trophy roan (Boddington), sable (Powell), bushpig (Capuano) and eland (yours truly). Even so, the real plains-game hero of this trip was Dakota's alternate flagship, the Model 10 single-shot. We had a pair of the sleek, little falling-blocks in camp, both chambered for 7 mm Rem. Mag. They were much in demand, busily accounting for more game than our bolt guns, including two record-class sitatungas, a rare double on one of Africa's most difficult trophies.
Swarovski optics perfectly complemented our high-end rifles, particularly the Z6i (illuminated reticle) scopes. Their six-times magnification recalculated the physics of sporting optics and earned American Rifleman's Golden Bullseye Award as 2008 Optic of the Year. Along with the brilliance for which Swarovski glass is so highly regarded, the Z6i's illuminated reticle deserves cheers, too. Thanks to separate daylight and dusk controls, it's easy to regulate the brightness to match any light condition. Before this hunt I was unsure about illuminated reticles, and now I know that was short-sighted. Indeed they do help a shooter get on target faster. In tight spots with dangerous game, that could be a game-changer. In fact, it's a useful tool anytime.
Dakota rifles have been making long journeys to African gamefields for 25 years, and our safari with the newest generation from Sturgis proved that as good as they look in camp, they're all business once you take up the track.