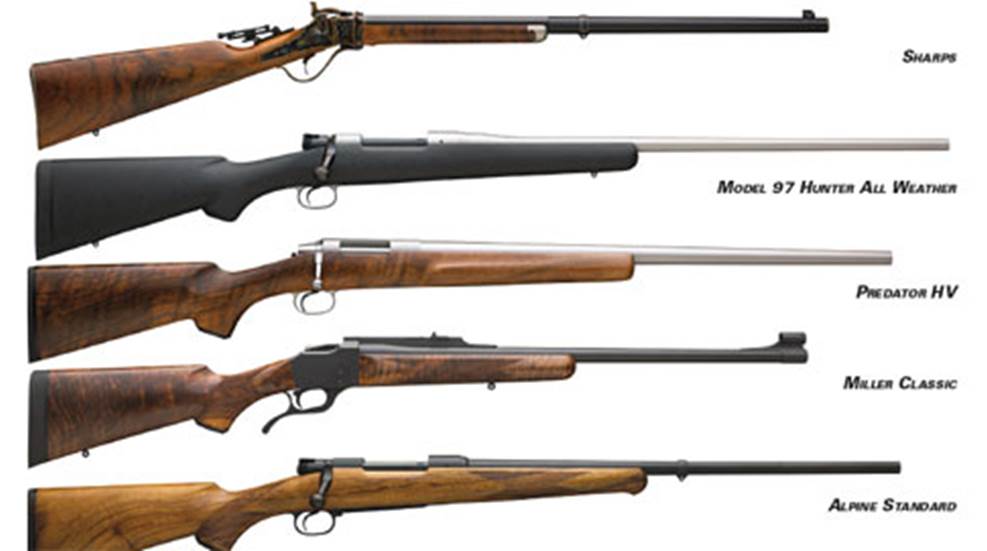 A Growing Rifle Family
It didn't take Don Allen long to expand Dakota's catalog, and that push continued through the acquisition of complementary brands formerly available only through custom channels.
Introduced in 1991, the Model 10 single-shot was inspired by Britain's Fahrquaharson and Martini-Henry rifles, though it was decidedly more handsome than either. The 10 teams a simple dropaway breech and fast lock time with match-grade barrels to produce accuracy on par with its looks.
Today this sleek rifle comes in standard and magnum variants that encompass chamberings ranging from .17 HMR to .404 Dakota. A masterpiece by virtue of its striking design, this gun offers an ideal medium for engraving, inlay and bone charcoal
case coloring.
A less costly Dakota bolt-action came in the Model 97. It too sported a Mauser-type claw extractor that facilitated CRF, but unlike that on the blocky Model 76, the receiver was a round-bottom design that was easier to manufacture. The synthetic-stocked Model 97 is offered in an array of models—including one with stainless metalwork—which lends itself to a lightweight form for extreme mountain hunting.The Predator incorporates a Nesika Bay action similar to those that dominated benchrest and 1,000-yd. winners' circles. The rigid, bolt-action single-shot is typically a one-hole shooter ideal for varmint and predator hunting, and it comes in AAA claro walnut or composite stocks and a choice of barrel contours.
Dakota's single-shot rifle expertise takes an eye-opening turn in its reinterpretation of the legendary 1874 Sharps. Scaled to 80 percent of the original dimensions, the handsome
falling-block is specially geared to shoot smaller, high-performance, rimmed cartridges from its 26" full- or half-octagon barrel.
Miller Rifles, once produced in a small family shop just a few miles from Dakota Arms' home base, built a loyal following in Schuetzenfest and blackpowder cartridge disciplines.
Based on an ingenious, rugged single-shot design that marries the action and trigger in a single unit, it boasts an extremely fast lock time. Dakota now builds Millers capable of
firing modern calibers on a custom-order basis.
Dakota Proprietary Cartridges
Complementing high-end rifles with snazzy proprietary cartridges wasn't an original marketing ploy when Don Allen introduced Dakota's namesake ammo lineup in 1992. But rather than following the "bigger/faster/more powerful" avenue paved so famously by Roy Weatherby, the Dakota series actually anticipated what has emerged as the 21st century's hottest ammunition trend—cartridge efficiency.
All but one of the six Dakota cartridges is based on the .404 Jeffrey case, shortened to cycle in standard-length actions; these include the 7 mm Dakota, .300 Dakota, .330 Dakota, .375 Dakota, and .404 Dakota. The exception, the big .450 Dakota, is based on the .416 Rigby case. Allen felt these conventional, non-belted cases would make his rounds more accurate and reliable than belted magnums. He insisted that headspacing on the case shoulder physically centers the cartridge within the chamber and thus provides better bore alignment than obtainable when a belt is used for headspacing. He also believed that non-belted cases, particularly those without rebated rims or oddly shaped shoulders, feed and eject more reliably.
The shortened Dakota cases often boast greater powder capacities than comparable full-length magnums that are swaged to create the belts. The result is a generous powder charge packed into a short, wide column—exactly what is delivered by today's popular short and compact magnums. As we have seen, the advantage is downrange performance at least on par with full-length magnums, but from lighter, handier rifles.
Though the Dakota cartridges have never gained a large following and have not been picked up by other gunmakers, the company continues to custom-load them—and other calibers—in Dakota-branded ammunition. Typically it's loaded with Swift Scirocco and A-Frame bullets, but customers can specify other projectiles. That ensures owners a ready, high-quality supply, and now that Remington is a sister company, one can't help but wonder if in the future it will play a role in Dakota ammunition.