by
posted on June 13, 2011
Support NRA American Rifleman
DONATE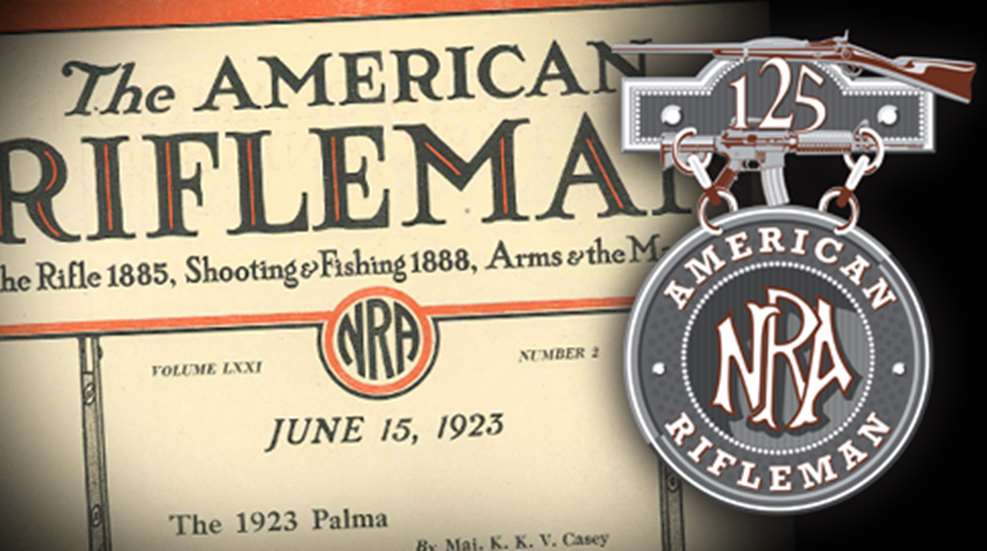 From the June, 1938 issue of American Rifleman
The service .45 automatic pistol is an extremely accurate gun, but for good shooting to be had with this or any other pistol the user must have a certain degree of training with his weapon and its proficiency and its use. To expect a man to do good pistol shooting without practice is nearly as absurd as to expect him to swim without ever having been in the water or to play a good game of golf without ever having had a golf club in his hand.
Experience has shown that the way to overcome these difficulties and lay a solid foundation for good pistol marksmanship is to progress from "dry shooting" or snapping practice with an empty gun, to actual target practice with .22 caliber cartridges. The .22's make relatively little noise or disturbance, hence all nervousness on that account is removed; yet they are so superbly accurate that the scores made on the target will give a perfect record of the proficiency of the shooter.
Another advantage of the .22 long rifle as a practice cartridge is the fact that it costs just one-seventh of the price of the .45; in other words, for the same expenditure of funds the shooter can indulge in seven times as much practice as he could if her were using the larger caliber.
These facts have long been recognized by the makers of the .45 automatic, but such formidable engineering difficulties lay in the way that it is only recently that the problem has been solved by the use of the "Floating Chamber," an amazingly effective invention which is so simple that it is surprising that it was not thought of before.
It is interesting to note that this new idea did not originate in the highly trained technical organization of some big arms company, but instead was the work of a young man working entirely on his own in an auto repair shop in a small country town.
The inventor, Mr. David M. Williams of Godwin, North Carolina, thought out the idea for himself, and then proceeded to make up and try out a high power rifle, a .22 caliber rifle, and a .45 caliber pistol converted to .22 caliber, each using the floating chamber principle. He did the work himself, using for material what scrap automobile parts he could find around the shop that seemed to him to have the required strength. Most of his parts were made from old Ford rear axles.
Caption: Diagram showing action of floating chamber in Colt Service Model Ace. Barrel is pinned to receiver by slide stop and cannot move. Upon firing, pressure on front end of moveable chamber drives same to rear until lug on bottom strikes corresponding lug on barrel, and stops the motion. As floating chamber rests against breech block, which is part of slide, this motion is transmitted to slide, which is thus thrown to rear against action of recoil spring, at same time cocking hammer and compressing mainspring.
The "floating chamber" practically quadruples the recoil power of the .22 long rifle cartridge, and the result is a recoil that strongly reminds the user of the .45, though in fact it is considerably less. And this increased recoil means that the gun has ample power to enable it to work under almost any conditions. This extra power makes it unnecessary to reduce the weight of the slide or the strength of the recoil spring or the mainspring. Thus it is now possible to furnish only the .22 caliber magazine, slide, and barrel with ejector, which will fit onto any Colt .45 receiver in place of the regular parts.
As a practical test of the possibilities of trouble from this cause, all cleaning of either the barrels or the moveable chambers has been omitted during several weeks of almost daily firing of a complete Service Model Ace and of a set of .22 parts on an old . 45 receiver. Not the slightest trouble has been encountered and the parts look just as they did when they were received.
The Service Model Ace offers a most effective method of training for proficiency with the Service pistol, and such an economical one that the amount saved on ammunition in just a few days' practice will pay for the gun. Because of those very features which make it an excellent training arm—recoil, service trigger pull, etc.—the Service Model Ace will probably not appeal to the man who is interested solely in a target pistol for competition in .22 events.