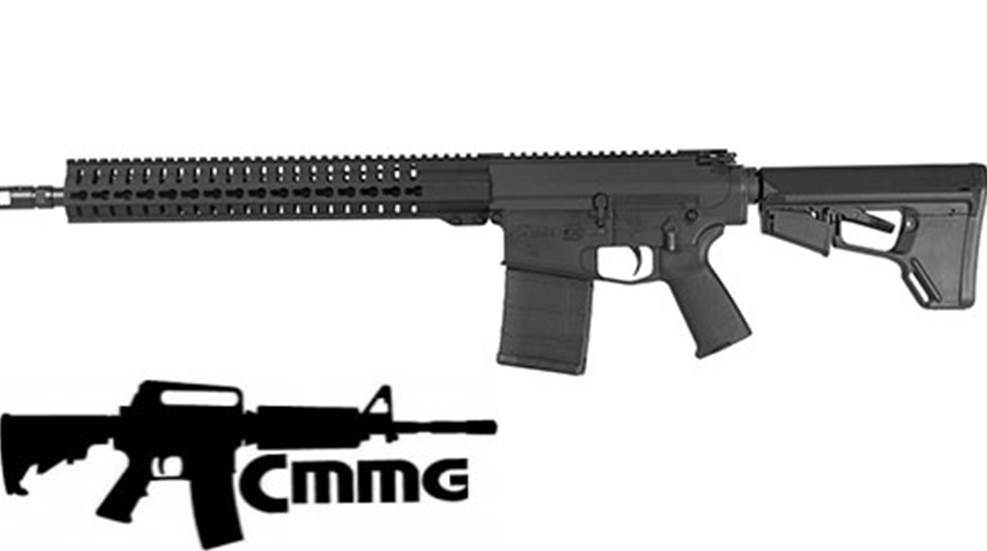 CMMG has introduced its new Mk3 CBR, chambered in .308 Win./7.62x51mm NATO. Precision-built to deliver the functionality that the company is known for, the new carbine comes with another perk: It's a high-end rifle design that will be available to consumers as a more practical price.
The Mk3 CBR features the free float RKM15 KeyMod hand guard, which measures 15-inches in length to accommodate a wide range of hand positions. The feature allows operators to attach an assortment of different accessories, too. The KeyMod slots are located at the 3, 6 and 9 o'clock positions with a 1913 Picatinny rail on top to give the hand guard an array of mounting options. The KeyMod system is a simple, comfortable and lightweight mounting solution that offers users a low profile alternative to the M1913 Picatinny rail.
The carbine is constructed with a hard anodized, billet 6061-T6 aluminum receiver. A 416 stainless barrel was selected and features a nitride finish that provides the barrel with long lasting accuracy and corrosion resistance.
Thanks to a pair of industry partnerships, the rifle will ship with a Geissele Automatics SSA 2-stage trigger, a Magpul ACS-L collapsible butt stock and Magpul MOE pistol grip. The rifle also comes with a Magpul 20 LR PMAG® with a 20 round capacity.
Technical Specifications:
Caliber: .308 Win./7.62x51mm NATO
Weight: 9 lbs. (unloaded), 10 lbs. (loaded with 20-rd PMAG)
Barrel: 16" 416 Stainless Steel
Hand Guard: RKM15 KeyMod Hand Guard
Sights/Gas Block: Low Profile Gas Block
Muzzle: CMMG SV muzzle brake
Furniture: Magpul MOE Pistol Grip & ACS-L butt stock
Trigger: Geissele Super Semi-Automatic (SSA) 2 Stage Trigger
Magazine: 20rd Magpul 20 LR PMAG
MSRP: $1,999.95
For more information, go to CMMGInc.com.