by
posted on July 15, 2012
Support NRA American Rifleman
DONATE
Gallery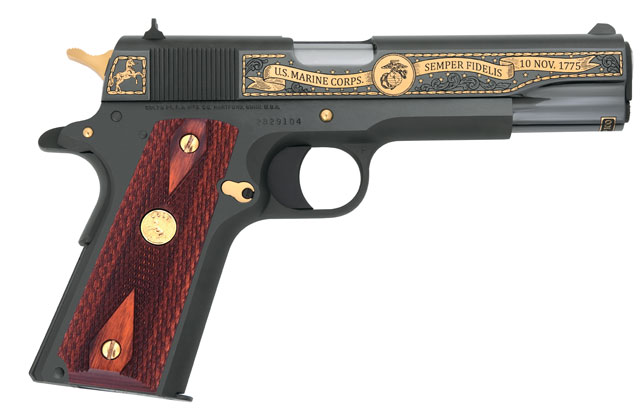 America Remembers
The only officially licensed Colt commemorative M1911 is available from the foremost manufacturer of collectible firearms, America Remembers. There are four editions of this highly embellished Colt Government Model .45 ACP, each comprising only 500 pieces with special U.S. military roll marks for the Army, Navy, Marines and Air Force.
The pistols feature richly plated 24-karat gold accents on the hammer, thumb safety, magazine release and stock screws. Additionally, the slides are inlaid with gold banners stating "Centennial Anniversary Honoring America's Military Service" on the left side and a branch-specific banner on the right.
The America Remembers editions retail for $1,995 each and can be mounted in an optional walnut presentation case. Financing is available for $195 down plus $100 a month. www.americaremembers.com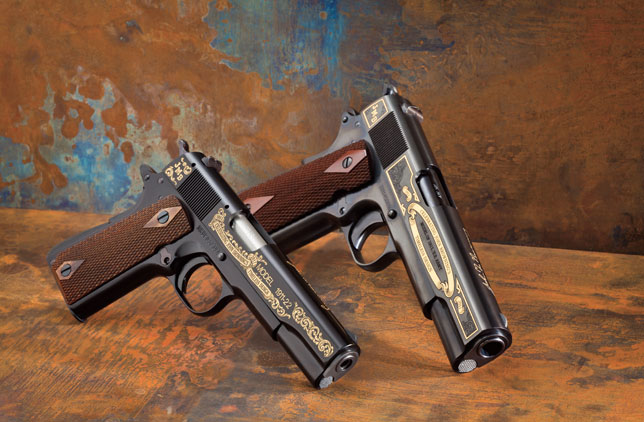 Browning Arms Co.
When your company is named after the gun's inventor, it behooves you to pull out all the stops. The Utah-based gunmaker did just that with a matched set of gold-inlaid M1911 pistols, one a classic .45 ACP Government Model (made by Browning's sister company, FN Manufacturing of South Carolina) and the other a miniature M1911 in .22 Long Rifle.
The only way to purchase a Browning Arms M1911 .45 ACP is in a cased set with the new .22 Long Rifle M1911. Both pistols are gold-inlaid with roll-marked engraving and come in a glass-topped presentation case. There are only 200 such sets, which are all sold out at a suggested retail price of $3,499.
There is also a set of a commemorative Ka-Bar knife and a .22 Long Rifle miniature M1911 in a glass-topped presentation case, both gold-inlaid with roll-marked engraving. That set sells for $999. www.browning.com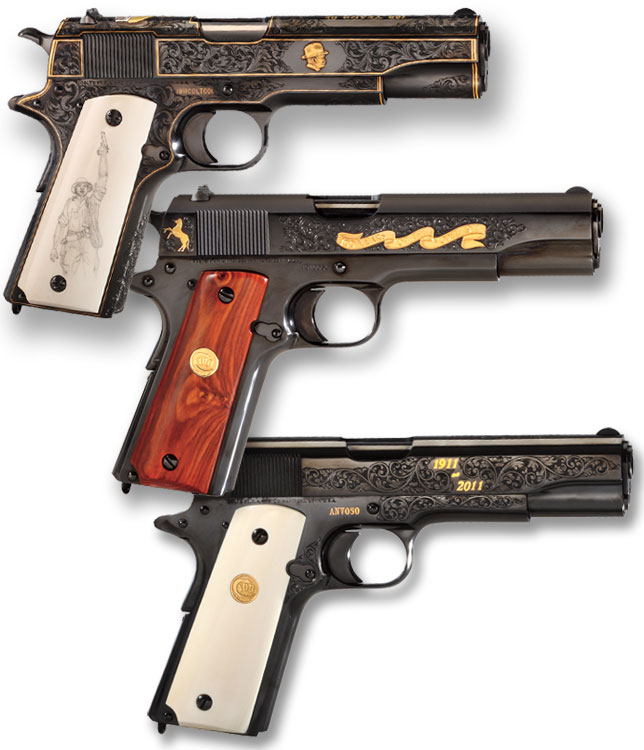 Colt's Mfg. Co.
Colt produced two limited-edition production pistols known as Tier 2 and Tier 3 commemorative M1911s, a limited-edition Custom Shop pistol and two special Custom Shop pistols donated to NRA and the National Shooting Sports Foundation (NSSF) for auction. The NRA and NSSF pistols are ornately engraved with gold inlays and scrimshawed ivory stocks. The NRA pistol features Sam Colt's likeness scrimshawed on the left stock and a bust of John Browning inlaid in gold on the right side of the slide. This pistol should bring more than $100,000 to boost NRA's ongoing fight for our rights. The NSSF pistol is less ornate, but is nonetheless a remarkable example of the best master engraving from Colt's Custom Shop. It sold at auction in January for $107,550.
Colt is offering two production commemoratives. The Tier 2 Anniversary Model 1911 has gold inlays and engraving, and is limited to 750 units serial numbered 19110001 to 19110750. Retailing for $2,495, the Anniversary Model comes in a glass-topped walnut presentation case. This model is already sold out. Check with your gun shop to see if the proprietor can order one from a Colt-authorized distributor.
The Tier 3 Model 1918 is a reproduction of a Colt Model 1918 with "U.S. Property" markings like those on the original guns that were made for the government. The slide is marked "Model of 1911-2011," comes with double-diamond stocks and retails for $1,150. Colt will make as many as are ordered prior to Nov. 30, 2011.
The Colt Custom Shop issued its own centennial edition of 100 hand-crafted pistols with "C" engraving and marked "1911-2011"; however, all are sold. As noted earlier, Colt collectors are nothing if not responsive! www.coltsmfg.com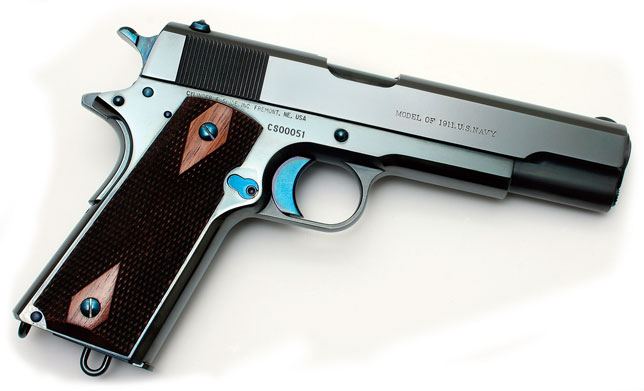 Cylinder & Slide Shop
Master pistolsmith Bill Laughridge has created a truly unique limited-edition pistol to commemorate the M1911's century of service. The pistol is made entirely from billet steel, each and every piece machined individually just as the first Colt-production guns were made. The pistols are marked exactly like pre-500 serial numbered Colts, including the original "U.S. Property" marking. "I built these pistols not to commemorate the 100th anniversary, but to honor the men who built them—all by hand," said Laughridge.
Features of the Cylinder & Slide commemorative include an original Type 1 hammer, an original magazine release (with no removal slot) and, as Laughridge describes them, "itty-bitty sights" that are period-correct. Identical in every respect, there will be 100 marked "U.S. Army," and "up to" 100 marked "U.S. Navy" and "USMC." Laughridge acknowledged that no Colt M1911 has ever been marked with the USMC name; however, he will pay tribute to the Marines with his limited edition. All pistols are bone-charcoal blued.
The price is $5,000 including one period-correct magazine with a lanyard loop floorplate tack-welded to the bottom of a steel magazine tube. www.cylinder-slide.com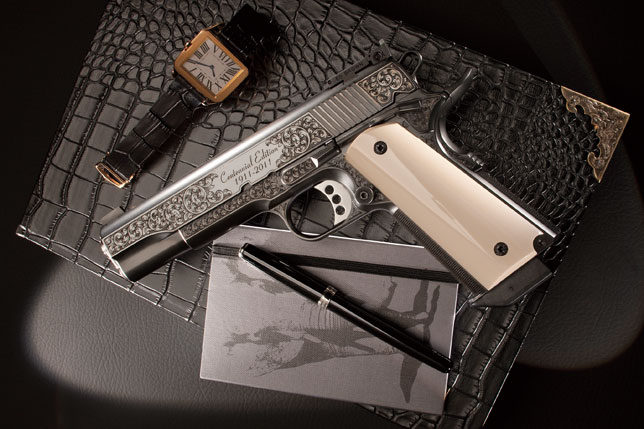 Ed Brown Products
Missouri pistolsmith and custom gun manufacturer Ed Brown is producing two M1911 models, an Executive Elite-Centennial Edition and an over-the-top Classic Custom-Centennial Edition that features beautiful hand-relief engraving. These limited editions will be offered for the year 2011 only.
The Classic Custom-Centennial Edition includes handcut engraving as well as a rib on the top of the slide, Tru-Ivory stocks, a jeweled barrel hood and special serial numbers starting with a JMB prefix. This model retails for $6,995.
The Executive Elite-Centennial Edition includes laser engraving, Tru-Ivory stocks, a solid trigger, a jeweled barrel hood and special serial numbers starting with a JMB prefix. The price is $2,495. www.edbrown.com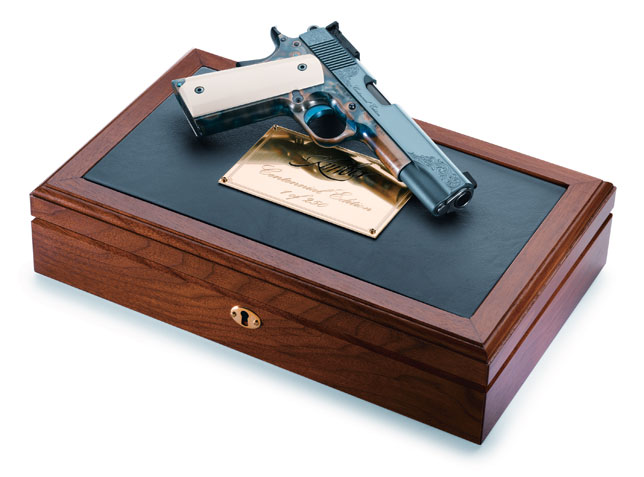 Kimber Mfg. Co.
Kimber got a fast start out of the commemorative gate last year by introducing a limited run of 250 Centennial Edition pistols, which have already sold out at a suggested retail of $4,352. Check with your local Kimber Master Dealer to see if perhaps one of these stunning commemorative Kimbers is still available. The gun features a color-case-hardened frame and gold inlays with engraving on the slides. It's adorned with genuine ivory grips.
Kimber also produced five special-edition Centennial pistols that have been donated to five prominent organizations in the industry: the USA Shooting Team, the National Shooting Sports Foundation, Rocky Mountain Elk Foundation, Safari Club Int'l and, finally, the NRA. The only one of the five to have already been sold at auction brought $10,000. www.kimberamerica.com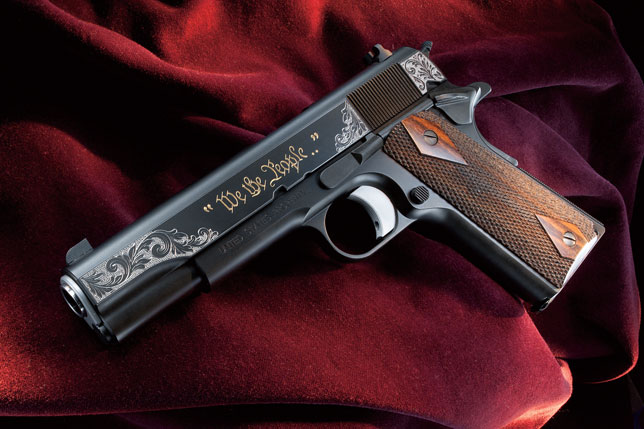 Nighthawk Custom
Built on Nighthawk's proprietary frames and slides, two special-edition versions of the M1911 are being made by the Arkansas-based gunsmithing company. Only the High Grade version is limited in quantity. The Standard Grade features "We The People" machine engraved on the left side of the slide and "100 Years Serving America" on the right side. The pistol comes with two sets of stocks, a U.S. Army-marked set and a walnut set. The price is $2,895.
The High Grade includes gold inlay and machined engraving, and it is "U.S. Property"-marked with the U.S. crest inlaid in gold. The same special slide markings as the Standard Grade are included along with an optional presentation case. Limited to 100 pistols, the Nighthawk Custom High Grade Commemorative retails for $3,695. www.nighthawkcustom.com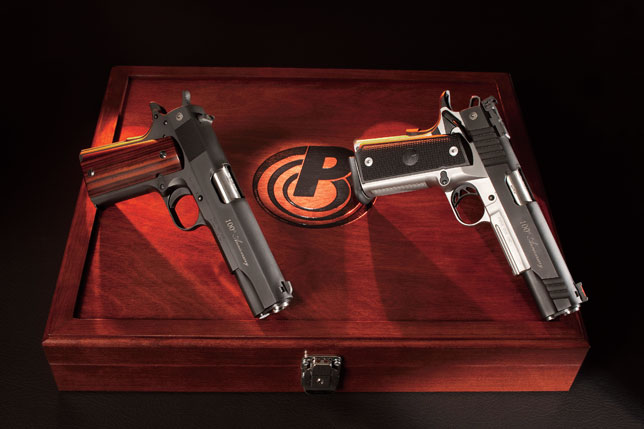 Para USA
Matched in a wood presentation box are two commemorative pistols from Para USA. The first is a traditional M1911. The second is Para's signature design, a high-capacity, double-stack M1911. This special Model 14-45 has an integral light rail frame checkered at 25 lines per inch, an adjustable rear sight, a fiber-optic front sight, an ambidextrous slide lock safety, Para's unique Power Extractor, a competition hammer and trigger, a ramped match barrel, and a distinctive black-over-stainless finish with laser engraving commemorating the 100th Anniversary of the M1911. Certificates of authenticity accompany this limited run of 100 boxed sets. The price is $2,399 for both pistols in a presentation case. www.para-usa.com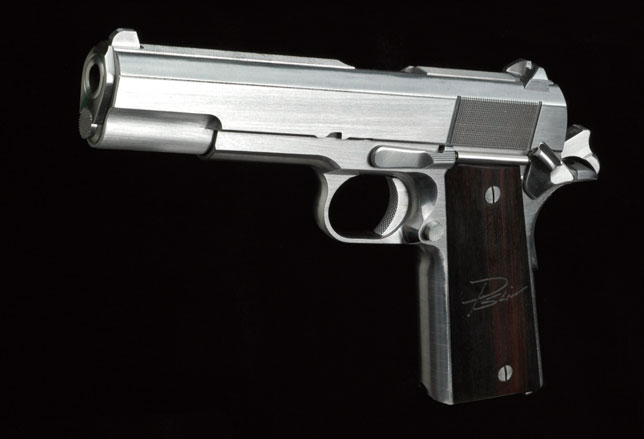 Pistol Dynamics
Paul Liebenberg, custom pistolsmith extraordinaire, is offering a limited number of handbuilt M1911 pistols from his Pistol Dynamics workshop with a bit of a twist—customers can choose between .38 Super or .45 ACP. (Period-correct, the former chambering is marked "Super 38" on the slide.)
The former director of the Pachmayr Custom Shop is personally handcrafting each and every one of the 26 limited-edition pistols, one for every letter of the alphabet. They are serial numbered 1911-A-2011 to 1911-Z-2011.
The pistols are based on Pistol Dynamics frames and slides with the best features that have set Liebenberg-crafted pistols into a league of their own, such as the interchangeable sight system (ISS), a tombstone bushing and a handmade grip safety.
Carbonia-charcoal blue from Turnbull Mfg. Co. and IonBond coating are offered as finishes. Ivory stocks are optional. A portion of the retail price from each sale is being donated to the Wounded Warrior program. www.pistoldynamics.com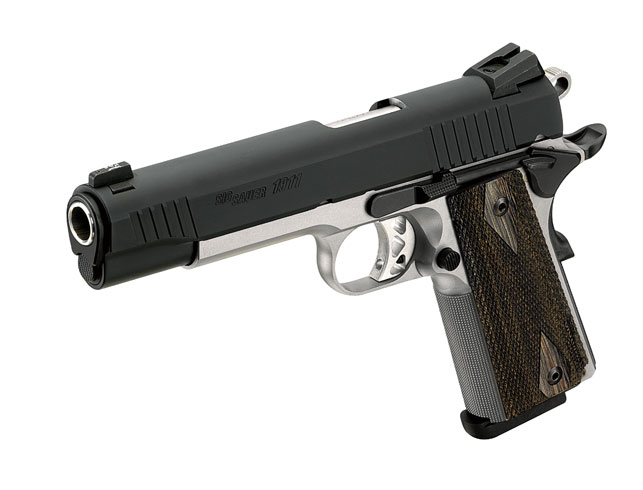 SIG Sauer
The Granite State manufacturer commemorates one of the oldest and most proven designs with its M1911 Traditional Models in a commemorative series. The Reverse Two-Tone, seen here, features a round-top slide (unlike SIG's usual squared slide profile) and special engraving. It's a 5-inch-barreled .45 ACP and comes with frontstrap checkering, a beavertail grip safety, two-tone finish, high-profile fixed sights, a match trigger and front cocking serrations. The retail price is $1,099. www.sigsauer.com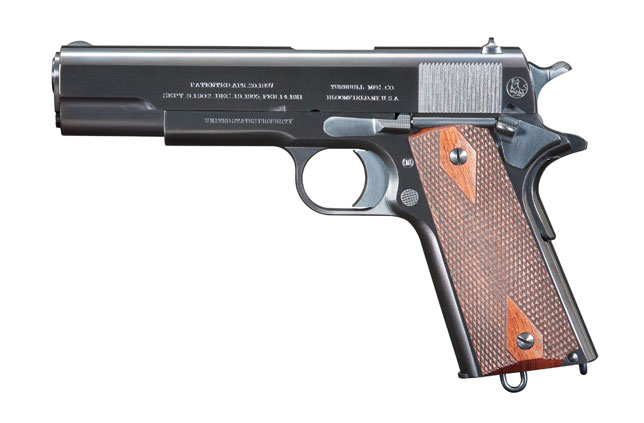 Turnbull Mfg. Co.
Best known for its immaculate restorations of period firearms, including of course various Colt M1911s, Turnbull Mfg. Co. is building a limited edition of 100 pistols true to the original Browning design. Technically an exact copy of a pre-1913 Colt 1913 (because no M1911s were actually made in 1911), the Turnbull pistol is machined from a forged receiver and billet slide.
The internals are all exactly as Colt made them, including a one-piece trigger. The sights are of the proper size and shape, and the thumb safety is the thin style, again period-correct. Needless to say, the finish is also period-correct with carbonia-charcoal bluing—Turnbull's specialty.
Early 1913 patent markings and "U.S. Property" adorn the limited-edition pistols. The buyer has a choice of "U.S. Army," "U.S. Navy" or "U.S. Marine Corps" roll marks, handmade like the originals. The retail price is $3,895. www.turnbullmfg.com
Wilson Combat
Using the same materials Colt used in John Browning's era—forged and billet carbon steels, select walnut for stocks, and hand-finished bone-charcoal blue—Wilson Combat built 100 specially serial-numbered pieces of the new Contemporary Classic. The pistol is hand-crafted with turn-of-the-century materials and finish, but to suit the modern shooter the company augmented the gun with many Wilson custom options, such as fine checkering fore and aft, a gold bead insert front blade, and better ergonomic controls like a beavertail grip safety. A fine presentation case is included. All of the 100 Wilson Combat centennial commemoratives are already sold out, but were priced at $3,995. www.wilsoncombat.com