Support NRA American Rifleman
DONATE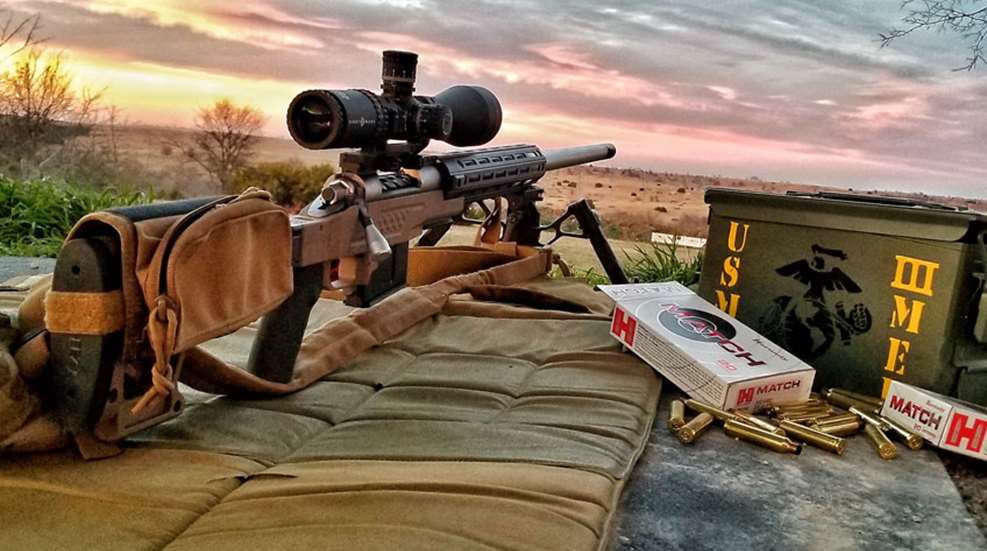 Precision Rifle Cartridge—PRC, in terms of ballistic performance. Lately it seems everything Hornady spits out of its ELD Match lineup falls under this distinction. In fact, working with numerous cartridges over the past couple of years, including 6 mm Creedmoor, 6.5 mm Creedmoor, .308 Win., .224 Valkyrie and a few others, reported data like ballistic coefficients and muzzle velocity have been on point, while another important bit of data, standard deviation (sd) has also been exceptional. Standard deviation throughout numerous loads has averaged from 6.1–10.6, as measured through my MagnetoSpeed chronograph. Even world-class precision shooter and premium chassis maker Scott McRee, owner of McRees Precision, said, "Hornady's ammo is dang near making reloading obsolete." That's quite a compliment from a respected marksman of his caliber. And in my opinion, he's right.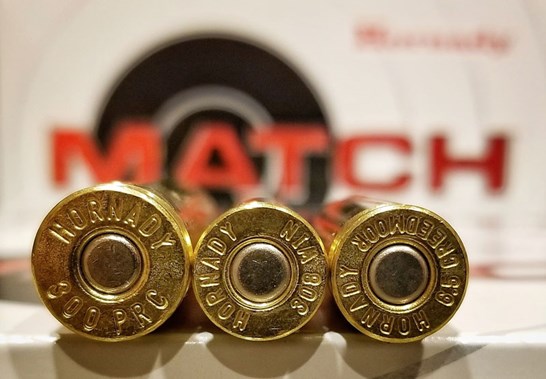 Looking back at a number of custom build and production rigs employing match-grade barrels and Hornady ELD Match ammo, groups have been in the ¼-MOA to ½-MOA range numerous times when using squeeze bags and bipods. Recently, I had the good fortune to build a 6.5 PRC on a McRees Precision BR-15 chassis. The rig also included a Remington 700 action and a Pac-Nor barrel precision machined by McRee. The project further included a Timney 510 trigger with a pull of 2.2 lbs., Accu-Tac FC-G2 bipod and Sightmark Pinnacle 5-30X 50 mm first-focal-plane (FFP) scope. The grouping from this 6.5 PRC system was ¼ MOA using Hornady 147-gr. ELD Match ammo. I also shot sub-MOA at 1,804 yards and took at least half a dozen other folks out to that mile-plus mark; a few of us have even connected at 2,000 yards with this setup. So with performance as it was, I was excited to work with a PRC again, this time the .300.
Build It and the Hits Will Come…
"It is not the beauty of a building you should look at; it's the construction of the foundation that will stand the test of time." While David Allan Coe may be a poster child for controversy, he's also been known to share a nugget of wisdom or two; his two cents on foundations is worth its weight in gold. Of course, acclaimed journalist Hunter S. Thompson's motivational quip also lends itself here: "Anything worth doing is worth doing right." So there you have it, the drive behind this particular project—build it on a solid foundation and build it right.
Over the years I've erected a rifle or two … or three … purposed in ¼-MOA accuracy, freezer-filling dirt work and long-range laser-beam precision with solid success. No, experiences don't necessarily make me an expert, but I certainly know enough to gauge what fits the bill without breaking a writer's bank. Building on the success of my recent 6.5 PRC project, resulting in ¼-MOA zeroing and sub-MOA hammering at 1,804 yards at the world-class Triple C Range in Cresson, Texas, it made sense to start with the same McRees Precision foundation.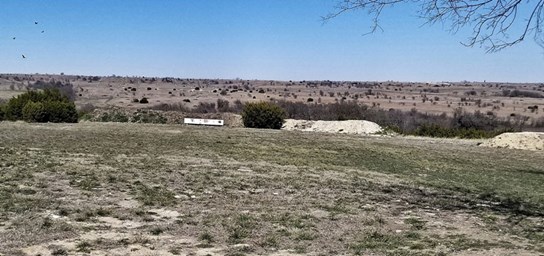 This .300 PRC build began on the same McRees Precision BR-15 chassis and folding stock, complete with McRee's patented M-LEV cant indicator embedded in the stock. To be honest, as a matter of experiences, I've entrusted multiple premium precision rifle builds to a McRees chassis over the past seven years and I have yet to be disappointed. For the price, and when it comes to a tactical-style chassis with folding stocks (of which I am a fan) beating its value and performance just might be an Everest-type mountain to climb. The BR-15 retails for about $850 but McRees often runs sales, taking them down into the $600s. Other McRees chassis I've used and liked include G-10 and BR-10 models.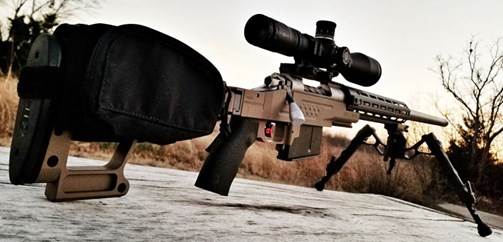 While the McRees Precision BR-15 stock system is cool, lightweight in the context of match-grade systems, functional and innovative enough to cause some folks to deem patents negligible, at the end of the day it is, like a race car, mostly chassis—it takes some work under the hood to make laps around the long-range track.
Coming into the .300 PRC project early in January was difficult at best. Working with great folks at Hornady to find a barrel manufacturer with a .300 PRC reamer to produce a barrel was just short of a Herculean effort. The search was draining. Leads I received on barrel makers in possession of reamers were inactive. On at least two occasions the businesses were no longer in operation. At the end of the day—in reality a couple of weeks—social media turned up a savior in Team POI President Cole Quarnberg, who orchestrated help from Bartlein Barrels and Snowy Mountain Rifles (SMR).
When it comes to precision rifles, what matters most is under the hood—that barreled action and trigger. As Bartlein Barrels are among the world's foremost precision barrel producers, I was pretty giddy about the opportunity to work with them. Moreover, the barrel was reamed, built and finished out by SMR. For this project, I leaned pretty heavily on SMR's expert advice. Not much had been written about the .300 PRC at the time and by several accounts, SMR was the top-shelf go-to for the type of performance I expected when I finally hit the range.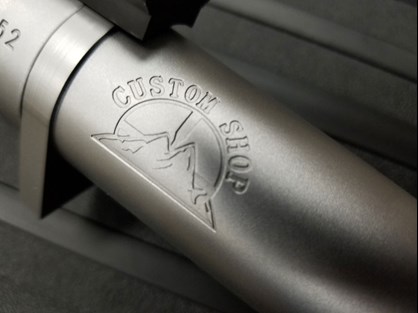 For the build, SMR meticulously machined a 26-inch 416R stainless steel threaded barrel with a 1:8" twist, single cut point rifling and a simple-yet-rich bead-blast finish. From back to front, SMR's precision machining proved vital to feeding, cycling and accuracy from zeroing to out past a mile (I'll expand on range performance later). SMR also assembled and head-spaced the barrel and action, leaving my work as easy as it comes, dealing with a pre-assembled barreled action from true precision-rifle master-craftsmen.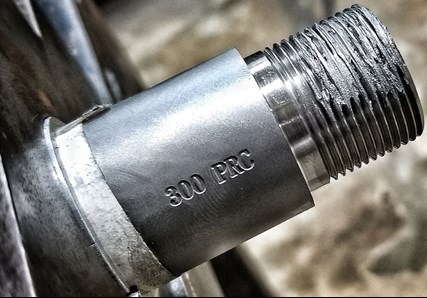 Most of my previous precision bolt-gun builds included tried-and-true Remington 700 actions; they've performed exceptionally well. In fact, years ago Scott McRee sent two shooters with four BR-10 rigs to a national sniper match. Each rig included decades-old actions, yet world-class shooters employed those aged actions and took both first and second place. They just run well. That said, original Remington 700 actions are harder to come by nowadays. While I've had great performance with Remington 700 actions, lack of access to one at the time of this project turned out to be quite a boon.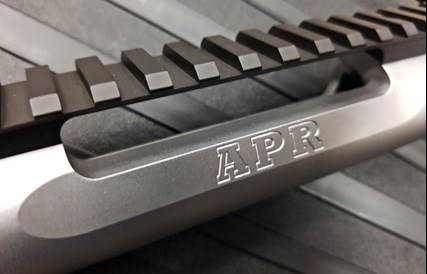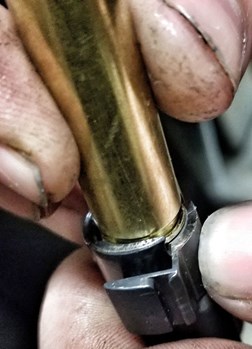 A small local shop just up the road from me, Alamo Precision Rifles (APR), in Hurst, Texas, has built more than just a reputation for uncompromising quality. They've edged into legacy with builds rivaling any top-performing rig on the firing line and, in the shop, some downhome shooters capable of taking any marksman on any continent to task. As an example, Alamo's Robert Waggoner is as kind and down to Earth as anyone you would ever want to meet, but he's hell on wheels at the firing line. I've watched him beat down steel relentlessly and seemingly effortlessly at a mile and well beyond. I've also watched him work, and learned quickly to listen twice and talk once. He has an engineer's brain, zero tolerance for defects and an unrelenting passion for all things precision shooting. What does this mean in the scope of my project? It means the Alamo Precision action I included in this build is unquestionably top shelf.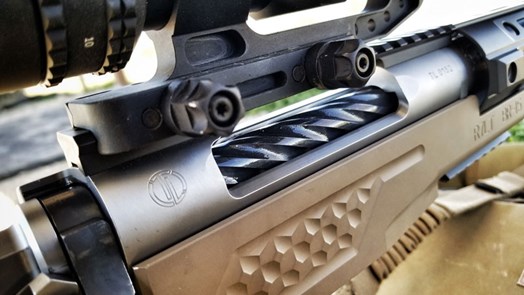 More than a fancy, spiral-fluted bolt, the APR action was machined to exacting tolerances seldom found even at top levels of industry manufacturing. Each action passes through an unrelenting quality-assurance checklist with lower limits well beyond what is considered industry standard. And, in a world of push-feed and control-feed actions, APR's offering does both. Truly a hybrid, APR's action fits the bill for discriminating shooters on both sides of the feed-fence.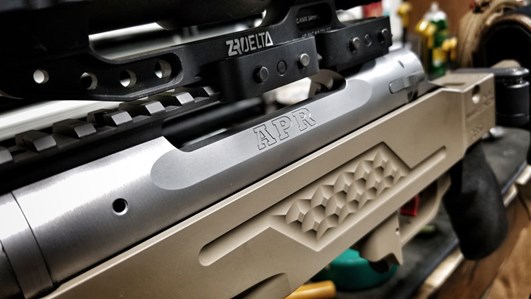 While APR's action is by far the best I've used in a personal build, they've recently made even more improvements in their newly released APR-G2 (second generation) action. Both models feature push- and control-feeding, and are designed for perfect Remington 700-action footprints. Barreled-action installation was incredibly simple and initial bolt cycling, like butter.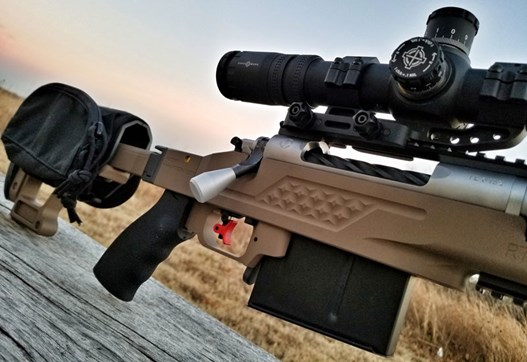 One other deviation on this build compared to previous bolt-gun projects was the change to a Timney Calvin Elite Trigger. A couple of years ago I upgraded an AR-15 to Timney's 1.5-lb. Calvin Elite trigger. As the weight suggests, the trigger was incredibly light with short travel, and broke like ice. So, once Timney introduced the Calvin Elite for bolt guns, I knew it was the right fit. With the help of a punch and a couple of pins, I installed the CE trigger quickly and easily, and adjusted the trigger pad to my liking. I set the trigger pull at 2 lbs. and never looked back.
First Shots
As a gun writer, I'm pretty lucky, perhaps even a bit spoiled, to have a home range like Triple C in Cresson, Texas. Tucked into the heart of a 3,000-acre working ranch, Triple C boasts zeroing ranges; more than a dozen pistol, shotgun and carbine bays; 3-gun and PRS areas; a dozen or so mid-range lanes from 300 to 1,000 yards; and as many as eight long-range lanes with steel stretching out in 100-yard increments from 800 yards clear out to 1,800 yards—just over a mile away. If that's not enough, one last yellow target begs for hits on the horizon at a jaw-dropping distance of 2,000 yards. This is where I planned to put the .300 PRC to the test.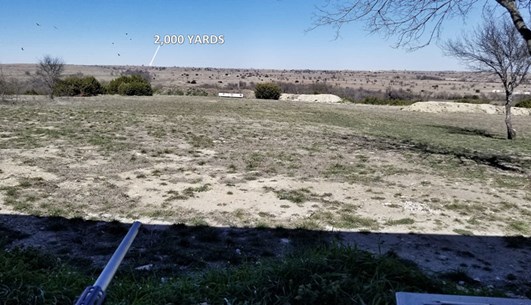 Before going long, work started on the zeroing range. I installed a Latitude PRS 6.25-25X 56 mm FFP scope on a ZRO Delta M4 DLOC scope base to the top of the rifle. As has become my go-to for rock-solid dirt work, I installed an Accu-Tac FC-G2 bipod. For prone long-range shooting, I prefer Accu-Tac's weightier, wider-stance bipod for stability as well as further mitigated recoil.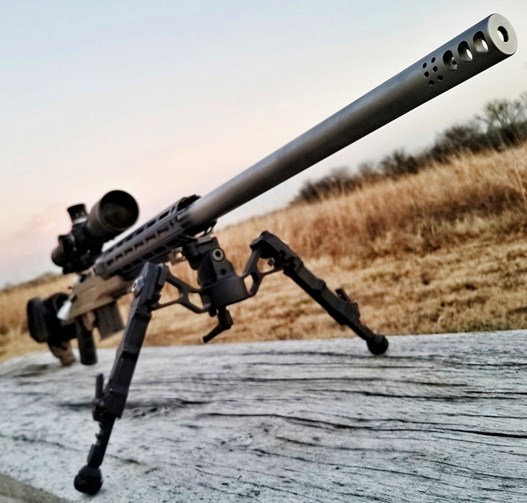 Beginning on Triple C's zeroing range, my first shot, using Hornady's 225-gr. ELD Match ammo, was incredibly comfortable. Like previous builds, rifle weight, the SMR muzzle brake and Accu-Tac's FC-G2 bipod combined to dramatically reduce felt recoil. Even shooting a .300 PRC I was able to maintain my field of view through the shot, a critical element of long-range shooting. Worth mentioning is initial ammo performance and muzzle velocity. My Magneto Speed V3 chronograph recorded 10 shots with an average muzzle velocity of 2,833 f.p.s. and quite a respectable standard deviation of just 8.6.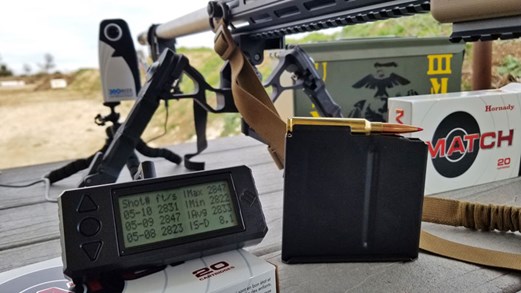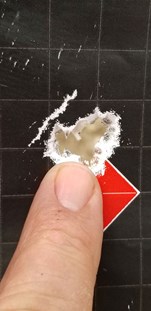 When grouping, I prefer to report real-life performance. Battling 15–20 mph wind and stronger gusts that successfully pushed me around, I still managed an 8-shot group of .33 MOA—I stopped when my last shot sabotaged me a bit. Without wind, I believe ¼-MOA grouping is definitely attainable. Still, I set zero stop and headed to the mid-range. Once there I settled in quickly and easily scored sub-MOA grouping at 1,000 and, after a few strings, finally edged under ½-MOA before moving to Triple C's long-range A/B lanes.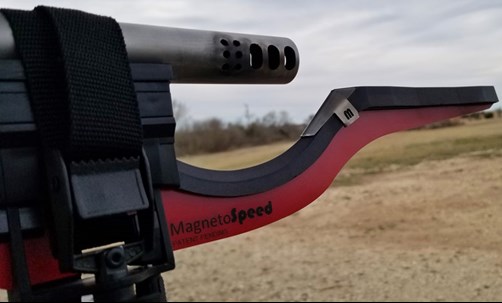 Final Shots: Go Big or Go Home
Starting at 800 with my shooting mentee on the spotter, 15-year-old long-range competitive shooter Alycia Burks, I quickly stepped out at 100-yard increments to just over a mile at 1,800 yards. Between spin drift and an ugly crosswind at about 1,500 yards, it took some time to start hitting consistently—but once I was on, I stayed on. Stretching out over a mile with sub-MOA accuracy on a 2-MOA steel target felt great, and was a solid testament to the build's performance. Quality in, quality out, and it gets better.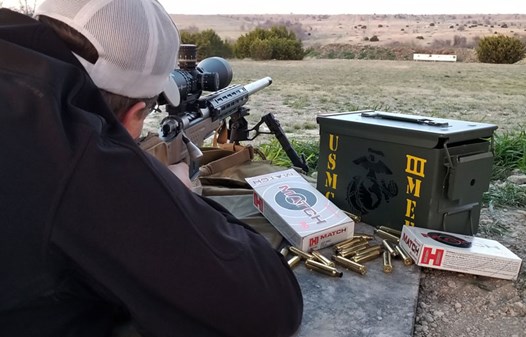 Knee deep in the last box of ammo, I topped out my elevation travel and sent a few more rounds downrange. By then I was feeling pretty comfortable with my 2,000-yard shots with splashes just inches from steel—pretty good considering the 15-25 mph wind I was fighting. With elevation topped out, I held-over 1.5 mils and finally connected on the bottom edge. Two more shots found similar marks but I was out of ammo, and I felt I could have done better with less wind. Over several more weeks, I battled gusting winds and rain and switched back and forth several times between the Pinnacle 5-30X 50 mm and Latitude 6.25-25X 56 mm PRS, before I finally caught a break with the Latitude and lighter wind gusting around 15 mph—not ideal but workable.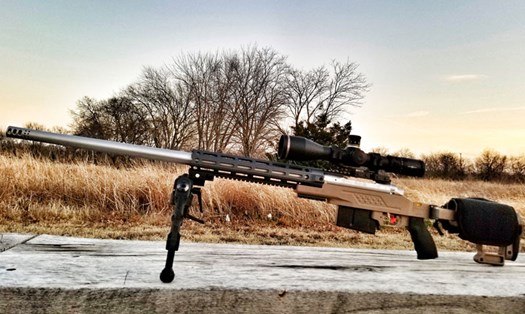 Like previous experiences, it took some trigger time to walk into 2,000 yards, but it finally happened on my third-from-the-last shot. "Impact, left side, 8 o'clock, about 12 inches off center-mass." I dialed .2 mils right. Fortunately, I was acutely aware of the windsocks position on the previous shot and wind appeared constant so I sent another. "Impact. Right side, 2 o'clock about 12 inches on the other side of center." I dialed .2 mils back left. With the wind appearing constant again, I breathed, relaxed, aimed, stopped and squeezed the trigger. My final round was off. A few seconds later, we watched the bullet strike again and red light flash. "Impact. 2 o'clock. Just a few inches off center-mass!"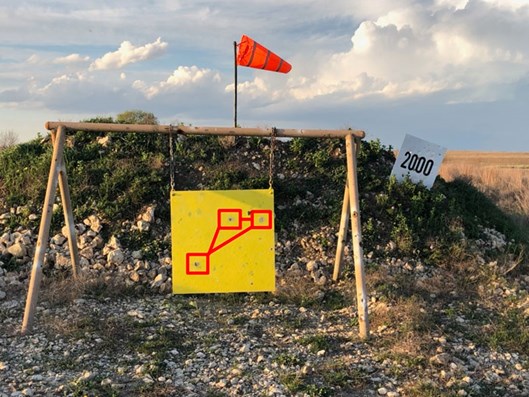 I never had doubts about the rifle's performance. I knew from the onset, studying ballistic info coming in about Hornady's latest offering from other shooters, including fellow writer John Snow, that my .300 PRC was a 2,000-yard rifle, and after weeks of frustrating weather I proved it with a 1.33-MOA 2,000-yard group. I just needed a little help from Mother Nature and a patient friend on the spotter. I'm thoroughly in love with Hornady's .300 PRC cartridge, and after quality trigger time, I've developed solid D.O.P.E. to call upon for more 2K impacts.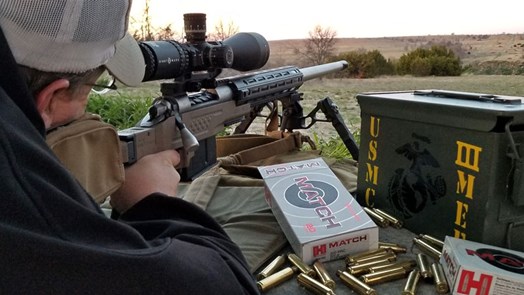 My new .300 PRC goal? Faster target acquisition and tighter groups. I would love to engage at 2,000 yards with plenty of ammo to burn. I see sub-MOA groupings at 2,000 yards in my future and I have no doubt this bolt-gun build and Hornady's .300 PRC ELD Match ammo can deliver the goods.