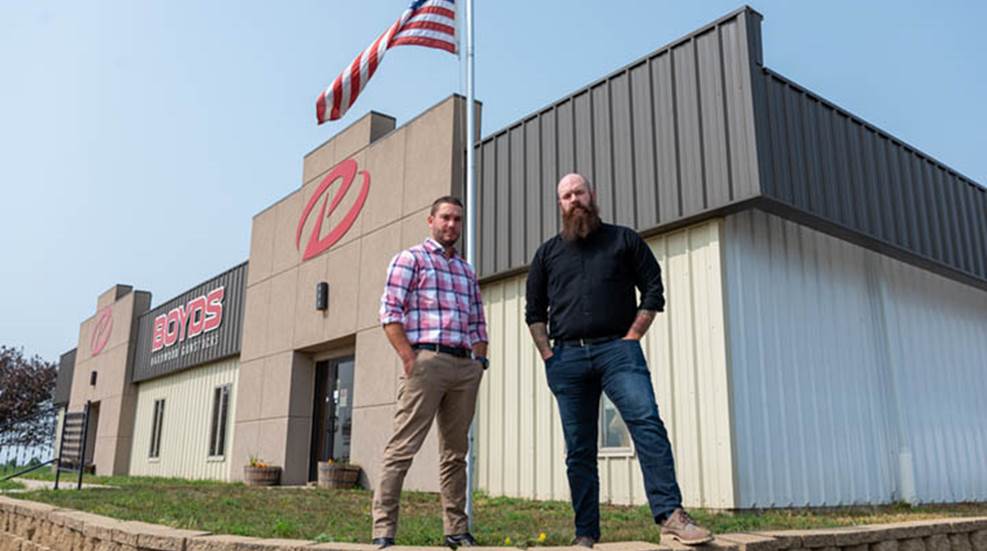 Boyds Gunstocks, which launched in 1981 as a modest one-man operation, has grown into the largest aftermarket gunstock manufacturer on the planet. This year the Mitchell, SD, company, along with its more than 100 talented employees, is celebrating its 40th anniversary.

Owner Randy Boyd oversaw most of that growth, but in January 2020, he turned over the reins the capable hands of long-time employees Dustin Knutson and Rob Carstensen. "Forty years says a lot about how we do business and how satisfied our customers are; they continue to support us year after year," Knutson said.

Knutson joined the company in 2006 and has accumulated the experience and knowledge to keep the Boyds tradition thriving. He began as a machine operator, moved up to line leader, jumped to engineering supervisor, then became director of operations. He took over the role of general manager before becoming co-owner.

Carstensen's career with the company began with a college internship in 2010. He earned a pair of engineering degrees and started full-time employment with the company in 2011. In 2016, he assumed the position of sales manager.

Through the transition, Boyds continued its legacy of introducing new designs to provide enthusiasts the comfort, stability and accuracy-enhancing stocks they demand. The company's most recent innovation is the At-One series, squarely focused on adjustability. They provide adjustable length of pull and comb, as well as modular grips, fore-ends and buttstock toe. "With the At-One you get perfect fit, no matter what shooting situation you find yourself in," Knutson explained. "The stock adjusts in seconds to fit your body perfectly, giving you the comfort and accuracy you deserve."

The company, which received an outstanding employer award from South Dakota last year, currently offers aftermarket gunstocks for more than 155 different gun brands and over 1,200 models within them. "Nobody can offer the huge selection and variety of stocks that we offer," Knutson said.