Boyds Gunstocks has built a one-of-a-kind walnut hardwood stock and forearm for a Thompson Submachine Gun, to be used on the scabbard mount of a military tribute Indian Scout motorcycle. The stock features a custom laser engraved Indian logo on one side and a custom engraved USO (United Service Organization) logo on the other.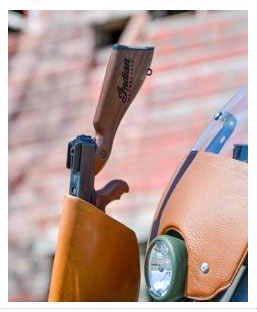 The tribute bike, built by Klock Werks Kustom Cycles, represents the partnership between Indian and the USO and reflects the heritage and roots of the Indian Scout model.
Klock Werks, which nicknamed the project "Pathfinder," recently began a countrywide tour with the bike to pay tribute to the U.S. military and USO.
"We're proud to be part of this historic project that pays tribute to the U.S. military service men and women for our country," said Dustin Knutson, General Manager at Boyds.
Boyd's is an American, family owned business located in Mitchell, S.D., and builds more than 100,000 different makes and models of gunstocks priced under $100. For more, visit boydsgunstocks.com.