by
posted on August 25, 2017
Support NRA American Rifleman
DONATE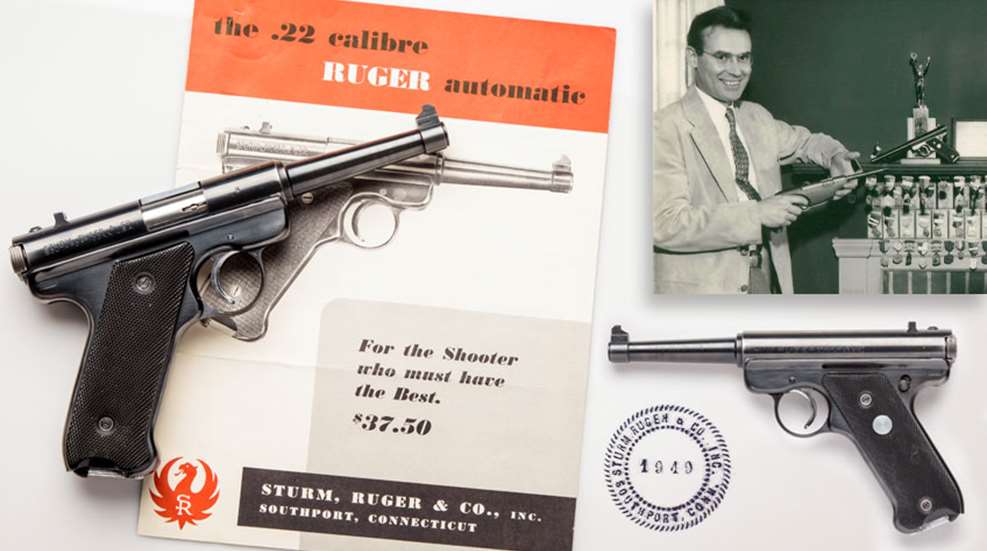 John L. "Jack" Boudreau in his home in 1950 with a few of his medals and trophies. Boudreau began shooting competitively in 1932. Classified as a lifetime Master Shooter in all calibers by NRA, he held the Connecticut and New York state championships simultaneously in 1950. When he assembled his .22 pistol (above) in September 1949, Ruger's "Red Eagle" grip medallions were not yet in stock, so Boudreau machined a blank medallion to fill the empty slot.
Sturm, Ruger & Co., Inc., was formed in January 1949. Company founders William Batterman Ruger and Alexander McCormick Sturm created what would become one of the most innovative manufacturers of firearms the world has ever known. After 68 years of continuous firearm production, with facilities in five states, Ruger has produced and shipped literally millions of quality firearms, all "Made in the USA."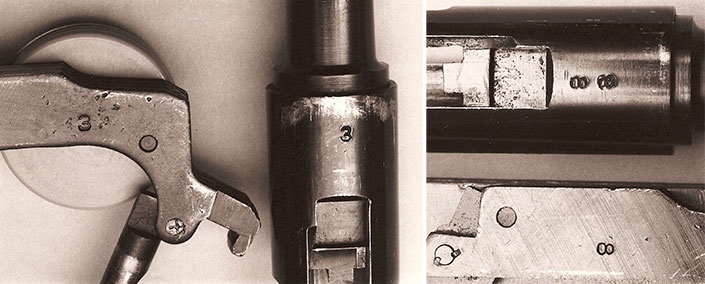 Operations began in a small, wood-frame shop in Southport, Conn. The workforce consisted of just over a dozen men. Workers included Sturm and Ruger, machine operators and assemblers. In addition to his involvement in every operation in the shop, Bill Ruger shared in the administration department with Alex Sturm, soliciting quotes on supplies and components for manufacturing .22 pistols.
By mid-summer, machinery was in place. Most of the components to manufacture Ruger pistols were in stock. Eight barreled receivers were assembled for early pre-production pistols. These pistols were earmarked for editors and writers of outdoor magazines for testing and evaluation. Numbers 1 and 2 were to be retained for the factory collection. The underside of each receiver was hand-stamped with a single-digit number, 1 through 8; the fixture for serial numbering had not yet been installed.
Ruger's assembly department foreman, John L. "Jack" Boudreau, was one of the original employees hired by Bill Ruger. Boudreau was a competitive handgun shooter and an accomplished amateur gunsmith. It was his job to assemble and test fire these pre-production pistols. He convinced management of the advantages for him to use one of these pistols in local matches as part of his testing plan. He was given permission to purchase the Number 3 pistol.
Boudreau purchased the Number 3 pistol on Sept. 15, 1949, making it the first firearm sold by Sturm, Ruger & Co. To assemble Number 3, some of the first lot of component parts had to go through minor alterations. Parts that were not yet in stock or that were not compatible, Boudreau hand-made in the Ruger shop. A High Standard HD magazine was modified to function in Boudreau's pistol.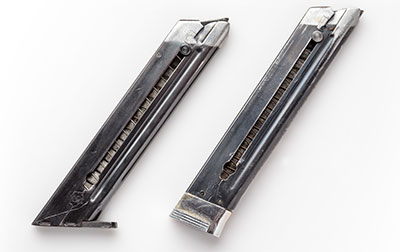 In the "Dope Bag" section of the November 1949 issue of this magazine, Technical Editor Maj. Gen. Julian S. Hatcher wrote, "Mr. Jack Boudreau of the Ruger Factory has used a Ruger in several local matches. He placed high in several of them, and won at least two medals in September alone."
As minor modifications were completed on component parts (September), Boudreau personally assembled and tested another four Ruger pistols from the original eight barreled receivers. Number 2 was completed and retained for the factory collection. Number 4 was completed and shipped. Barreled receivers numbered 1, 5 and 6 were not assembled into completed pistols. Maj. Gen. Hatcher "picked up" Number 7.  The last pistol of the group, Number 8, was "hand delivered" to Warren Page, shooting editor of Field & Stream. Regular production Ruger pistols numbered after serial number 8 were machine serial-numbered, assembled and test fired by factory workers in respective departments. These numbers began at 0009 and go up from there.
The first shipment of Ruger pistols was made on Oct. 6, 1949. By year's end, 1,138 Ruger pistols had been produced and shipped. Sixty-seven years later, from April 2015 to May 2016, more than 2 million Ruger firearms were produced during that 12-month period. Sturm, Ruger is an American success story, one that started with two young men who had big dreams and a lot of determination.
Editors' Note: Mike Fifer, former Ruger CEO, pledged to donate $2 for every Ruger firearm sold between the 2015 and 2016 NRA Annual Meetings. Fifer's goal was for a $4,000,000 donation to benefit the NRA Institute for Legislative Action (NRA-ILA). A check to NRA ILA for $4,000,000 was presented at the NRA Annual Meetings & Exhibits in Louisville, Ky., on May 19, 2016.