by
posted on December 13, 2019
Support NRA American Rifleman
DONATE
I am one of those guys who rarely sells or trades away a gun. When I do, I usually end up regretting it. So if it seems that I have a lot of old friends, I do. They have become such a part of my life that selling or trading one of them away would bring nearly as much pain and anguish as putting down a favorite bird dog—which I have done a few times as well.
My first 1911 was my second center-fire handgun (the first being a Smith & Wesson Model 27). The two were purchased about three months apart, but I'll save the Model 27 story for another time. My first 1911 came to me by way of a tiny little gun shop whose owner has long since gone to his reward. I use to drop by this shop once or twice a week to mop his floor. No, I wasn't his official janitor. I doubt whether Ed even had a broom or mop in the place. No, I'd show up with my Brittany pup who got so excited at Ed's attention that she would urinate—which meant, of course, that I had to clean it up. And woe be it to me if I showed up without my pup, Boone. "Where's my dog?" Ed would growl if I showed up without her tugging on a leash … and peeing.
Anyway, one day I showed up per usual with Boone jumping and peeing. As I wiped up the floor with a paper towel, I spied a 1911 in the display case sans a box. The price tag said "Used $185." The gears immediately started turning in my head. From the outside it looked unfired. I had just barely recovered from buying the Model 27 and a bunch of reloading supplies for it. I was saving up for a 1911, but a new one was about $325 at the time. "What's the matter with it?" I asked. "Nuthin'," replied Ed. "Some guy need money fast, so I got a good deal on it. Figured I pass the good deal onto one of my customers. Probably hasn't had more than two boxes of ammo through it."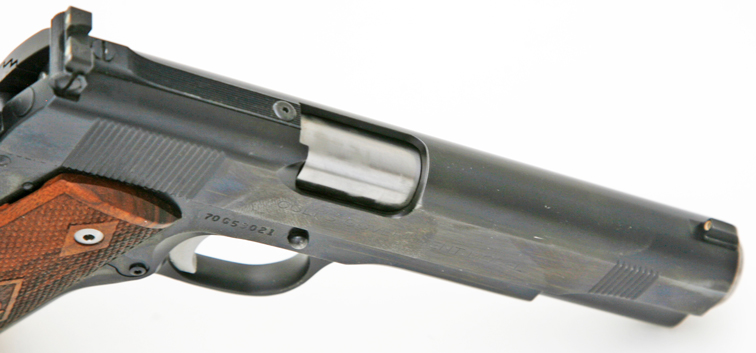 At the time it wasn't all that much of a desirable gun—just a regular old Colt Series 70 Government Model, common as framing nails. Today vintage Colt Series 70s fetch a nice premium, but this was 1974. I told Ed I'd see what I could scrounge up. Back at home I went through my then-small library going over everything I could read on the Colt Series 70 Government Model pistol. Skeeter, who normally touted big-bore revolvers, essentially said that every pistolero worth his salt should have at least one or two 1911s around. Cooper didn't say that you shouldn't consider anything else for a save-your-hide gun, but he really didn't say much else about handguns other than a 1911. Fact was … I wanted a decent 1911, and I did not have one. The next day, after some scrounging and scraping, I came up with $189 plus tax and bought the Series 70 Government Model. I didn't even have enough scratch leftover to buy a box of ammo and try it until next payday.
When next payday came I bought a couple of boxes, along with a set of RCBS loading dies, and took the new-to-me Government Model out to one of my desert spots where I could shoot unmolested. The round-nose FMJ bullets left raggedy holes in the paper and the sights were a wee bit off, but it shot well—or at least well enough for this budding pistolero at the time.
I then did a very dumb thing. I tried to learn to shoot two very different handguns—the Government Model and the aforementioned Model 27—simultaneously. There was no money for a professional trainer. Cooper had just recently started the American Pistol Institute—now known as Gunsite—but there wasn't anything else available at the time. I was on my own.
My life soon revolved around scrounging wheel weights, casting and reloading bullets to the tune of about 500 rounds each week. I'd get one, sometimes two and rarely three days every week whereby I could retreat to my little desert canyon about an hour from my home and shoot. Progress was slow, but after a couple of years I got to the point where I could draw and hit most any reasonable pistol target on demand. Shot timers had yet to be invented, and most of the time I was alone, so my elapsed time for such shots shall mercifully remain a mystery for the ages. I thought I was pretty good, though.
When I wasn't reloading, shooting or reading, I was learning the fine art of gunsmithing—again by the seat of my pants, since I was as poor as a church mouse. Results were predictable. On the plus side, I never really ruined anything completely. On the negative side, my work looked as if it had been done by a spastic with two rocks—one to cut and one to hit the cutter.
Nonetheless, I continued to shoot and glean every tidbit of info I could about shooting. A few years went by, and I acquired more guns—rifles and handguns. I moved to Wyoming the first time in 1979 and finally got to a state where there was enough game to sustain some hunting. Guns, hunting and all that goes with them were my life. Jobs came and went; I once quit a job on the spot when the supervisor told me I had to work overtime and I wanted to go hunting. I may have been a little too preoccupied with this guns and hunting thing.
After I had been in Wyoming for about six months, I took on an extra job as a part-time police officer in the town of Afton. The proper name for the gig was reserve officer, but the chief wanted to be able to use us "part-timers" as a sole watchman as the needs presented themselves, so we were part-time police officers. Such was a situation on one bitterly cold night. Some miscreant juveniles were breaking into a seldom used basement room of the local hospital on a regular basis. There they would drink beer or wine, or perhaps smoke up some dope and carry on the way kids in those situations carry on. My assignment was to lie in wait, ambush the criminal interlopers and introduce them to the criminal justice system.
I had two sets of long underwear on and several layers of clothing on over my shirt with a badge. If someone demanded to see my badge I would have to have done a striptease for them. The temperature that night was a few degrees below zero, and I don't think I have to tell you what else was freezing off of me. With that much clothing on, if I needed my pistol in a hurry I would have had to ask my perpetrator to set an appointment for a gunfight. So I pulled the Government Model out and laid it on top of a conveniently placed steel drum in my hidey-hole. By the time 3 a.m. came it was obvious no interlopers were coming so I called it a night. I grabbed my Government Model and stuck it in my waistband. Weary and near frozen, I headed home. The next morning there was an ugly area about an inch long and a ¼" wide around the slide stop pin on the frame devoid of bluing and slightly pitted. In the dark I must have set the pistol on something that was corrosive. I said more than a few bad words … .
More guns found their way into Casa de Campbell—which was sort of like Hotel California: you can check in anytime you like, but you can never leave—but my Government Model was often either on my hip or very close by. By the late 1990s it had lost some accuracy and was ugly as hell.
Just as I was entering my new career as a writer, I received an invitation to a pistol course by a relative newcomer to the firearms training community. A few of the instructors were expats of Gunsite, but they brought with them many of the fundamentals taught at Gunsite—or so they claimed. So I showed up with my Government Model at a facility near Bakersfield, Calif., one Monday. I had no idea of what to expect. One of the first things to happen as I checked in was to have my pistol inspected by some of the range officers. "You've shot this gun a lot!" said one of them, barely able to contain his laughter at my ugly old Government Model.
By this time I had replaced the factory rear sight with an adjustable Micro rear sight that had its forward edges hand beveled by that guy with the two rock tools. That same "gunsmith" had lowered the ejection port and worked over the throat with one his granite tools. He had also ground the mainspring housing flat and then attempted to re-checker it. Other than that and the loss of the bluing during my "stakeout" and a general wearing of the rest of the bluing, she was cherry. The training facility recommended that I bring several extra magazines with me. I had a collection of 1911 magazines from a variety of sources, none of which were from a premium aftermarket supplier. Several were GI surplus and had well-pitted exteriors—but they didn't cost me much and they worked most of the time.
During the next four days I learned a lot. For one thing I learned how much accuracy my pistol had surrendered after somewhere around 30,000 rounds being pushed through it. I also learned how to clear failures to feed pretty well since that malfunction occurred with about 50 percent of my magazines. In the man-to-man shoot off I was able to beat two of my opponents on two occasions while having to perform the clearing the malfunction drill due to my worn out magazines. I survived that course, but I could not excel in it with my old friend. My confidence in the old girl faded.
For a couple of years my old friend lay dormant while less sophisticated but more reliable revolvers accompanied me in dangerous places. One day I was introduced to Arnold "Al" Capone of Kings Gun Works, one of the oldest 1911 enhancing gunsmiths located in southern California. Though Al had largely retired from the day-to-day chores of gunsmithing, his staff of gunsmiths handled everything splendidly. "This gun has really been ... umm … used," he said laconically. "I'll see what we can do." I told him I just wanted a reliable and reasonably accurate pistol. About the only non-negotiable was that I wanted to replace the rear sight with the same adjustable one found on the Smith & Wesson revolvers. I liked the sight picture, and I like the old-school look it gave the pistol.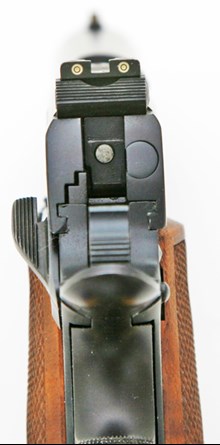 When they finished their magic my old girl was like a fresh young beauty queen. The ugly swatch on the right side of the frame had been polished to invisibility. My ham-handed porting job had been cleaned up. The S&W sight installation looked as if had come from the factory that way. Chamber-check serrations toward the front had been added matching the factory ones at the rear perfectly. Of course, it had been re-blued and done by someone who knew how to polish and blue steel. The fire-control components had been replaced, and the trigger broke crisply at 3 1/2 lbs. The barrel had been replaced with a match-grade ramped barrel since my throating job did screw the frame up enough that a ramped barrel was the only option. Mated to the barrel was a match-grade bushing, replacing the factory collet bushing that had one of its "legs" broken off. They topped it off with a nice set of Kings' checkered walnut stocks after mercifully discarding the oil- and sweat-coated sandblasted factory stocks.
Before the Kings rebuild, I didn't think my Government Model was capable of anything better than 3 1/2" at 25 yards. Now she was a pretty consistent 1 3/4" pistol. I replaced the doggy GI-surplus magazines with some aftermarket ones that really worked. Over the next 20-plus years I have experienced exactly zero failures to feed or fire from my old friend.
Such a beautiful and well-performing pistol deserved some much better leather that she had been subjected to. I ordered up an Allegiance holster with floral carving from El Paso Saddlery. My old friend earned her way back on my belt and has been a mainstay there until fairly recently when as a reluctant submission to aging a bit, I started carrying a Lightweight Commander more regularly.
A few days ago I came across my old friend lying at the ready for me in a convenient spot. I hadn't shot her since acquiring the rebuilt Commander, so it seemed reasonable to take her out for a spin again against the steel. The difference is akin to having driven a flyweight sports car exclusively for months and then getting behind the wheel of a well-tuned highway coupe. Still had all the speed necessary, but the bumps and grinds simply were not there. She's a smooth one.