by
posted on April 3, 2021
Support NRA American Rifleman
DONATE
Getting near m.o.a. accuracy out of a rifle doesn't have to cost a fortune these days. I firmly believe that this benchmark has become more of a standard than the luxury it was just a few decades ago. All it takes is good machinery, a dedicated crew and a century or two of experience. The last one isn't mandatory, but it certainly seems to help in Remington's case.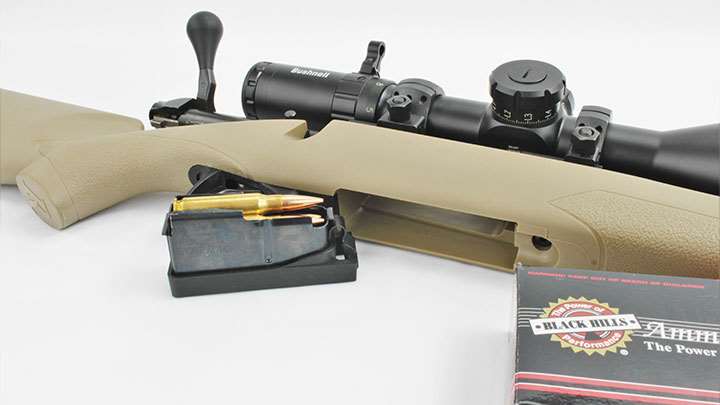 After discontinuing the Model 770, Team Green needed to fill the budget-friendly, bolt-action rifle void and with replacement came improvement in the form of the Model 783 series. While available in a variety of configurations, I was particularly intrigued by the synthetic-stocked heavy barrel model. As you might have guessed, this offering sports a high-nylon synthetic stock and a heavy profile barrel that measures either 24" or 16.5", depending on preference.

It is also offered in a wide range of chamberings to include .223 Rem., .308 Win., .300 Blackout., 6.5 mm Creedmoor and even .450 Bushmaster. Years ago, I was told that shorter barrels were gaining attention for better accuracy when compared to their longer counterparts. This phenomenon is due to the inherent rigidity of the shorter design, which translates to reduced barrel harmonics. In essence, it's an extension of the same physics behind achieving greater accuracy through the use of a heavy barrel.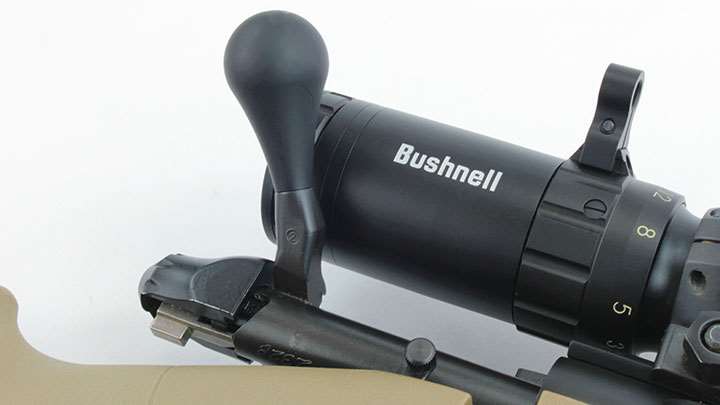 So with that in mind, I requested one of the 16.5" versions chambered in classic .308 Win. to see how the new product fared. I also got my hands on a Bushnell Elite Tactical DMR II riflescope. I chose this optic because the dwarfed dimensions matched the carbine footprint of the rifle that was about to arrive, thus helping to maintain its balance. I also liked the 3.5-21X range that it had and felt that would suit the role of the final package very well.

With an overall length of barely 36" this rifle would be great for deer hunting in a mixed terrain environment and ringing steel out to 800 yds. When the Model 783 arrived, I thought it was exactly as described: a good working rifle. The rifle is made to look smooth and clean, without any frills. It's the kind of rifle you don't feel bad dragging through the woods but, at the same time, still looks pretty in its own way. Every dollar of the $482 MSRP went into making this gun the best shooter it could be.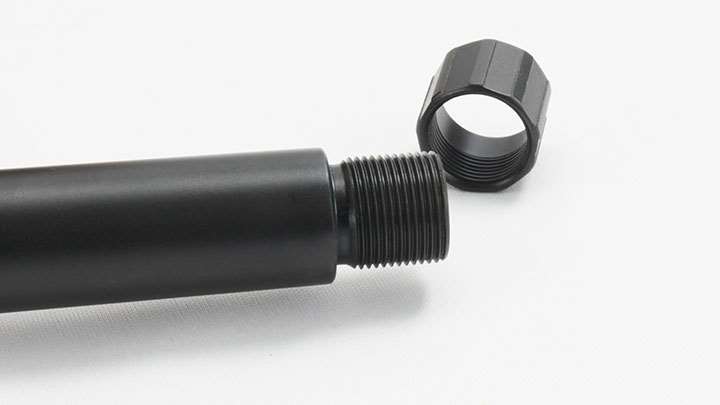 Double-pillar bedding was used to properly mate the action to the stock while also free-floating the barrel. That extra-stiff heavy barrel was also threaded for easy installation of a muzzle brake or suppressor. An enlarged bolt handle was used to help speed the cycling of the action as well as to allow for easy manipulation with gloves on. Feeding was accomplished through a double-stack, four-round detachable magazine that is filled by simply pressing straight down, as opposed to fitting each round under the feed lips.

Our sample came with a pair of two-piece scope bases installed, but current production models include a one-piece Picatinny rail that is ready to accept an optic of your choice. Before hitting the range, we took the rifle apart to get a better look at the nuts and bolts that made up the trigger group. The 783 series all include the Crossfire user-adjustable trigger system, and ours was no different. Out of the box, it measured 5 lbs., 2 oz., so we turned it all the way down to 2 lbs., 15 oz.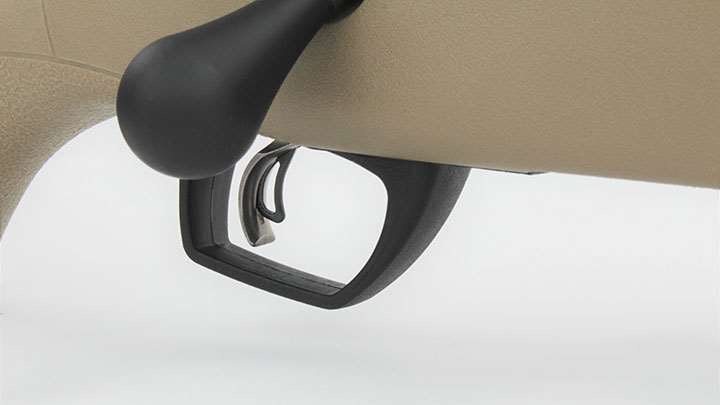 The process involved loosening one nut and a set screw before retightening the original nut to secure both to the trigger housing. The process is simple but does involve removing the stock, something I'm never a fan of because it takes a few rounds to settle everything after that happens. After that process, we slapped on the Bushnell optic and went straight to the range. Range conditions were quite warm on our testing day, 92 degrees with 85-precent humidity to be exact.

From a bench-rested position, we conducted a typical 100-yd. accuracy test consisting of five five-round groups. For ammunition, we selected the Black Hills 168-gr. Match offering, as well as SIG Sauer's 175-gr. Match load. After zeroing, we allowed the rifle to cool and got right too it. Both rounds delivered good accuracy with the lighter Black Hills load edging out the heavier SIG Sauer load by 0.4" when comparing best group to best group.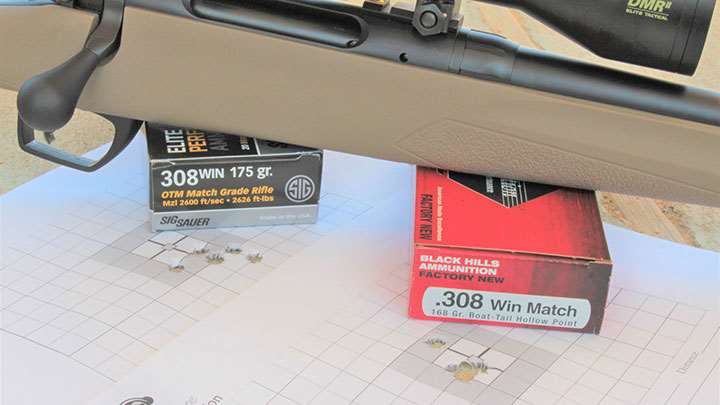 While the SIG load produced an average accuracy of 1.82", Black Hills created an aggregate of 1.42". It's important to mention that although the lighter 168-gr. bullets are devastating at 100 yds., the heavier 175-gr. bullets are likely to outperform them at further distances, which is the dilemma that most .308 Win. shooters face. As for shootability, recoil wasn't half bad. The 783  fit me well and gave more of an authoritative push than a violent slap.

Mind you that I wasn't shooting with any sort of muzzle device that day, so there is room for improvement. Feeding and ejection were relatively trouble-free, although I noticed there was a bit of technique involved with cycling the bolt. Cycling too fast made the case slip off the extractor and land inside of the action. The same would happen if done too slow. After group testing, I shot off of some of the structures that were hanging around the firing line to get an idea of how it would feel out in the wild.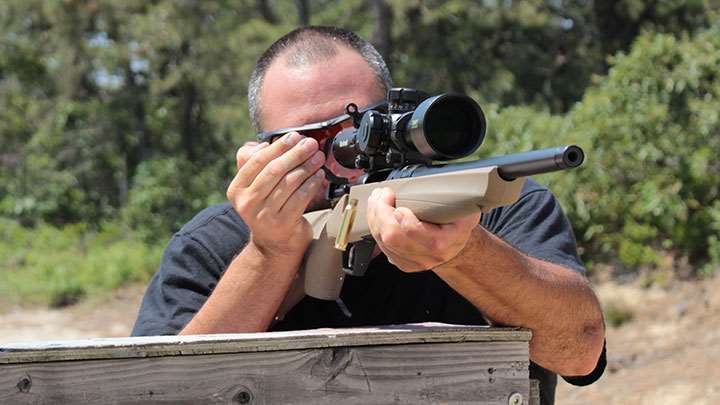 I found that the reduced barrel helped it balance better and shaved quite a bit of weight off, while the rubber recoil pad kept it shooting soft in its original configuration. If you are looking for a fun, little rifle with a lot of utility, this kind of set-up works very well. Since Remington's bankruptcy, you can't find these Model 783s straight from the factory any longer, but they're still easy to find on the secondhand market. We'll have to wait and see if the new Remington starts up production of this budget-friendly, easy-to-handle field gun in the future.
Specifications:
Magazine Capacity: 4
Overall Length: 36.12"
Weight: 8 lbs.
Barrel Length: 16.5"
Barrel Material: Carbon Steel
Barrel Twist: 1/10" TPI
Length of Pull: 13.37"
MSRP: $482.00