NRA Publications is about to bestow its annual Golden Bullseye Awards and Golden Bullseye Pioneer Award at an invitation-only breakfast on April 10, 2015 during the NRA Annual Meetings & Exhibits in Nashville, Tenn. And although the winners were announced in January 2015, these innovative manufacturers deserve a second look as they prepare to accept their Golden Bullseyes, as reported in American Riflmeman magazine. 
For the editors of American Rifleman, NRA's original "Official Journal" celebrating its 129th year of publication, the Golden Bullseye Awards represent an opportunity to identify excellence in quality and innovation. And this year, as in years past, the competition was stiff and the deliberations long to settle on the most extraordinary products tested during the past year.
"We are pleased to announce the winners of the 2015 Golden Bullseye Awards," said Doug Hamlin, Executive Director of NRA Publications. "This year's winners exemplify what NRA members want in their shooting and hunting equipment—outstanding performance, innovative design and value. A new category for 2015—the Women's Innovation Product Of The Year—highlights the importance of what has become the fastest-growing segment in the firearm marketplace. We congratulate those who have created the industry's best new products and look forward to recognizing them at the NRA Annual Meetings and Exhibits in Nashville."
To qualify for consideration for a Golden Bullseye Award, the product must have been: recently introduced and available to consumers prior to the selection of the Golden Bullseye Awards; used/tested by a staff member or regular contributor to the magazine and/or affiliated media; reliable in the field, meeting or exceeding the evaluator's expectations; innovative in design and function; readily perceived as a value to the purchaser; and styled in a manner befitting the shooting and hunting industry and, perhaps more importantly, its enthusiasts. Following is a brief description of the winners in each of our seven previously established categories, as well as the new Woman's Innovation Award, and an acknowledgement of this year's Golden Bullseye Pioneer.
NRA Publications will present its annual Golden Bullseye Awards and Golden Bullseye Pioneer Award at an invitation-only breakfast during the 2015 NRA Annual Meetings & Exhibits in Nashville, Tenn.
Rifle Of The Year: Ruger American Rimfire
When it comes to rifles, we have recognized dangerous-game guns, modern semi-automatics, switch-barrels and more over the years. This year, however, we honor the humble rimfire, in an extremely modular and practical guise. In "Rimfires For The Next Generation: Ruger's American Rifles" in the March 2014 issue, author Richard Mann posited, "Some will argue that the great days of American gunmaking are in the past. I disagree. Sure, finely figured walnut and deep bluing are not commonplace anymore. However, the true American tradition of firearms manufacturing is the ability to offer precision performance and reliability at an affordable price. No other .22 bolt-action rifle does that as well as the Ruger American Rimfire." With this adaptable, affordable, accurate rifle (that takes ubiquitous 10/22 magazines), Ruger has changed the landscape of .22 rifles, and earned the company—which just celebrated its 50th year in the rimfire rifle business—the title of Rifle Of The Year. 


Shotgun Of The Year: Benelli Ethos
Sometimes you can have both form and function. Combine tasteful styling, engineering improvements to one of the best shotgun operating systems ever devised (now widely copied) and an unobtrusive but extremely effective recoil-mitigation system, and you have the Benelli Ethos. "The Ethos represents a step forward in semi-automatic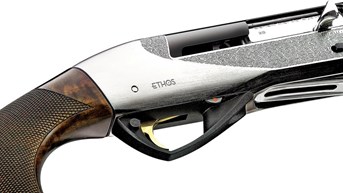 shotguns, not only for the engineering innovation present in its design, but for its elegant lines and traditional appearance," wrote our own Editor-in-Chief Mark A. Keefe, IV, in "Poetry In Motion: The Benelli Ethos" in the March 2014 issue. After extensive field testing, which included a lot of high-volume shooting of the Italian-made semi-automatic, Keefe reported, "In short, the Ethos' performance was excellent, user-friendly and exceeded my expectations. And it looked good, too." The other editors agreed and conferred Shotgun Of The Year on the Benelli Ethos.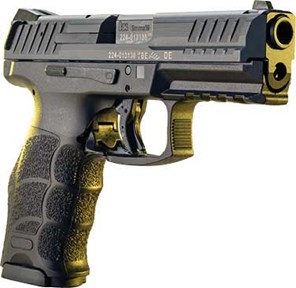 Handgun Of The Year: Heckler & Koch VP9
Hammer-fired pistols seem to be on the way out, at least in terms of new introductions, and German gunmaker Heckler & Koch's first foray into striker-fired guns in decades created quite a buzz for its mixture of top-notch ergonomics, price and features. "I have had the fun of shooting pretty much all of the HK pistols, and [the HK VP9] is an easy favorite," wrote Field Editor Wiley Clapp in the January 2015 issue. "There is little in the operational system of the VP9 that I can criticize, and the ergonomics and trigger action are clearly superior. I have no knowledge of forthcoming models in other calibers or sizes, but a line extension wouldn't surprise me. Most companies are in the process of developing an economy service pistol, and this must be HK's since it is priced in the $700 range. It is a good buy at that." Indeed, the HK VP9 leads that particular pack, and it is our selection for Handgun Of The Year. 


Tactical Gun Of The Year: DPMS GII
When DPMS updated its .308 Win. semi-automatic rifles last year, it wasn't just with lipstick and rouge. Company engineers set out to make the series of rifles more accurate, better handling, more reliable, lighter weight and more adaptable. They succeeded in every area. In "Downsizing: The DPMS GII ARs" in the January 2015 issue, Field Editor Bryce M. Towsley wrote: "The Recon was also impressively accurate. I tested it with the much tougher American Rifleman testing protocol of five, five-shot groups. It is not a fussy rifle, as the GII Recon averaged just slightly over one minute-of-angle with any ammunition I fed it. The best group was with the new Fusion 150-gr. MSR, which is designed for AR rifles, and five shots measured 0.65". The average for 15 groups with three different ammo products was 1.07". That is outstanding accuracy, and I usually only see it from guns costing twice as much. ... [These rifles] are a game-changer ... They are extremely accurate and flawlessly dependable. I think that this new GII design may well set a new standard for [.308-size AR] rifles in the years to come." We agreed with Towsley—and named the DPMS GII our Tactical Gun Of The Year.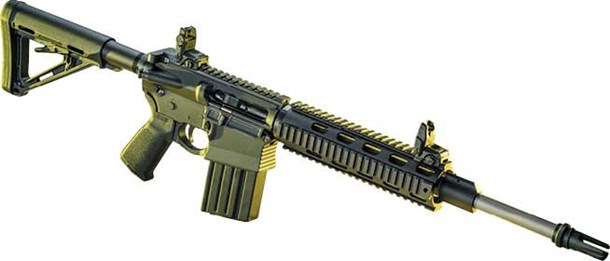 Ammunition Product Of The Year: Winchester W Train & Defend
"What Winchester has done with the W Train & Defend line of ammunition is something that every ammunition manufacturer may attempt to copy," wrote Richard Mann in the article "One Gun: Two Loads" in the August 2014 issue. "If you're going to carry or trust a handgun for personal protection you need to practice, and when you practice, you should be doing so with the confidence that the ammunition you will rely on in a bad situation will allow you to shoot to the same point of impact with the same recoil impulse and will deliver trustworthy terminal performance.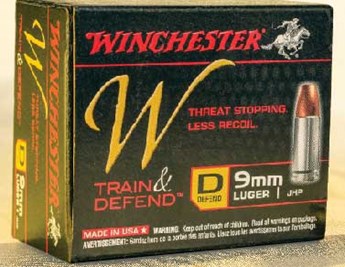 On the range and when shooting over a chronograph, you could essentially mix a cylinder or magazine with Winchester W Train and Defend loads and your target or chronograph would never know the difference. It should be clear that with its W Train & Defend line, Winchester has simplified, if not perfected, the defensive handgun ammunition selection process." For its innovative solution to "training and defending," Winchester notched this year's win for Ammunition Product Of The Year. 
Women's Innovation Product Of The Year: EAA Witness Pavona
"Is purple the new pink?" asked Senior Executive Editor, Digital, Ann Y. Smith in "Fashion & Function; The EAA Witness Pavona" appearing on americanrifleman.org last year and in the March 2015 issue. But adding flashy colors and glittery sparkles to the gun's polymer frame were only part of EAA's aesthetic solution to a handgun for women. Too, the manufacturer made engineering changes, which included lightening the mainspring and recoil spring to make the gun more manageable for some women. "Ultimately, the Pavona could indeed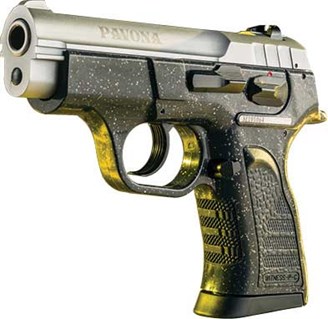 become a woman's favorite," wrote Smith. "This is a good indicator that the firearm industry is finally adapting an engineering approach to the inclusion of women, rather than just painting pink lipstick on a pig. And that bodes well for the future of the firearm industry as a whole." Looking toward that future is exactly why the NRA Golden Bullseye Award for Women's Innovation Product was created, and that is why the Pavona is its inaugural recipient. 
Accessory Of The Year: Caldwell AR-15 Mag Charger
In case you hadn't noticed, we have covered more and more "general purpose" or AR-style rifles in the past year. The Caldwell AR-15 Mag Charger, a "Product Preview" in the September 2014 issue, was designed to assist in loading 30-round, standard-capacity magazines for AR-style rifles. "We found the 50-round charger quick to use, with either factory boxes or the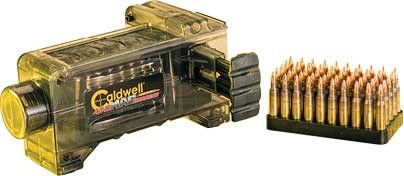 provided transfer tray. Simply align the cartridges with the loading ports and dump, ensuring rounds land 'bullet down' in the charger. Once loaded, snap a magazine into the well and, using the plunger, start pumping to fill the mag in seconds." And it's affordable. Anything that makes loading magazines easier will catch our attention, but the Caldwell AR-15 Mag Charger also caught the title of Accessory Of The Year. 
Optic Of The Year: Meprolight MEPRO MOR Reflex Sight/Laser
If you are a belt-and-suspenders man who wears two sets of each, then the Meprolight MEPRO MOR—as described in an "Editor's Choice" by Senior Executive Editor Brian C. Sheetz in the February 2014 issue—might be the optic for you. "Boasting three sources of reticle illumination and a built-in visible laser, the military-grade MEPRO MOR reflex sight is versatile, reliable and compact,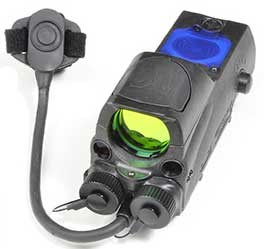 making it ideally suited for modern, lightweight semi-automatic self-defense rifles," wrote Sheetz. "It can be ordered with either 'bullseye' style or 3-m.o.a. dot reticles that automatically transition between fiber-optic, tritium and LED power sources for the ultimate in reliability in conditions ranging from daylight to darkness and those in between, respectively." That kind of versatility and redundancy is extraordinary enough to earn the MEPRO MOR the title of Optic Of The Year.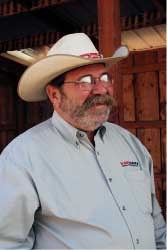 Golden Bullseye Pioneer Award
The winner of the 2015 Golden Bullseye Pioneer Award is Lewis Danielson, founder and chairman of the board of Crimson Trace Corp. Danielson's company pioneered the firearm-mounted laser business, introduced the word "lasergrip" into the lexicon of the shooting sports and remains the leader in its field. Where others tried and gave up on handgun-mounted lasers, Danielson saw the potential and persisted in the development of a working model with instinctive activation. After earning a bachelor's degree in Mechanical Engineering from Oregon State University (which subsequently inducted him into its Engineering Hall of Fame), Danielson worked in the steel industry, then on agricultural machinery before moving on to engineering and prototype services. During the day, Danielson made parts for the aerospace industry; during nights and weekends he worked, often without pay, on an idea that would change the firearm industry. Crimson Trace started in 1994, and at his first NRA Annual Meetings, Danielson and one other employee boldly manned a card table. A table that was mobbed. As handgun design changed, so did Crimson Trace. While the M1911 and Ruger Mk II were ideally suited to Lasergrips, Danielson and his engineers devised ways to put Lasergrips on polymer-frame guns, then invented the innovative Laserguard that clamshells around a pistol's trigger guard. Crimson Trace is also in the gun-mounted-light business with its Lightguard series, and has products for long guns as well, including the Rail Master lights and lasers for mounting on Picatinny rails and MVF-515 vertical fore-grip. Lewis Danielson is a proud patriot, a man who steadfastly employs American workers and one with a strong passion for Second Amendment-protected freedoms. As is the case with all Crimson Trace employees, he is a staunch NRA member and a longtime supporter of NRA.